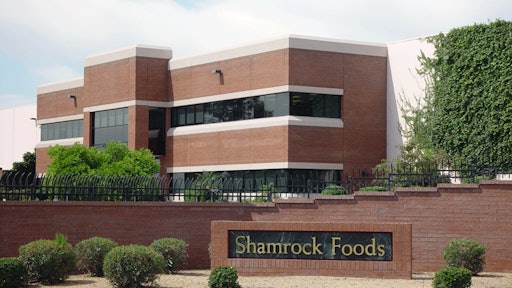 Three busloads of attendees at the International Foodservice Distributors Association (IFDA) Distribution Solutions Conference in Phoenix, Ariz. toured Shamrock Food Co.'s automated distribution center on Thursday, capping the three-day conference event held at the Phoenix Convention Center. The tour consisted mainly of foodservice distributors who were interested in seeing Shamrock Foods only DC that uses automated storage and retrieval systems (AS/RSs).
Mark Engdahl, Shamrock Food's vice president of operations for foodservice, welcomed the tourists and gave an overview before the group broke into smaller groups for guided tours. Engdahl noted that the facility, which became automated in 2001, works 24/7 and ships and receives deliveries simultaneously. The DC has robotic cranes, automatic conveyors and AS/RSs.
The facility moved 60 million boxes last year, including both inbound and outbound shipments.
There are six floors of pick modules where bar-coded cases are laser scanned. The cases are sorted via conveyors and directed into trailers in the loading docks where they are loaded. There are 34 loading dock doors and 28 receiving dock doors.
The facility also houses a conventional warehouse for slower-moving inventory, Engdahl said. The DC integrates both the conventional and automated warehouses, which Engdahl described as a successful blending of old and new systems. Eighty percent of the product moved is from the automated warehouse.
Most of the activity takes place in dry, refrigerated and frozen space with all docks being temperature controlled. There is a semi-automated cooler and full AS/RS for frozen and dry.
The automation has allowed a reduction in people moving boxes and more efficient work practices. The DC has about 350 employees, including 40 maintenance workers.
The automation delivered a substantial reduction in errors, Engdahl said.
A DC needs to do enough cases per day to justify the expense of automation, he noted.
The DC handles both system deliveries and broadline foodservice deliveries. Some of Shamrock Food's DCs have separate operations for system and broadline business, but not the automated DC.