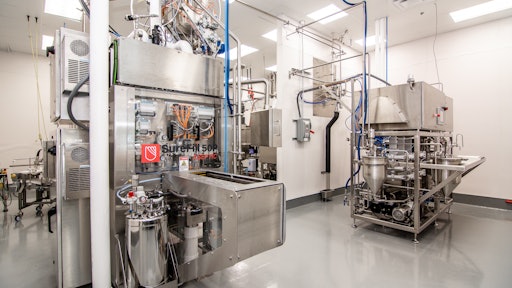 SinnovaTek
SinnovaTek, a North Carolina based food technology company, is pleased to announce the opening of its flagship FirstWave Innovations location in Raleigh. FirstWave is a precision-scale aseptic food co-packing facility and a working pilot facility for SinnovaTek and SinnoVita technologies.
FirstWave is an innovation-to-commercialization catalyst by providing a platform for companies and entrepreneurs to launch and test new products in a high-quality high acid and low acid aseptic format without the minimum order quantities that are normally required for a launch.
By using SinnovaTek's patented continuous flow microwave heating, the thermal exposure, and therefore the degradation of the food product, is minimized. This enables the SinnovaTek team to service each customer's production needs before moving to a larger scale. The technologies utilized at FirstWave are ideal for processing fruit and vegetable products, coffee, smooth soups, and smoothies. 
FirstWave is the most recent stage of SinnovaTek's evolving successful collaboration with the Department of Food, Bioprocessing and Nutrition Sciences and the Office of Research Commercialization at North Carolina State University.  
The opening of FirstWave is the first of its kind, small-scale aseptic food facility in the world. FirstWave is unique in the food production industry, as small-scale food co-packing and commercial facilities like FirstWave are extremely rare for shelf stable foods. To support entrepreneurs in the food industry, FirstWave can assist with every step of the process from concept to store shelf. 
The facility's launch is significant as it introduces new opportunities for growth and innovation in the food production industry. Training courses provided at the FirstWave facility will serve to educate the local community on food safety, as well as help navigate new product launches. City leaders recognize this contribution and have recently awarded SinnovaTek with a Building Up-fit Grant for FirstWave, which encourages growth and development by assisting property owners and businesses with improvements, renovations, and/or additions to the interior of their commercial property. 
"The City of Raleigh is thrilled that FirstWave is a recipient of an Office of Economic Development and Innovation Building Up-fit Grant," said Veronica Creech, director of economic development and innovation. "Their site investment is an outstanding example of a public/private partnership that drives innovation, supports area workforce, and lands Raleigh and FirstWave on yet another 'first of' list. Congratulations to Michael Druga, CEO, Amanda Vargochik, and Josip Simunovic, co-founders in this launch." 
In addition to helping companies and entrepreneurs launch and test new products, FirstWave also provides an opportunity to reduce food waste and farm waste by utilizing foods and by-products, which would have otherwise been destroyed, in a more effective way.
"Amid the pandemic, we have seen a large gap between food excess on farms and the need for food assistance in communities," says Amanda Vargochik, SinnovaTek co-founder & VP of Innovation. "With FirstWave, we can help bridge that gap with a unique model that is built with agility in mind. We have the capacity to breathe new life into food ingredients by upcycling food waste and to support small businesses by giving them an avenue to create a value-added product without the risk of large scale."
FirstWave is an FDA and USDA compliant facility with all of the essentials for safe food production including cold rooms, freezers, and a quality assurance lab. It can also run kosher, organic, and non-GMO certified products. The facility is outfitted with state-of-the-art technology to fit each customer's production needs. The SinnovaTek team can handle raw materials starting with dice or puree and can further size, grind, and heat the product before processing.