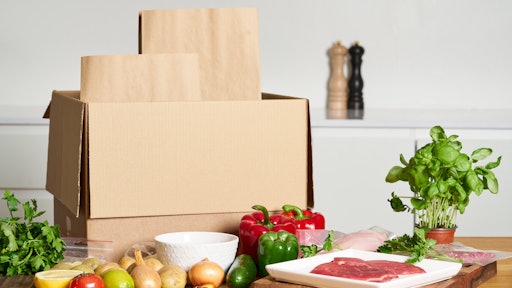 Anna - stock.adobe.com
2020 and 2021 have brought a massive wave of unprecedented events and turned the world upside down. The major criminal behind this state of the world is the Coronavirus disease (COVID-19) pandemic. Several industries experienced a gigantic downfall and losses owing to unavailability of raw material supply, reduction in demand and supply and more. Amid all these crises, however, the consumers' appetite for food has grown profoundly owing to the need for staying healthy and fit. And with this, the demand for packaging used to wrap food items has boosted remarkably. As per a report by Research Dive, the global packaged food products market is projected to garner a revenue of $49,685.2 million in the 2020-2027 timeframe, growing with 6.3% CAGR. This is mainly owing to a steep rise in the consumption of packed food products such as frozen food products during lockdown.
In the food sector, packaging plays an important role in the same way as the actual contents themselves do. The packaging of the food markets the product, extends shelf life and eases long-distance shipping. Here are latest food packaging trends every warehousing and distribution company should be aware to up their game in the supply and logistics chain.
1. Smart technology solutions
Smart technology packaging is a sagacious way to pack food products. In today's age, technology can be integrated right into the packaging to offer consumers and logistics departments more ease, safety and information. Technology-enabled packaging consists of printed QR codes, NFC chips or smart labels that can be scanned with the help of a smartphone and give more information about the product.
Technology-enabled packaging also helps in tracking numerous factors such as temperature, pH, fermentation and other parameters to guarantee flavor, freshness and quality and uphold compliance with health standards.
2. Temperature-controlled materials
Nowadays, food packaging companies make use of temperature-controlled packaging to assure that the packed products are not delivered damaged or spoiled. Delivery of damaged or spoiled food product might need re-processing and can adversely impact company's success, trustworthiness and brand identity.
3. Sustainability
Sustainability is also an important factor every warehousing and distribution company in the food sector should consider. It is important for food packaging companies to continuously improve the product packaging and come up with advanced and eco-friendly packaging solutions by taking into consideration the rising consumer demand, growing adoption of environment friendly products and evolving trends in the food packaging sector.
As paper or cardboard packaging can be easily made using recycled materials and itself be reprocessed or composted, they are evolving as sustainable alternatives to plastic packaging for numerous food products.
4. Minimalistic approach
Gone are the days where product packaging is cluttered with texts and images. Today's customers are gradually preferring to buy food products with a clean packaging design that merely and rightly expresses its core worth. Along with being visually appealing, minimalist packing designs also help in cutting down pointless add-ons such as plastic sleeves and charge less for manufacturers as well.
5. Clear and transparent labeling
A number of consumers today are opting to buy a newly launched product with clear information about the product on the packaging. Consumer are very conscious of what they consume. Even though food packaging comprises information on constituents, reading the tiny text can be tough for many. Nowadays, food packaging companies are adopting transparent packaging as well as clear labelling to clearly mention the contents present in the product.
‍
The impact of COVID-19 pandemic on the food packaging industry
In the pandemic period, the demand for packaged food items boosted at a rapid pace owing to the rising acceptance for ready-to-eat and healthy food items amongst professionals working from home during the lockdown period. The global market for packaged food products experienced a surprizing boom amidst the pandemic crisis. As there was complete lockdown since March 2020 in many parts of the world, people adapted to online shopping patterns and have begun purchasing packaged food items in large quantities. This eventually has exhilarated food companies and manufacturing industries to accelerate their production and seamlessly operate the packed food supply and demand chain.
As the need for sanitized and safe packaging of food is rising, the food packaging industry players are coming up with innovative solutions to cater the needs of people. The food packaging warehousing and distribution companies are also putting in extra efforts during the pandemic to offer sanitized and safe products to end-users.
Time to familiarize with the New Normal
The pandemic has made people more attentive about what they eat and from where it is delivered. This has significantly strengthened the role of packaging in the food sector. Evolving trends in the food packaging industry are greatly influenced by the demand for clean, smart, convenient and sustainable packing solutions. It is time to implement these new ideas for keeping the world safe and contributing toward a healthy, smart environment.