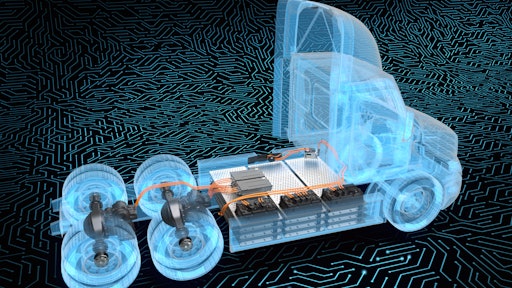 Daimler
Daimler Trucks North America demonstrates the growth of battery-powered technology in the logistics industry, with a new propriety named Detroit ePowertrain, which will power the Freightliner eCascadia and Freightlinger eM2. A new facility for the manufacturer is set to open in Detroit, Mich., in which Daimler invests $20 million. 
Per Daimler:
[Detroit ePowertrain] is part of Daimler Trucks' global platform strategy to establish a uniform basic architecture for their broad line-up of battery-electric vehicles around the globe. Its use in North America brings the company unprecedented global synergies and economies of scale for CO₂-neutral commercial vehicles. 
Initially, the Detroit ePowertrain will offer an eAxle design operating at 400 volts and be offered in two variants suitable for a variety of commercial vehicle applications. The single motor design is rated at 180 horsepower, delivering maximum torque of up to 11,500 lb-ft of torque, while the dual motor design offers up to 360 horsepower and 23,000 lb-ft of torque.
The Detroit ePowertrain will be mated to the choice of three battery offerings for the eCascadia and eM2, including a 210 kilowatt hour (kWh) version, a 315 kWh version, and a 475 kWh version. Battery packs are comprised of arrays of lithium-Ion prismatic cells. In Detroit's first ePowertrain offerings, the maximum range specifications will exceed 230 miles on a full charge for the medium-duty eM2 and 250 miles for the Class 8 eCascadia tractor.
Initial production of the Detroit ePowertrain is expected to begin in late 2021. The start of production for both Freightliner models begins in 2022.