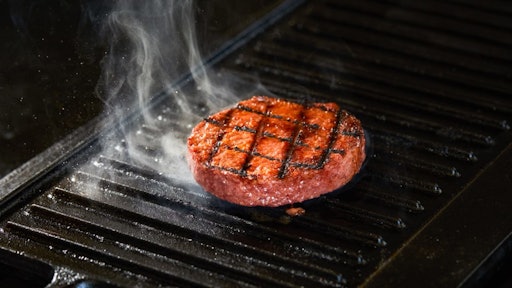 Sweet Earth
Plant-based burgers are spreading in popularity - and some of the food industry's biggest players are taking note.
With the likes of Beyond Meat and Impossible Foods, Nestle and Tyson have ventured out to develop their own similarly realistic plant-based burger.
Nestle has unveiled the Awesome Burger, developed by Sweet Earth, a California-based brand that Nestle acquired in 2017. The brand already makes more traditional veggie burgers that don't attempt to mimic meat, however, with more consumers attracted to alternative meats, the company realized that it needed to develop something new.
The Awesome Burger is designed to look and taste like beef, Fast Company reports. It sizzles on the grill and has a "great chew." Though, the recipe is designed to be healthier than regular beef. Fast Company reports that the recipe contains 28 grams of protein, and yellow peas that also have sustainability advantages.
The Awesome Burger is expected to launch in grocery stores, college cafeterias and restaurants later this year, and only took a year and half of development. The product has yet to be available for testing, though.
The alternative meats market is only expected to grow, though. A recent report from Barclay's predicts that the industry will be worth $140 billion within the next 10 years, making up 10 percent of the meat market.