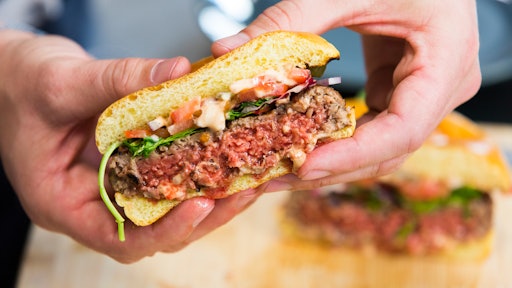 Impossible Foods
In response to surging demand from restaurateurs and their customers nationwide, Impossible Foods' veggie burger, Impossible Burger 2.0, is now available to all restaurants in the United States.
"The response to Impossible Burger 2.0 from food critics, restaurant owners and the general public, online and offline, has been spectacular. As a result of phenomenal demand for our next-gen product, we're accelerating the cutover to Impossible Burger 2.0, making it available to all restaurants in America," says Impossible Foods' Chief Operating Officer and Chief Financial Officer David Lee, who oversees sales. "We challenge restaurateurs and chefs who haven't yet tried the Impossible Burger to taste it side by side with any other ground meat. This is the food that will make you 'think different' about meat."
The Impossible Burger 2.0 was launched on Jan. 8 as a two-month transition from the original recipe. Demand outgrew supply, and the company ran out of original-recipe patties weeks earlier than what was originally anticipated and accelerated the "cutover" to 2.0.
Now, all food distributors can order the burger through DOT. In addition, Impossible Foods plans to launch the next-generation of Impossible Burger in select grocery stores later this year.