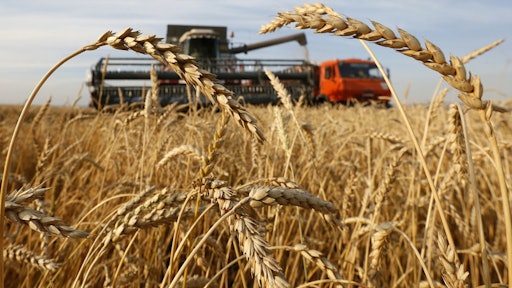 Russia's bumper wheat crops have caused the world's biggest exporter to increase stockpiles by 22 percent from a year earlier, an all-time high for post-Soviet Russia, according Moscow-based consultant SovEcon and Bloomberg News. While farmers boosted production by a fifth this year, exports have remained changed very little and are still way behind export projections.
The ruble's rebound made the grain more expensive for overseas buyers and exports also suffered when Egypt, a major purchaser of Black Sea grain, briefly halted imports earlier this year amid a standoff with traders. As the growing inventory adds to a global glut that has sent prices tumbling, Russian traders are seeking lower rail rates to help boost shipments.
"Exports have been middling so far," said Andrey Sizov Jr., managing director at SovEcon. The country usually tries to "rush" shipments in the first half of the season as storage capacity fills and farmers raise money for new plantings and to repay loans, he said.
Russian farmers are having to contend with the stockpile, equal to half of U.S. production, at a time when the country's wheat price is about 12 percent lower than a year earlier. Bumper harvests from major producers around the world have pushed benchmark prices in Chicago to near a 10-year low.
To read more, click here.