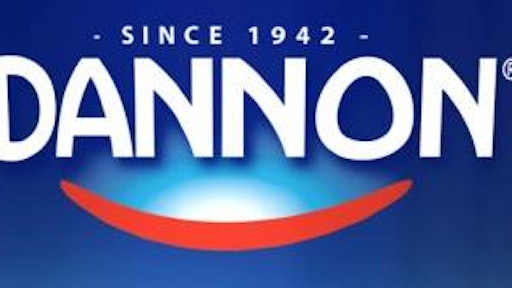 Dannon has joined the list of food suppliers that will label products that contain GMOs ingredients.
All Dannon products in the U.S. that have GMO ingredients will be clearly labeled as such, independent of actions taken (or not) by the federal government.
Starting in 2017 and completing the transformation by the end of 2018, Dannon will go one step further to ensure that the cows that supply Dannon's milk for three flagship brands will be fed non-GMO feed, a first for a leading non-organic yogurt maker. This will involve the conversion of an estimated 80,000 acres of farmland to produce non-GMO crops in order to provide non-GMO feed for the milk used to make Dannon, Oikos and Danimals brand products.
Beginning today, new yogurts with non-GMO ingredients are available for the first time from Dannon. Unveiled today are the first Dannon and Oikos branded products that contain more natural and non-GMO ingredients. This is the beginning of the transformation of the company's Danimals, Oikos and Dannon brands, which over time will evolve to contain non-GMO ingredients to add more choices to the most diverse range of yogurts available in the U.S.
To announce these sweeping changes, Dannon, with three NGO collaborators, are hosting a Dannon Pledge press briefing today at 10am in New York, which can be viewed globally on the company's YouTube page.
"Shoppers are our main ingredient, and what is important to them drives what we do. For this reason, the range of products we make is evolving to provide even more choices," said Mariano Lozano, CEO of Dannon. "Transparency is the key word for this shift. To show to our consumers that in order to make a real choice, we need clear labels, today we are making a bold change and candidly discussing how transparency from brands is essential for shoppers to make real choices."
The first yogurt-maker and big food company to make such sweeping changes, Dannon is leading the food industry's efforts to keep shoppers informed with information and empowered with choice. The company has partnered with leading NGOs to reach their goals: Green America and the Non-GMO Project. And Chairman of Just Label It!, Gary Hirshberg, is playing a key stakeholder role.
With Green America, the collaboration will focus primarily on developing the availability of non-GMO cow feed. With The Non-GMO Project, the collaboration is expected to lead to Dannon's use of their unique third-party verification and labeling for non-GMO verified food and products. And, with Just Label It!, Chairman Gary Hirshberg will continue to play a key stakeholder role in the fulfillment of the Dannon Pledge.
The increased transparency in labeling is among the first steps in the Dannon Pledge, a public commitment announced earlier this year to provide shoppers with more options. In the Pledge, Dannon commits to further improving sustainable agriculture practices around its milk supply, increasing transparency of its portfolio of products, and evolving to more natural and fewer ingredients for its flagship Dannon, Danimals and Oikos brands, which account for approximately half of the company's sales. To build awareness for its efforts, Dannon launched a new social media campaign this month featuring "straight talk" from moms about why choice matters.