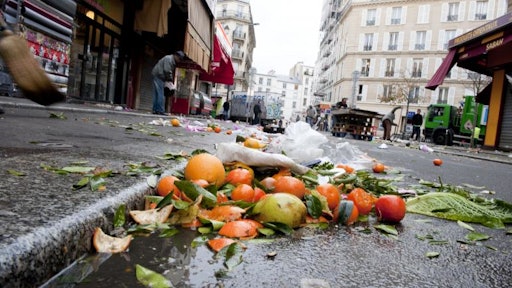 A new global standard for measuring food loss and waste will help countries and companies step up efforts to store, transport and consume food more efficiently, its backers said this week, according to Reuters.
Around one-third of all food, by weight, is spoiled or thrown away worldwide as it moves from where it is produced to where it is eaten, costing globally up to $940 billion per year, the U.N. Food and Agriculture Organization (FAO) has estimated.
The standard is the first set of international definitions and reporting requirements for businesses, governments and other organizations to measure and manage food loss and waste, with the aim of reducing it, its creators said.
The effort hopes to channel more food to the roughly 800 million people who are undernourished around the world, and cut emissions from the production of uneaten food, which account for about 8 percent of the total contributing to climate change.
"There's simply no reason that so much food should be lost and wasted," said Andrew Steer, president of the World Resources Institute, which has led work on the standard.
"Now we have a powerful new tool that will help governments and businesses save money, protect resources, and ensure more people get the food they need," he added in a statement.
Often companies, countries or cities lack information about how much, why and where food is removed from the supply chain. Definitions of food loss and waste also vary widely, making comparisons hard, according to a document on the new standard.
"It is challenging to manage what you do not measure," it noted.
Other organizations that developed the "Food Loss and Waste Accounting and Reporting Standard" include the Consumer Goods Forum, the FAO, the United Nations Environment Programme (UNEP) and the World Business Council for Sustainable Development.
Pascal Gréverath, Nestlé's vice president for environmental sustainability, said the food giant had tested the standard to measure fresh milk loss in its supply chain in Pakistan, where it procures milk from over 100,000 farmers.
Thanks to refrigerated tanks in villages and cooling systems used during transportation, wastage was found to be just 1.4 percent, the new tool showed, compared with a national average of more than 15 percent.
"Since we are in direct contact with many farmers, we have many opportunities to use (the standard) to better assess the possible options to further reduce loss and waste," Gréverath told reporters. "This we do also together with local authorities, so there are ways we can promote the protocol."
Robert van Otterdijk, an agro-industry officer with the FAO, said his agency would introduce the standard in its work in the developing world, and see how it could be implemented to produce better data on food loss and waste.
In low-income countries, food "loss" is the bigger problem, meaning food spoiled early in the value chain during harvest or in storage, transport and processing. But in richer nations, food "waste" thrown away by shops and consumers is worse.
The backers of the standard, launched at the Global Green Growth Forum in Copenhagen, hope governments will adopt it to measure progress under the new Sustainable Development Goals. Those call for food waste to be cut in half by 2030, and for food losses to be reduced by that date.
"The logic goes that there will be a convergence in thinking and reporting... as the complexities are teased out," said James Lomax, a food systems program officer with UNEP.
The Consumer Goods Forum, which represents more than 400 of the world's largest retailers and manufacturers from 70 countries, has adopted a resolution urging its members to reduce food waste from their operations by 50 percent by 2025, with baselines and progress to be measured using the new standard.
Mark Little, head of food waste reduction at UK-based supermarket chain Tesco, said that in Britain only a small amount of food waste occurs at the retail level, but that doesn't mean Tesco is passing the buck.
"We have a shared responsibility for that waste," he said. "We feel that the solution... lies in working in partnership with our farmers, our manufacturers and helping customers to reduce food waste in their own homes, as well as tackling the issue in our own operations."
To read more, click here.