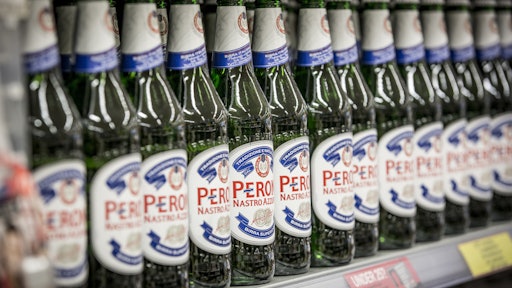 Anheuser-Busch InBev NV accepted Asahi Group Holdings Ltd.'s offer to buy the Peroni, Grolsch and Meantime beer brands for 2.55 billion euros ($2.9 billion), clearing another hurdle in the European brewer's efforts to win regulatory approval for the purchase of SABMiller Plc, according to Bloomberg.
The purchase by Asahi, which covers the premium brands and their related businesses in Italy, the Netherlands, the U.K. and internationally, is conditional on the SABMiller deal going through, AB InBev said in a statement Tuesday. The companies announced on Feb. 10 that Asahi had made a binding offer.
The acquisition would be Asahi's biggest, giving the brewer a foothold in Europe where it currently has no presence while reducing its dependence on a domestic market hampered by a shrinking population.
"Both Peroni and Grolsch are excellent brands with good market share in Italy, Holland and the U.K.," said Bloomberg Intelligence analyst Duncan Fox. "This should allow Asahi to distribute its brands through those networks, and I assume they will take the European brands into the home market too, at a premium no doubt."
AB InBev rose as much as 2.4 percent to 115.10 euros in Brussels, while Asahi gained 2 percent to 3,556 yen by the close of trading in Tokyo on Tuesday.
As beer sales in Japan stagnate, Asahi is looking to Southeast Asia and Australia for growth and can use the newly-acquired premium European brands for leverage as consumers in these territories upgrade to higher-quality brews, said Tokyo-based analyst Masashi Mori of Credit Suisse AG.
How Asahi will fare managing the brands' existing business in Europe is less clear, said Mori, given cultural differences. "They have good experience in cost control in past acquisitions, but whether they can manage it from the European brand perspective, I'm still dubious," he said.
To read more, click here.