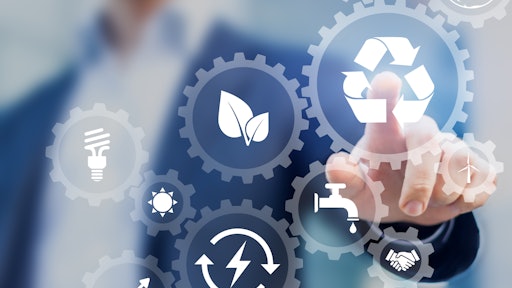 Getty Images
From a pandemic to labor shortages to inflation, the last few years have posed many challenges to the global supply chain. A Forrester Consulting survey revealed that many companies are focusing on data collection and optimization. Traceability data affords optimization, and the accountability it promotes will be crucial to companies' digital transformation and environmental, social and governance (ESG) initiatives — two interwoven paths to corporate sustainability in 2022.
· 81% of respondents believe data will be critical or important for control or optimization of assets, systems, processes or [relationships with] clients
· 79% see data as an important part of waste reduction, a key goal of ESG
· 77% believe that data is essential to overall supply chain optimization
The Forrester findings shed light on the need for greater visibility into supply chains and how this might impact consumer experience (CX), ESG and the broader economy.
The need for ESG investing in the supply chain
A nebulous ideal two decades ago, ESG criteria has solidified as a key factor in investment decisions. By 2025, global assets managed in ESG compliant portfolios are projected to reach $53 trillion, underscoring how quickly ESG has risen from a nice-to-have to a must-have in today's corporate climate. For supply chain professionals, the ESG movement's emphasis on transparency translates to collaboration across the entire value chain. Collaborators must agree on how to collect, protect and exchange information, according to a report from the World Economic Forum. Hence, supply chain professionals' focus on digital transformation.
Advancements in technology are helping manufacturers gain visibility into each stage of the supply chain for optimal decision-making. Cloud services store crucial data in a secure format that can be easily accessible to all relevant parties for seamless collaboration and prioritization. Artificial intelligence (AI) and machine learning (ML) technology analyze data to help manufacturers make more accurate predictions that promote cost efficiency and minimize waste.
Of all technological advancements, product traceability solutions might be the most applicable to all rungs of the supply chain. Product digitization and traceability can mitigate improper reproduction or use of a company's products and enable quick recalls when problems do arise. The benefits extend to customer service, making "missing" goods easier to locate and delivery timelines easier to predict. Product traceability is fast becoming and will continue to be a critical risk management tool in helping manufacturers fulfill both corporate ESG initiatives and regulatory compliance.
Many are green-to-green operations
There are clear incentives for adopting ESG values and publicizing KPIs reached. However, supply chain professionals might encounter blind spots as they drive toward sustainability. Cross-functional collaboration is a far cry from traditional manufacturing models. After all data silos are a hallmark of the assembly line.
Growing pains converge with confusion surrounding ESG metrics. Despite increased pressure to adopt ESG goals, there is no unified reporting standard for ESG. A lack of clear standards allows companies to cherry pick metrics that paint operations in a positive light and allocate resources to furthering these goals at the expense of other facets of the supply chain. Seemingly each day brings new headlines about food recalls, the sale of counterfeit goods and supply shortages stemming from misalignment on process and, in some cases, outright neglect. Manufacturers will have to make adequate investments in digital transformation initiatives to overcome challenges.
Fortunately, Forrester's study finds that companies are largely implementing or planning to implement digital initiatives related to their supply chain and ESG:
· 57% of respondents reported that their company has already launched or is expanding initiatives that will reduce waste within the supply chain. An additional 17% plan to introduce such waste reduction initiatives in the next 12 months.
· Slightly more than half (54%) said their company currently requires suppliers to digitally report against ESG metrics. Another 20% said their company plans to do so in the next 12 months.
The majority (79%) of respondents consider having full visibility into their companies' product journeys and having the ability to quickly recall the right products (78%) important or critical to the success of their businesses. Cited by 77% of respondents, brand loyalty through better product management trails closely behind.
To efficiency and beyond
Indeed, companies that prioritize ESG not only enjoy greater insight into and control over operations for enhanced efficiency, but also the financial and reputational benefits that come with meeting contemporary CX standards. Today's consumer is concerned with a manufacturers' commitment to ethics. A recent PWC survey found 83% of consumers think companies should be actively shaping ESG best practices. Almost as many companies are making strides to meet rising consumer expectations; 71% of Forrester survey respondents cited the importance of being able to provide ethical sourcing information.
In addition to fostering customer loyalty, embarking on digital transformation through an ESG lens can help companies attract and retain supply chain personnel. Manufacturing's aging workforce issue — nearly one-quarter of the manufacturing workforce is age 55 or older — was compounded by COVID-19, which pushed more than 2.4 million Americans to retire early and employees of all ages to leave the workforce. Manufacturing suffered a nearly 60% spike in resignations compared to pre-pandemic rates, contributing to large scale supply chain dysfunction.
As the workforce reshuffles, the full picture of why employees are leaving comes into view. For many, job satisfaction depends on personal alignment with company values. PWC found 86% of employees prefer to support or work for companies that care about the same issues they do. Forrester found 91% of business leaders believe their company has a responsibility to act on ESG issues. A shift toward ESG operations can help manufacturers demonstrate shared values with current and prospective employees.
From efficiency to investor attention to customer loyalty to staff recruitment and retention, companies see concrete benefits from adopting ESG values and supporting initiatives through digital transformation. It's not surprising that 50% report intention both to prioritize digitizing their supply chain and/or implementing or improving sustainability efforts (ESG) within the next 12 months. The other half might want to rethink strategy as adherence to ESG best practices is quickly becoming a foundational element of corporate value creation.
Entering the ESG era
A common thread of ESG goals supported by digital transformation initiatives connects results of the new Forrester Consulting study. Respondents' Top 3 initiatives for the next 12 months relate to digital transformation and implementing sustainability initiatives to optimize the supply chain. This is followed by customer-experience-related priorities like improving brand loyalty through CX, improving CX initiatives and improving visibility into the sourcing of product components.
Companies' goals are interconnected and so are the means of achieving them. Companies looking to update their supply chain to keep pace with competitors should raise the bar on ESG initiatives and compliance by product digitization and traceability, to achieve the necessary visibility that allows for transparency and trust. The scope of application and enterprise-wide benefits make traceability technology a worthwhile investment.