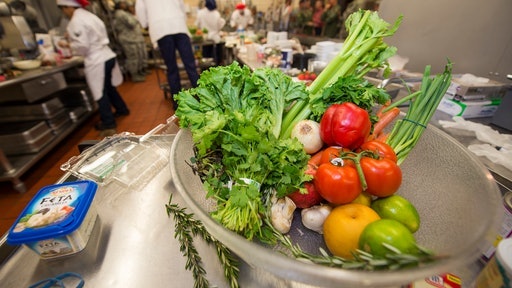 Getty Stock_restaurant.5f262053c76e6
Sitting down and sharing a great meal with a friend is typically a favorite pastime for most "foodies." This experience usually develops into a positive discussion, mostly about the fine food they are enjoying, but rarely about food waste mitigation. However, and as we approach the holidays, the reality is that most meals result in leaving food on our plates, disposing of unused prepared foods and contributing to the growing challenge of global food waste. Despite the cause of food disposal and the lack of awareness of food supply sustainability, global food mitigation will need to be a top priority for leading economic countries going forward. Technology and digital applications will be the No. 1 driver on how to address this global challenge.
The magnitude and impact of global food waste
According to the Food and Agriculture Organization (FAO), it is estimated that the global volume of food waste for 2022 will be 1.3 billion tons. This represents 30-40% of the total global food supply.
With the heightened awareness of the global food supply coupled with concerns of food shortages in some high population regions, food waste mitigation is now one of the top priorities for countries with attention being paid to perishable cold chain technology. In fact, now the G20 has outlined key actions to advance global food security and sustainable food systems. Food loss and food waste worldwide is one of the top priorities on the agenda. Developing and leveraging perishable food cold chain technology will not only serve to address food waste mitigation, but it will also serve as the foundation and framework for other key sustainable global G20 initiatives.
Land, water, labor, energy and other inputs are being used in producing, processing, transporting, preparing, storing and disposing of discarded food. Cold chain and refrigerated transport technology will not only provide food waste mitigation benefits but will, at the same time, address the following challenges related to these areas:
1. Reduce the food waste carbon footprint, which is estimated at 3.3 billion tons of CO2 released into the atmosphere per year.
2. Reduce the volume of water-- a scarce resource now in many regions, which used each year to produce food that is lost or wasted. This water depletion tied to food waste is equivalent to three times the volume of Lake Geneva in Wisconsin.
3. 28% of the world's agricultural area is used for food that is either lost or wasted.
4. A very low percentage of all food wastage is composted and much of the food disposed ends up in landfills and represents a large part of municipal solid waste. Methane emissions from landfills represents one of the largest sources of emissions from the waste sector.
5. The direct economic consequences of food waste (excluding fish and seafood) equal a loss in food value of $750 billion annually.
Leveraging IoT technology to address food waste mitigation
Digital and Internet of Things (IoT) technology is playing a key role for perishable food shippers, who are requiring real-time monitoring of the temperature, humidity, air flow, location and machinery performance as well as remote operations capability. Most importantly, the predictive analytics can serve as an early warning diagnostic utility for the purpose of taking prescriptive action to prevent food transportation failures. This proactive and preventative action is something that will have a material impact on food waste mitigation. Related to this point, technology will continue to add significant food sourcing capital savings with more visibility and transparency to the refrigerated cargo transport journey.
While most do not think about the controller level data feeds related to IoT and telematics container technology, more operators and shippers are understanding the value of machinery performance data, which can lead to addressing issues before they result in a failure. For example, compressor operations as it relates to vacuum, temperature variance or energy consumption can serve as leading indicators that result in taking remote digital-actuated action to prevent cargo food loss. These data-driven and deviation data trend feeds offer significant value in ensuring perishable food conditions are not subject to food spoilage risk. In this regard, multi-sensor data feeds will further enhance operators and shippers to adjust machinery settings remotely, which can offer consistent and more fault tolerant cargo environments.
Data integration, flawless cold chain cargo hand offs and cost savings
Integrating data across the supply chain stakeholders, in a true supplier-customer fashion, has also allowed digital applications to be used to achieve flawless hand-offs and exception management practices, which have proven to further reduce food waste and failures. From loading to cold chain storage, having interoperability of data and exchanging primary data elements continue to be beneficial to track food cargo ETA's, delays and journey variance tied to perishable timelines to manage "sell by" or "use by" dates. Additional score card metrics and data integration technology are being developed, which will eventually be shared from shipper to the end user or buyer at the wholesale or retail level.
In addition to data integration, artificial intelligence and IoT technology is offering cost savings advantages, not only to support food waste mitigation but by also offering operational benefits. Enhanced pre-trip inspection (PTI) support is now being offered by most technology platforms, making data-driven analysis a part of operation cost savings initiatives.
Technology, food waste mitigation and zero emission - decarbonization goals are all interconnected
IoT and telematics technology on refrigerated containers have a multifaceted advantage matrix for shippers and ocean container line operators. The technology proves to not only be effective at food waste mitigation, but most of the technology and digital platforms also offer key advantages for tracking environmental environmental, social, governance (ESG) and decarbonizing goals.
Power consumption data, refrigerant leakage, heat transfer and other metrics can all be measured with refrigerated container telematics and IoT technology, which are either developed or being developed. This technology will be invaluable for ESG and emission objective audits using real-time data. In addition, power consumption and data related to operating performance will prove beneficial for operators and shippers to measure vessel power consumption efficiency as it relates to refrigerated power consumption as a percentage of total emissions. The aim here is to use more renewable energy sources, including solar, hydrogen and other nascent technologies.
Using technology in the cold chain space to address food waste mitigation
Many modern advancements in technology, IoT telematics and digital platforms will allow for solutions that can prevent, track and eliminate food waste in the refrigerated container transportation and cold chain space. Whether it's a method of preservation, a way to share or an ability to repurpose food in other states, there are many options that increase awareness and help to mitigate food waste. The IoT world continues to evolve with data sharing, cooperation and integration being developed to ensure proactive and preventative cold chain management practices.