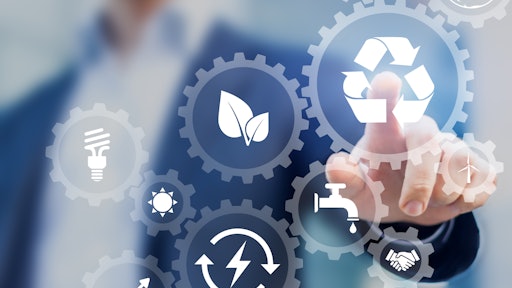 Getty Images
The food industry has had an extremely challenging few years navigating a global pandemic and its ongoing repercussions, including supply chain disruptions, soaring inflation, staffing shortages, travel restrictions and new COVID-19-related safety protocols. Now that the worst of the Coronavirus disease (COVID-19) pandemic is (hopefully) behind us, the food industry needs to shift from survival mode and intensify their environmental, social and governance (ESG) initiatives.
Why is this important? As an industry, we must address environmental issues like soil degradation, water and energy waste, the use of harmful pesticides, climate change and deforestation. Food brands are responsible for 70% of global fresh-water withdrawal and nearly a quarter of global greenhouse gas emissions. And, in the United States alone, we use more than 1 billion pounds of pesticides annually in farming, which negatively impacts ecosystems.
Food brands need to elevate their ESG initiatives, and as part of this effort, must determine whether their suppliers are practicing proper safety protocols and supporting ESG goals. This is essential because:
Companies need to know where their food is coming from, if it's safe and if it meets the latest ESG guidelines.
Without a transparent system, food brands can't properly identify inefficient, unreliable, unsafe suppliers, which can be risky, expensive and potentially damaging to their reputations.
Investors, regulators, consumers and prospects are increasingly demanding sustainable organizations, practices and products and are only working with companies that commit fully to ESG efforts.
Social justice issues matter, and many people are calling for businesses to prioritize ESG issues like racial and gender equality, diversity and inclusion, sustainable business practices and fair trade.
A recent Wall Street Journal survey examined more than 5,000 publicly traded companies purely on ESG metrics and found only one food brand scored in the Top 100. That's not good enough! Supply chain leaders must elevate and improve their ESG efforts. Doing so has many benefits, including driving sales, attracting new customers, employees and investors and helping the planet.
How can we track safety and ESG practices all along the supply chain?
Food businesses are busy – especially as many organizations remain understaffed –
and don't have the bandwidth to manually manage paperwork, certifications and deadlines for all suppliers. Manually trying to track this information is labor intensive, time-consuming and tedious, plus it's prone to errors.
A better approach is to use digital tools to boost transparency around supply chains to determine which suppliers are following proper safety protocols and committed to strong ESG practices. This also helps food brands avoid the ones that aren't.
In the past, software solutions had some major flaws that made them unaffordable, unattainable and unfeasible for most companies. They came with long sales cycles and high price points, which meant that only huge brands with limitless budgets could afford them. They were also complex and difficult to use, requiring extensive training, which was not ideal or realistic for many brands.
Today's tech solutions are modern, simple, affordable and accessible
Now, many companies are using innovative digital tools to boost transparency all along their supply chain. Today's software solutions let food businesses organize supplier certifications into a centralized system they can easily see and manage.
The newest software solutions tools are disrupting traditional market software, allowing businesses to:
Track supplier safety certifications easily and accurately to see which suppliers are committed to strong safety and ESG practices.
Learn more about where their suppliers source their raw materials, how they're being processed, and what practices they follow.
Decide which suppliers to work with – and which to avoid – based on their certification status.
Have a simple, modern, user-friendly, and cost-effective tool that is far superior to manual methods or older software options.
Boost transparency all along their supply chains, viewing task and certification status for all suppliers or drilling down to track by supplier, location or material.
Manage numerous vendors, certifications and deadlines in an easy, accurate, cost-effective manner.
Streamline processes to save time and reduce redundancies, errors and data entry for a more efficient, accurate experience.
Implement easily and be up and running in minutes, with no onboarding or training required.
You're only as good as the company you keep
Increasingly, food brands will work to prioritize sustainability, reduce their environmental impact, drive positive change regarding social justice issues, commit to DEI efforts and buy responsibly sourced products. While that's admirable, it's not enough.
As the old saying goes, you're only as good as the company you keep. Don't work hard to do all the right things – reducing waste and water usage, eliminating single use plastics, utilizing sustainable packaging, etc. – and then work with suppliers that aren't focused on ESG efforts. It's important to examine your supply chain and work with suppliers whose values and principles are aligned with your own.
Brands can use modern tech solutions to boost transparency through every step of their supply chains to determine whether their suppliers are properly certified – in terms of safety and ESG.
Even though organizations are busy with a million other things on any given day, it's important to elevate their ESG efforts. Doing so has numerous and significant benefits, including attracting more customers, prospects and investors, driving sales, increasing safety and helping the planet. It's the right thing to do, and today's software tools make it easy to do the right thing well.