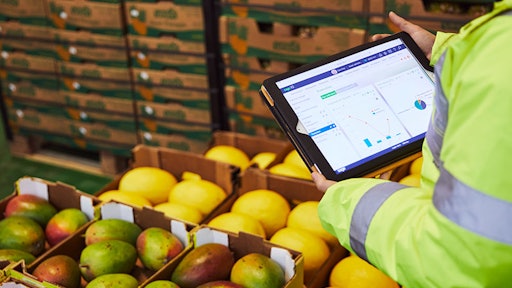 Sage
Maintaining a sustainable food chain both upstream and down comes with a host of challenges and opportunities. On one hand, doing so protects people, product and plant, reduces waste, encourages a green economy and ensures the freshest of foods are transported in the safest, most efficient manner possible. Plus, it's just good business practice.
On the other hand though, an aging infrastructure, a rise in grocery e-commerce and an influx in globalized sourcing continue to stress today's cold chains.
So, how can companies continue to keep sustainability top of mind amid a global pandemic and continuous supply chain disruptions?
In Food Logistics' June 2021 issue, editor-in-chief Marina Mayer talks with several industry experts about why sustainable food chains matter and how companies can obtain the supply chain visibility needed to effectively maintain a sustainable food chain.
Here's an interview with Mike Edgett, U.S. product marketing director at Sage, with excerpts publishing in Food Logistics' June 2021 issue. [CLICK HERE to read the article in full].
Food Logistics: From your vantage point, what are some of the main sustainability-focused challenges today's cold food chains face?
Mike Edgett: In today's world, "going green" is no longer optional as climate change continues to negatively impact the planet. On top of that, there is domestic, international and consumer pressure for distributors to reduce their carbon footprint, implement long-term sustainable processes and improve green practices.
The cold food and beverage industry face some unique sustainability challenges given the linear nature of food production, such as managing perishable products, navigating strict safety regulations, managing the ever-present danger of recalls, contamination and building a sustainability-first company culture. This is on top of usual distribution challenges such as managing the global supply chain that could be disrupted by agricultural changes and remaining conscious of constantly changing customer tastes and behaviors.
Sustainability initiatives are important to all segments of the food processing industry as having safe and reliable ingredients sources is essential. Sustainability is not just good marketing for a food and beverage company but is necessary for long-term profitability.
Food Logistics: To piggy-back on this, what are some of the solutions, efforts or initiatives in place to promote sustainable food chains and mitigate waste, etc.?
Edgett: Food companies are working closer with their suppliers around the globe, and many are setting expectations for sustainability and diminished greenhouse gasses.
According to a recent report, nearly 75% of distributors around the world have responded to sustainability-focused challenges by adopting a circular economy strategy to promote a sustainable food chain and mitigate waste production. The report also found that the most common strategies to sustainability are product recycling and reverse logistics (73%), low/no emission internal logistics (65%) and low/no emission internal supply chain (61%).
To achieve a successful circular economy strategy, food and beverage manufacturers must digitize their business so they can build better end-to-end supply chain and manufacturing processes to minimize food waste and bring products to the market efficiently.
Industry 4.0 makes sustainable strategies achievable. Migrating to the cloud helps distributors take advantage of Industry 4.0 technologies including automation, artificial intelligence (AI) and data analytics. Enterprise resource planning (ERP) software can inform circular economy strategies by reducing costs, extending visibility into various aspects of the supply chain and optimizing manufacturing processes to minimize food waste.
Food Logistics: Sustainability still matters, even in a global pandemic. Why is this? (Think ESG efforts, renewable energy/packaging, modernization, automation and more).
Edgett: Sustainability does and will continue to matter. And, it will play a key role in addressing our current challenges and those we have yet to face.
Let's look at packaging for example. Sustainability involves "eco-friendly" packaging, which is basically packaging with a reduced environmental impact and is becoming a consumer priority.
It can mean packaging made with 100% recycled or raw materials, packaging with a minimized carbon footprint due to a streamlined production process or supply chain or packaging that is recycled or reused. There is also biodegradable packaging like containers made from cornstarch being used for takeout meals.
Optimizing product density for transport is another sustainability technique. Minimizing packaging can reduce shipping weight and packaging waste to minimize an organization's carbon footprint. An added benefit is that manufacturers can deliver more in less time thus improving customer service and keeping the supply chain moving.
Food Logistics: How does the Biden Administration's Climate Change Action Plan and re-joining of the Paris Agreement impact the current and future status of sustainable food chains?
Edgett: It has been reported that the global food industry is responsible for one-third of the greenhouse gas emissions. Therefore, it is likely that new pressures will be placed across the industry due to re-joining this agreement. Much of this will be focused on agriculture vs. manufacturing, but the impact will be felt across the ecosystem. Now is the time for food companies to take a proactive approach to determine what steps they can take to help support this initiative versus waiting for government regulations to drive this.
Food Logistics: What should companies in the cold food and beverage space do to achieve sustainable food chains? Where do they start if they haven't done so already?
Edgett: Though kick starting the sustainability journey may seem daunting, implementing one or two initiatives is a step in the right direction. Companies in the cold food and beverage space should start by looking at regulatory requirements and assess internally what processes are creating waste.
Additional actions companies can take include refurbishment and remanufacturing initiatives that extend the life of products, shifting to a product-as-a service business model, re-using assets as part of an asset-sharing platform or getting into the habit of recycling by separating product components and suitable parts are used in new products instead of using raw materials.
Food Logistics: What kinds of technologies/solutions (i.e., Internet of Things, automation, etc.) is your company investing in and why?
Edgett: We are seeing more companies looking to leverage the power of AI to help them make better decision quickly.
Food Logistics: What does the future of sustainable food chains look like? Any risks/rewards?
Edgett: The future of sustainable food chains is green. Gartner projects the circular economy to fully replace the linear economy by 2029. The world is continuing to change, and people and companies are more conscious of not only their impact on the environment. Businesses that have already adopted circular economy strategies are ahead of the pack and are reaping the benefits of doing their part to save the planet.