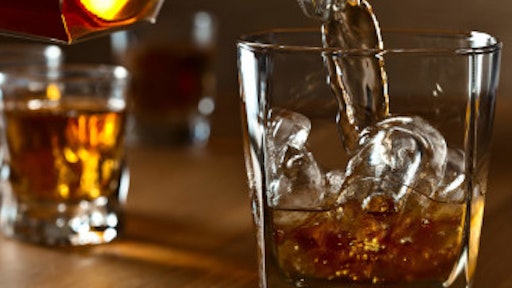 Pall Corporation
Today's consumers are enjoying drinks that blend "innovation with premium products," and because of that, cocktail culture and craft whiskey continue to surge in popularity. According to Grandview Research, the overall global whisky market size expects a compound annual growth rate (CAGR) of 6.4% over the next five years. This growth is driven by the consumer's increasing disposable income levels and changing preferences.
Whisky, in particular, is known for its distinct flavors and glossy, clear appearance. So, what happens when a whiskey pour appears cloudy in a glass?
What is chill haze?
Spirits such as whisky are very fragile and sensitive liquids. Water and alcohol levels in the spirit influence the solubility of turbidity inducing substances. Once a whisky cools, for example, if ice is added to a glass of the product, some of the compounds, specifically the esters and the fatty acids, stick together. The small particles that are formed give the spirit a cloudy or hazy appearance. This is referred to as chill haze.
Despite not impacting taste and flavor and remaining safe to drink, consumers still expect a visually clear drink. Anything less could be perceived as inferior or flawed, and it may deter someone from purchasing the product again. Therefore, removing chill haze is an important step for whisky producers to supply a consistent product and remain competitive.
What are the challenges with traditional chill haze removal?
Whisky producers typically use a heat exchanger for chilling followed by filtration to remove chill haze. The purchase, maintenance and running costs of the heat exchanger make it one of the most expensive parts of the process depending on required flow rate and size of distillery.
Lowering the spirit temperatures to between -2°C (28.4°F) and 4°C (39.2°F) before bottling can create long chain fatty esters, the cause of chill haze. In addition to causing chill haze, long chain fatty esters can leave an unwanted tastes, unlike short chain fatty esters which give whisky its taste and flavor.
Absorbing long chain fatty esters while keeping short chain fatty esters is achievable by filtering through depth filter sheet-based media, although it is inevitable that some of these important flavor compounds will also be removed. This is a problem, because many whisky producers don't want to compromise flavor in order to deliver a clear product.
See through the haze
Achieving a cloud-free whisky for consumers doesn't need to be difficult. Analyzing your current process and making some changes can improve performance. For starters, leveraging the right technologies can help improve quality and reduce cost. The result? A quality, crystal-clear product that you can be proud of.
Click here to hear more about the logistics behind whiskey: