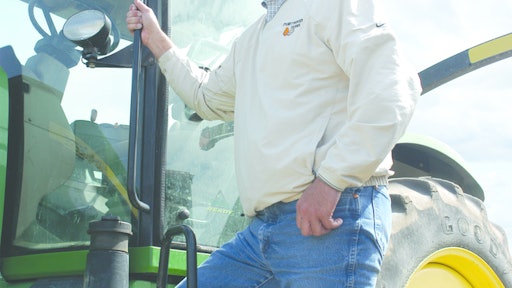 The San Joaquin Valley is located in California's Central Valley. It produces a significant amount of farm goods, including grapes, cotton, tree nuts, citrus and vegetables, for the U.S. and overseas markets.
Family-owned Portwood Farms has a long history in San Joaquin Valley, specifically in Kern County, just over a two-hour drive north of Los Angeles.
Recently, Food Logistics met with Portwood Farms' Joel Ackerknecht to learn more about the issues he and other farmers in the region are facing and what that means for the larger agricultural community.
Small farmers, big issues
Portwood Farms owns roughly 3,700 acres with most of it devoted to growing almonds. Many growers in the region started planting almond trees a decade or more ago, because permanent crops like almonds have more value, explains Ackerknecht.
"Almonds are a niche crop," he says. "They can't really be grown anywhere else," unlike cotton, for instance, which can be grown in places like Arizona, Texas and China. In addition, the San Joaquin Valley boasts a climactic advantage for growing tree nuts such as almonds and pistachios, he says. "It's also a higher value crop compared to cotton. With cotton, you're competing on the open market with other cotton-growing countries."
Not surprisingly, the economics for farmers is tougher these days and competition from foreign producers is only part of the pressure. No matter the crop, all farmers share a handful of challenges that threaten to alter their livelihood and the entire global food supply chain. Namely, water availability, changes in climate and weather, and increasing regulations.
"I think the water footprint is ultimately more important than the carbon footprint," asserts Ackerknecht. "Everything we do…it doesn't grow without water."
And, the availability of water for San Joaquin Valley farmers is a worsening problem. State and federal regulators are allocating less to farmers while California's ongoing drought is amplifying the lack of water.
"This year we're not only in an environmental drought, but a regulatory drought too," says Ackerknecht. "The State of California and the federal government have been more inclined to put the Endangered Species Act ahead of farming. We're being regulated out of water."
Controversy over how to manage the San Joaquin River, which starts in the Sierra Nevada and terminates in the San Francisco Bay, is one of several high-profile sticking points that have pitted farmers against environmentalists.
Despite the drought, Ackerknecht says the decision to put 'fish first' is what's hurting California farmers the most. He says a lawsuit by environmentalists aimed at protecting the California Delta Smelt has forced water officials to severely restrict the amount of water pumped from the Delta into the California Aqueduct, which provides much-needed water to farmers like Ackerknecht in the south.
"This year, our allocation from the SWP (California State Water Project) is zero percent. You'll hear that they raised it to five percent, but that water is not even available until after September 1, which doesn't do any farmer in California any good."
Meanwhile, the San Joaquin River Restoration Program and its efforts to restore Chinook salmon are also impacting farmers.
"The salmon restoration project has been taking 20 percent of the water that used to be delivered to farmers in the Valley and running it down the San Joaquin River to restore salmon habitats," says Ackerknecht.
It's also more difficult for farmers to rely on groundwater, he adds. Restrictions on how many wells can be drilled and how much water can be pumped out of the ground make groundwater an unreliable alternative to surface water for San Joaquin Valley farmers.
Furthermore, surface water deliveries are what keeps groundwater levels stable, explains Ackerknecht.
"When there are not surface water deliveries, we're basically mining the groundwater. We cannot keep doing that and expect to keep farming forever," he says.
The lack of water for California's farmers is not only pushing food prices higher, but also potentially changing the long-term outlook for the industry.
According to Ackerknecht, "It's going to change the future of farming dramatically. Just this year alone, the amount of acreage that's had to be fallowed is putting guys out of business."
Just like the trucking industry, which has experienced widespread consolidation in recent years, family-owned farms are being bought-out by larger corporate players in California and throughout the U.S.
"There aren't too many medium-sized farms anymore—they've become much more corporate," says Ackerknecht.
Small farmers that may have 40 acres or so cannot afford to drill a $400,000 well to irrigate their crops. One of their few options is to sell to someone larger with the money and means to either move water to the smaller farm or drill the well themself.
"You almost have to consolidate to survive these days," Ackerknecht says. "When diesel was $1 a gallon and fertilizer and labor was cheaper you could make a living off of 80 acres. But, margins have become smaller now with the increase in costs so you have to look at other options to stay in business."
Although a few farmers can turn to boutique vegetables or organic food to survive, most of the farmers like Ackerknecht in the San Joaquin Valley don't have that option, especially if they're farming tree nuts like almonds and pistachios.
"For one thing, the climate in the Valley really isn't ideal for specialty crops," he says. "And with these trees, there's a 25-year lifespan and considerable up-front investment."
New tools, technology
San Joaquin Valley native Dale Nicol understands the issues that farmers in the region face. His grandfather helped build California's water projects years ago and he grew up down the road from Portwood Farms.
Nicol has worked in the agricultural industry all his life and has been with agribusiness giant Syngenta for 33 years. He sold Ackerknecht on Syngenta's AgriEdge Excelsior farm management program in 2005.
"Joel was one of the first to use AgriEdge," says Nicol, Syngenta's AgriEdge Excelsior manager for the Coastal commercial unit.
Ackerknecht says that, "At the time, I was struggling to find a pesticide-use reporting software that fit our needs. Before this software existed, you had to write pesticide-use reports by hand. What Dale offered was a software that could track costs; it also allowed me to print out pesticide-use reports and just mail them in to the agriculture commissioner every month."
The AgriEdge program is actually comprised of four pillars: Portfolio (all of Syngenta's products from seeds to crop protection products and more); Risk Management (a shared-risk program between Syngenta and farmers); Service (Syngenta's specialists who provide AgriEdge program support); and the Land.db Farm Management System software and technology.
Nicol describes the Land.db software as the "magic of the entire AgriEdge program. This is what we really try to get farmers to explore and latch on to, because we believe that even if you're a small grower, if you manage your farm well you can compete with the big guys. After all, that's how the big guys do it, they farm efficiently."
Ackerknecht says AgriEdge helps him keep track of costs, particularly the three biggest ones—fuel, fertilizer, and chemicals.
"My goal is to make the most crop for the least cost," says Ackerknecht. "With this software, I can go back and find out how much it cost to spray per acre and track trends in chemical costs. This is very important, because almonds can be costly to farm. We want to make sure we have the right amount of product (like fungicide), for the right price, and make sure we're taking care of the field. You can't cut corners, and you can't farm on the cheap."
The other attraction for Ackerknecht is that the software is user-friendly, even though there are many features and capabilities. "It's so simple to use. There's actually much more to the program than I even use," he admits.
Syngenta's Nicol says AgriEdge is free to qualified farmers who meet a "minimum spend requirement," which is fairly easy to attain. Yet, only about 15 percent of farmers use a farm recordkeeping software like AgriEdge, he explains, and "the California market is wide open."
Nicol adds that Syngenta's developments in other areas are helping farmers survive the new pressures like water shortages and higher operating costs.
"We have corn hybrids, for example, that can live on much less water and still produce, or even out-produce, conventional hybrids. We're bringing these corn hybrids to California, which is not even that significant of a corn market, but could potentially help farmers like Joel by freeing up water for almonds."
A world market for almonds
There are incentives for farmers like Ackerknecht to take advantage of modern farming techniques and technology and 'stay with the farm' through the ups and downs, especially if you're growing almonds.
The Department of Agriculture's National Agricultural Statistics Service (NASS) announced May 1 that the state is on track to produce its third-largest crop ever. It projects that 1.95 billion pounds will be harvested this year, slightly less than the 2 billion pounds harvested in 2013 and the 2.03 billion pounds harvested in 2011.
According to the Almond Board of California, about 30 percent of the crop is consumed in the U.S. while the remaining 70 percent is exported. The top 10 export markets are: China/Hong Kong, Spain, India, Germany, United Arab Emirates, Japan, South Korea, Russia, Canada and the Netherlands.
Industry analysts expect worldwide demand for almonds to continue growing, and with limited competition, California will very likely remain the dominant producer.
Daniel Sumner, director of the Agricultural Issues Center at University of California – Davis, told The Los Angeles Times in January that, "We'll run out of dirt and water before we run out of almond markets."
[sidebar] Grocers Grow Their e-Commerce Business
After a rocky start, the formula for success in online grocery sales to the masses is finally coming together. Pioneers and new entrants alike are growing their e-commerce business and expanding into new markets.
Louis Borders, the founder of Webvan, which is generally known for its epic failure rather than success, is apparently ready to get back in the game after remaining one the sidelines since Webvan fell into bankruptcy in 2001.
A report by Recode.net last month states Borders' new online grocery business is currently referred to as Home Delivery Service (HDS), although it's likely to have a new name once the service officially launches.
The only other information about HDS is on Borders' MercuryStartups.com Web site. Here is what it says:
Online shopping and the way customers receive purchases can be vastly improved. Most items are shipped via packaged delivery—small orders, wasteful packaging, inconvenient returns, no perishables, and the 'common carrier' disconnect between seller and customer. Home delivery—large orders including perishables and general merchandise, returnable totes, on-the-spot returns, and same day delivery into the home by the seller—is poised to transform e-commerce as more convenient, efficient and personal than packaged delivery.
HDS is a dedicated home delivery service. Its patented, automated distribution technology, retailer-friendly business model and complementary supply chain architecture enable smaller distribution centers, lower operating costs and a more environmentally sustainable service than any current retail format. HDS can offer competitive prices, fresher foods and unlimited selection, as well as free delivery.
Consumers experience HDS as a destination site to shop for fresh foods and general merchandise from the world's leading retail brands. Multi-retailer orders are assembled at our automated distribution centers into reusable totes and delivered quickly and conveniently by HDS couriers in HDS vans.
$10 trillion of today's global retail sales are subject to home delivery competition. Entry by Amazon, Walmart, Google and eBay into this market is an indicator of the size and importance of the opportunity.
Our unique technology, business model and supply chain architecture will enable HDS to be a market leader as home delivery takes online shopping from niche to mainstream.
Meanwhile, other online grocers are carving out their own niche, whether it's organic, locally sourced produce, or concentrating on a specific metropolitan area.
Yummy.com, based in Los Angeles, offers online shoppers a range of groceries in every supermarket category from fresh produce and meat to gourmet items and even beer, wine and liquor. Barnaby Montgomery, co-founder and CEO of Yummy.com, shared his thoughts with Food Logistics on the future of online grocery…
FL: Have online grocers finally figured out how to make the service profitable? What challenges remain?
Montgomery: We can't speak for the profitability of other fulfillment systems, but Yummy.com has been profitable for more than 10 years. The challenge online grocers have is to clearly identify a customer need before they choose a fulfillment solution, because each customer need requires a specific solution.
FL: How has Yummy.com been able to take on the challenges of fulfillment?
Montgomery: Yummy.com works because our fulfillment solution tightly addresses the mass market need for convenience. In our model, our fulfillment locations are close to customers because we fulfill their orders in about 30 minutes. For example, if you place an order at 11 a.m., you will receive your order by 11:30 a.m.
In addition to having facilities close to the customer, our Pick & Pack systems are designed to assemble customer orders within 10 minutes of order placement.
We operate a fleet of Ford Transit Connects because the vehicles are small and relatively fuel-efficient. We currently fulfill more than 20,000 orders each month.
FL: What is Yummy.com's future expansion plan? Will it always be a regional service, or can the model be expanded nationally?
Montgomery: We will continue to add fulfillment locations regionally (another Los Angeles location is planned for later this year), and we plan to expand nationally in partnership with a major retailer soon.