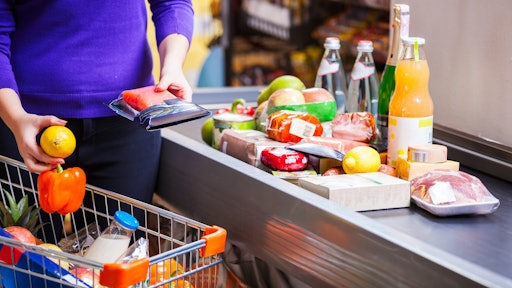 Andrey Bandurenko
Over the past few years, the United States has experienced a substantial shift in how Americans receive and spend government-funded nutritional assistance benefits. Although new technologies were already gaining traction, the Coronavirus disease (COVID-19) has accelerated the Supplemental Nutrition Assistance Program (SNAP) electronic benefits transfer (EBT) and eWIC landscape by presenting the issue of how these programs can adapt to evolving payment methods. To stay ahead of the curve, grocers will benefit most from finding an integrated payment provider that can support SNAP EBT and eWIC, online or in store.
In April, Americans spent $8.4 billion in online groceries, up 29.2% compared with $6.5 billion in April 2020. As online grocery continues to evolve, more and more grocery retailers are inclined to expand their online purchasing options for WIC and SNAP recipients. Some retail giants have already rolled out the option to pay for groceries online with EBT.
The expansion of government benefit programs is reinforcing the need for technological advancements both in store and online. In 2018, roughly 40 million Americans were using SNAP, with the average monthly benefit at $250 per household. In recent news, the Biden Administration has confirmed a 25% increase to the Supplemental Nutrition Assistance Program (SNAP) electronic benefits transfer (EBT) program starting in October. In the meantime, the pandemic relief legislation has provided a 15% boost in the program that expired on Sept. 30.
WIC, as well, is undergoing a period of expansion that is following on the heels of its recent technological upgrade. Adopted in 1972, the Women, Infants, and Children (WIC) Program is the nation's premier public health nutrition program that provides healthcare and nutritional services to mothers and young children. In July, the WIC program updated new income guidelines for receiving benefits, allowing more families to participate in the free nutrition education program. A recent report found that about 57% of the eligible population is participating in WIC. The WIC Program has followed the same path as SNAP by modernizing how consumers can access their benefits with the launch of eWIC in 2018. eWIC, or electronic WIC, has done away with the previous paper voucher system and instead utilizes EBT cards for WIC transactions. This results in an improved checkout experience, fewer errors and streamlined bookkeeping.
Complications with EBTs
Alongside these improvements to in-store checkout, the pandemic has heightened the necessity for allowing benefit holders the opportunity to pay online. Though COVID-19 has led to a surge in e-commerce, online grocery will outlast the pandemic as consumers increasingly prefer to shop online due to its convenience and accessibility. The great news is that the SNAP EBT online pilot program is available in 47 states, but only to pre-approved retailers. Unfortunately, the approval process is lengthy, and many merchants are waiting for their slot in the list to be approved.
To become approved, retailers must receive authorization from the Food and Nutrition Service (FNS) of the USDA. Upon approval, merchants have to integrate with an e-commerce payment software that meets the government's guidelines.
To aid merchants, software companies have rolled out payment processing integrations that equip the online storefront with a digital PIN pad so that customers can securely enter their PIN online, just as is done in store.
Benefits of integrating a payment gateway that accepts EBTs
Approved retailers have garnered positive feedback by giving customers the power to have multiple purchasing options. Finding a payment processor that can support government benefits will keep grocery store owners ahead of the game. As a result, there have been a plethora of positive outcomes for participants. Beyond their ability to support the latest payment methods, payment gateway integrations streamline the checkout experience for both in-store and online transactions.
For brick-and-mortar merchants, integrating their point-of-sale system with a payment gateway allows them to accept a wide range of payment methods—including EBT—from just one payment terminal. In a single transaction, customers can seamlessly pay for groceries with an array of payment options (e.g., credit, debit, checks) along with their benefits card rather than having to use a separate terminal for each payment method. At the same time, merchants can improve their account reconciliation process with the ability to manage transactions and invoices all in one place.
Another benefit to payment integrations is that they simplify Payment Card Industry's (PCI) compliance. All merchants are required to comply with PCI's data security standards (DSS). Finding a payment software that is PCI compliant reduces credit card fraud and security breaches. Payments are processed more securely, with every single transaction tokenized and prevented from fraud.
Lastly, the negative stigma surrounding food stamps has decreased, since EBT cards look just like any other credit or debit card. With increased participation and outreach, more and more Americans appreciate the convenience of EBT payments both in store and online. As customers come to this realization, the time has come for grocers to support these payment methods.
The future of EBTs
With innovations continuously emerging, retailers are accepting and adapting to the future of payment technology. Pilot programs are pioneering these changes to promote equity and inclusion among beneficiaries. The objective is to expand the scope of diverse retailers and merchants by helping them upgrade their current payment technology to accommodate multiple payment methods. Merchants can stay ahead of the curve by working with a payment gateway provider that can seamlessly upgrade their payment technology to support a wide range of payment methods, including the EBT card.