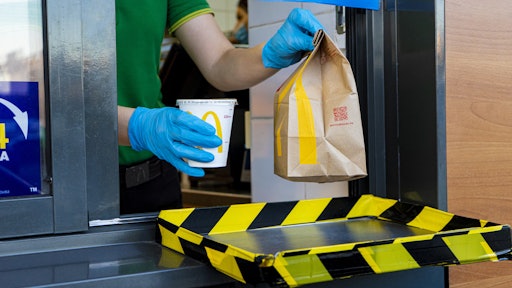 gargantiopa - stock.adobe.com
In a post-COVID-19 world, mobile ordering has taken center stage for quick-service restaurants (QSRs). It's perhaps even more relevant for the coffee shops, bakeries and cafés that provide the necessary dose of caffeine to millions of Americans each morning. Order ahead was once considered a simple convenience and has now evolved into a sophisticated solution for maintaining social distance and reducing contact during checkout. In place of the traditional line, there's now a steady stream of customers quickly picking up their orders, each grabbing the package with their name on it, before moving on with their day.
Since March, chains have seen their branded app downloads peek at +160%, and their share of industry transactions have nearly tripled. The same can be seen with the rapid increase in specialty coffee shops interested in mobile ordering marketplaces. There seems no doubt that mobile ordering will be critical to café operations moving forward. Even with an elongated return to normalcy, the Coronavirus disease (COVID-19) has forever changed the way consumers interact with retailers.
Because of this inevitable shift in behavior, the benefits of mobile ordering are what ultimately will drive the most value for consumers and business owners. The benefits of saving time and money are foundational for consumers that prefer the convenient ordering ahead of time, contactless payment and an expansive rewards program. For business owners, however, access to a technology platform that integrates with their point-of-sale and allows them to safely take care of their customer, while reducing transaction time and their operational costs are most critical.
Ultimately, as those benefits are adopted by more consumers, there is a clear network effect that allows both sides of the marketplace to organically grow in parallel. There is an anecdotal concern that retailers may lose their customers to a competitive business nearby, but that's not been the case in reality.
Coffee shop and café menu availability in a marketplace, especially one catering to the small business community, can foster loyalty far better than segmented products are often able to. According to 2020 data from Odeko, coffee shops using an order-ahead marketplace experience prior to COVID-19 saw a net increase in customers with little-to-no drop off in existing customers as compared to coffee shops that did not have an order-ahead solution in place. Many expect that sustained loyalty to these small businesses to continue long into the national re-opening and any potential new closures.
Most important in times like these, and especially relevant before and after the COVID-19 outbreak, when a business joins a marketplace, they can significantly reduce their operating costs. Beyond eliminating any potential spend on technology, when executed correctly businesses are able to reach far more customers than they would otherwise be able to, which they can achieve without increasing their own marketing spend. In fact, the average café enjoys a 10% increase in new customers when they join a marketplace, simply by allowing the product to work for them. With an even further reduction of monthly platform and premium transaction fees, a mobile ordering connected to a marketplace can be a game changer.
All of that said, branded mobile apps can be a viable option for businesses that have built a recognizable brand, especially those that are able to reach over 50,000 monthly customers across their retail footprint. Standing up your own app does increase the cost of ownership though, especially given a fixed reach, but when paired with a marketplace product they can be an effective driver of new business. Unless you operate a brand with national scale and relevance, the long-term consumer interest is ultimately generated by the marketplace, which has the added benefit of uniting independent businesses within a community together, one that's uniquely positioned to compete with the massive chains on every corner.
To be clear, there is no easy road to success for either model. In fact, the benefits of tapping into an existing customer base with a branded app offers a short-term benefit, while building a successful marketplace is chock-full of supply and demand challenges. For instance, when you first launch in a new geographic market, you need to build retail (supply) and customer (demand) simultaneously. While the intrinsic value behind the concept of mobile ordering is less complex than say a ride-sharing app, scaling the business is equally as challenging. You need undying commitment to contribute to the sustained success of small businesses and the ability to fuel that passion with lots of free coffee.
The data is clear -- mobile ordering has been a lifeline for QSRs during COVID-19. The swift deployment of digital, contactless payment and loyalty reward apps have afforded retailers like coffee shops, bakeries and cafés the opportunity to not only safely remain connected with their customers, but to also quite literally survive the most tumultuous economic downturn since the 2008 recession.