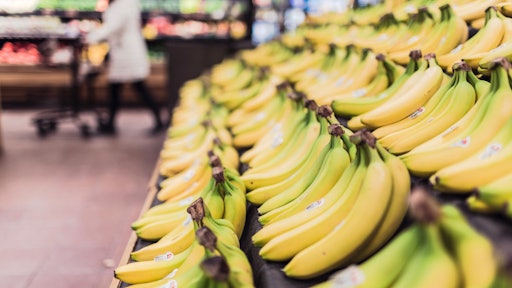 Pexels
Carrier Transicold, with Chiquita, successfully completed live cargo shipments for the new EverFRESH active controlled atmosphere system, transporting fully loaded containers of bananas from Panama to the Netherlands. .
"Through multiple trials, the EverFRESH system delivered on its promise to create a controlled atmosphere balance that could be sustained throughout the voyage," says Stefano Di Paolo, president, Great White Fleet, Chiquita. "The speed at which the EverFRESH system reduced oxygen levels to slow ripening and its ability to maintain high humidity were impressive."
Chiquita shipped bananas using 40-foot, high-cube containers equipped with Carrier Transicold PrimeLINE refrigeration units. The EverFRESH systems were programmed to maintain oxygen levels at 5% and carbon dioxide at 4%. Temperature, gas and humidity concentrations were monitored continuously throughout the 17-day shipments.
Significantly, the containers used in the shipments were not new and had some degree of air leakage due to normal wear and tear, making them more representative of typical containers used throughout the global fleet. Positive-pressures generated by the installed EverFRESH system helped offset issues related to leakage from the existing containers.
, "In the shipments, container humidity levels were maintained as high as 90%, a feat other active atmosphere control systems can struggle with, which can potentially lead to a loss of fruit moisture content. We are pleased to have had the opportunity to work with Chiquita on this trial, successfully demonstrating the EverFRESH system's ability to protect and preserve their valuable cargo en route to consumers in Europe," says Jim Taeckens, senior product manager, Global Container Refrigeration, Carrier Transicold. 
Introduced in November 2019, Carrier Transicold's new EverFRESH system builds on the first generation EverFRESH system introduced 25 years ago. Today's EverFRESH system continues to help preserve the quality of perishables beyond what refrigeration alone can do by actively managing oxygen and carbon dioxide levels to slow respiration and the natural ripening of the commodity inside. Moreover, it does so more affordably than the previous EverFRESH system. As an active system, it generates nitrogen to more quickly and responsively displace oxygen, rather than relying on respiration alone to gradually reduce oxygen levels.
The new EverFRESH system will be available in the first quarter for Carrier Transicold PrimeLINE refrigeration systems equipped with the Micro-Link® 5 controller option.