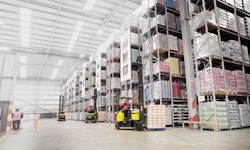 Combilift
The new 2020 production model of 33NE (Narrow Electric) Aisle Master from Combilift, Greensboro, N.C., is said to the smallest articulated narrow-aisle truck on the market.
This 3,300-pound capacity lift truck features an in-line drive axle, so that it can operate more efficiently in small aisles, enabling aisle widths to be shrunk to a minimum.
Other features are as follows: 
•             Patented over-articulated steering system - European Patent Number 3008008.
•             850mm wide front axle with co-axial drive motor for superior aisle performance.
•             Dual bearing mast support system provides excellent mast rigidity.
•             Compact mast top bearing with fibre-glass cover giving optimal frontal visibility.
•             Ergonomic operator's control console complete with arm rest.
•             Operator's position accessible from both sides.
•             New overhead guard with hi-visibility aperture for product placing and retrieval.