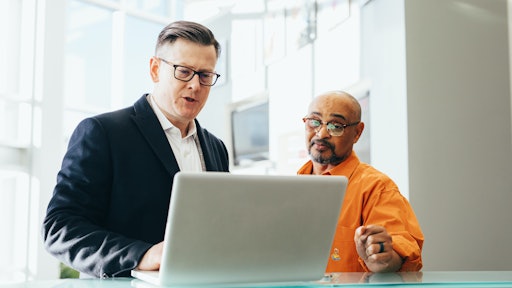 Zebra Technologies Sees New Human Resources Appointment
Zebra Technologies will welcome a new chief human resources officer on April 20, who will be responsible for organizational development, talent acquisition, rewards and benefits, culture strategies and other tasks related to employees.
The new CHRO, Holly Tyson, comes from DICK's Sporting Goods in the same role, and will replace Mike Terzich who is leaving after 28 years.
SYSPRO Leans into US Growth
SYSPRO USA has hired Scott Hebert as chief sales officer, focusing on revenue and growth in the United States. He has more than 30 years of experience at companies such as IBM, Salesforce.com, Box.com, Accurate and Zadara.
Hebert has been successful in building sales strategies at various companies. He also plans to lead philanthropic efforts of SYSPRO as he steps into the company.
LogRhythm Plans to Drive Sales with New CRO
Former Invanti chief revenue officer Mitchell Rowe has been hired by LogRhythm as CRO. He comes to the security operations provider with more than 20 years of experience.
LogRhythm is looking to Rowe to grow the strategy of sales team, driving sales along with customer satisfaction. His appointment follows a variety of management promotions this past year and is joining during the Coronavirus (COVID-19) outbreak looking to lead the team during this difficult time.
Acquia Looks for Continued Growth with New Managers
Acquia has appointed new managers with experience in the technology industry, including John Mandel as head of engineering coming from Continuum and Robert Former as chief information security officer coming from Pega.
The technology company is investing in these new leadership as last year it saw its highest annual reoccurring revenue increase and renewal rate. Acquia is also bringing on Kevin Cochrane from SAP as senior vice president of product marketing.
Bigfinite Promotes New Leaders
Bigfinite, Inc. is shuffling its leadership team around, appointing a new CEO, CFO, vice president of marketing, vice president of technical sales and vice president of security. John Vitalie steps into the CEO role and onto the board, replacing former CEO, current chairman and chief technology officer Pep Gubau. Gabau will focus on his role as CTO. Vitalie comes from Oracle where he was senior vice president of NNA CX sales.
David Merino comes from Novartis Integrated Services Limited as managing director to Bigfinite as CFO. Crystal Black is now the vice president of marketing and Cristian Marfà is the vice president of technical sales. David Voicu steps into the role of vice president of security.
Informa Connect Grows Restaurant & Food Team During Disruption
Susan Szymanski is joining the Restaurant & Food Group by Informa Connect as director of business development and customer engagement to lead client sales, product solutions and customer success. She plans to leverage relationships, digital growth and innovative planning to accomplish these goals and connect buyers and sellers.
The group is investing further in personnel during a severe interruption period when many others are downsizing their staff. Szymanski comes from Plate Magazine as vice president and publisher, as part of the 25 years she has spent in various roles throughout the foodservice industry.
LocatorX Follows Funding with New Board Member
As it closes its $6.6 million funding round, LocatorX is bringing UPS chief financial officer Kurt Kuehn to its board of directors hoping his supply chain experience will have an impact on the tech company.
Kuehn has served as CFO of UPS for eight years as part of his 38 years at the company, where he also served as senior vice president of sales and marketing beforehand. In addition, he was one of the parties responsible for taking UPS public in 1999 as the vice president of investor relations. The IPO is known as the largest of the 20th century.
LocatorX will be the third company of which Kuehn serves on the board, in addition to NCR and Henry Schein.
As 4flow co-founder Stefan Wolff vacates his position as CEO to join the company's advisory board, other co-founder Kai Althoff will take over. His founding of the company has resulted in 20 years of experience in shaping the company.
Previously, Althoff held the role of chief operating officer and on the management board responsible for global business operations. The company believes the changeover will be smooth and has been in the works for some time. It will carry out the transition despite the current Coronavirus (COVID-19) emergency.
Beacon Looks to Mitigate Cash Flow Issues for Transporters
Beacon has hired a new head of supply chain finance, Brenton Booth, to join the team to help grow the company.
Booth joins the company from Barclays Bank Plc as global head of product management and has 25 years of experience. His experience in trade and capital finance gives the company confidence that Booth will be helpful in scaling its supply chain FinTech product.
Skaginn 3X is looking to grow in Russia and Asia, appointing a multilingual sales manager to take over both regions.
Stepping in the regional sales manager position for Russia and Asia is Viktoría Alfreðsdóttir, who is fluent in four languages, Ukrainian, Russian, English and Icelandic. She will work alongside the director of sales operations in the office in Reykjavik. She has significant experience in in-depth analysis for market needs.