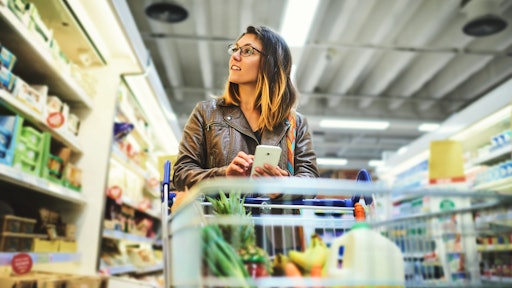 Getty Images
Grocery shopping in traditional stores may become a thing of the past as online sales are poised to grow much faster, according to a report by Edge by Ascential.
The Food & Beverage Sector Report found that leading retailers have begun to prioritize their e-commerce presence by expanding their online assortment and fulfillment options. Online grocery is expected increase at a CAGR of 13% through 2024, increasing total online sales to $162 billion.
Grocers are responding to increasing demands. Safeway offers home delivery within two hours of placing an order. Instacart delivers groceries in two hours from Whole Foods, Target, Costco and Petco, while meal-kit services offer pre-prepared meal plans with home delivery.
According to the report, Amazon and Walmart will continue to lead the pack of grocery leadership. However, the companies will continue to go head-to-head to be ranked number one. Amazon will reportedly grow its food e-commerce sales from $8 billion to $15 billion by 2024, while Walmart will increase from $6 billion to $14 billion.
"We're going to see a major shift to online and omnichannel over the next few years with edible grocery," says Violetta Volovich, Associate Analyst and report author for Edge by Ascential. "The barriers to adoption and growth in this sector are coming down, and retailers are investing heavily in technology, supply chain and partnerships that will make for an easy, seamless customer experience."
Currently, only 3% of modern grocery sales take place online. The sector e-commerce presence continues to grow at a much slower pace compared to others as consumers are still wary about buying their food online.
However, grocers are rapidly investing in their digital transformation, investing more in its cold chain and omnichannel formats.
Challenges of construction and modernizing cold-storage facilities to keep up with e-commerce has driven consolidation in the industry. Currently, four companies control 73.4 percent of the refrigerated warehouse space in North America.
"Few sectors of commercial real estate will undergo as much transformation in the coming years as the cold-storage industry due to e-commerce's impact on this previously underpenetrated market," says Matthew Walaszek, CBRE Associate Director of Industrial & Logistics Research, Americas. "We will see robust demand, further innovation in delivery and automation, and possibly more consolidation among major players.
To help combat complexities, grocers are developing new online-to-offline strategies that facilitate the flow of products and services that leverage store networks for click-and-collect capabilities and introducing more in-store automation to provide consumers with a more frictionless shopping experience.
In addition, several retailers have invested in fast, store-based fulfillment or are teaming up with third parties for the last-mile delivery.
According to the report, fulfillment intermediaries are driving product discovery and brand selection, enabling e-commerce operations to run low-cost formats, such as offering discounts.
Coupons are likely to entice consumers. At least 40 percent of online grocery shoppers look at online coupons from the store, while 33 percent read print store circulars at home. In addition, 33 percent leverage email deals from stores and delivery services, according to a CBRE report.
"Grocery shopping has often been viewed as a chore, meaning consumers will spend hours planning lists and meals, clipping coupons and actually purchasing items. However, retailers and brands are working quickly to improve the experience and make the process more streamlined through e-commerce optimization," says Julie Companey, director of grocery marketing, Valassis. "Those who create the right omnichannel promotional campaigns can gain a leg up and engage consumers while they are in the planning phase."