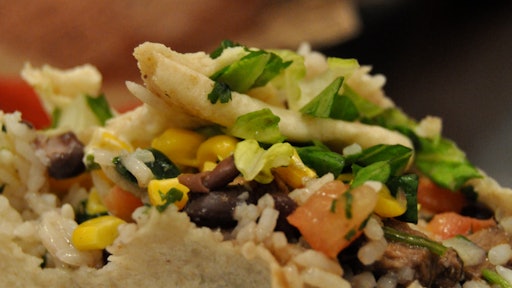 Chipotle Mexican Grill is investing in $10,000 per restaurant to add flat-screen panels for workers to fulfill off-site orders more quickly. Bloomberg reports that the additions will improve production lines that are dedicated to digital, online and catering orders.
Currently there are screens in place at 300 locations and will be in 900 restaurants by the end of the years. Employees will be able to see the images of an order's ingredients instead of words, and labels are printed automatically instead of handwritten, according to Bloomberg. Chief digital and informational officer Curt Garner says that the new system will make it easier and quicker to train workers.
Chipotle is upping its technological investments in an attempt to outdo its rivals in the surging food-delivery market.
Chipotle has 8.8 percent of orders go to its second production lines and the chain is working to up its delivery capabilities. The chain announced that its partnering with DoorDash to add the service to 1,500 restaurants. It currently delivers through Postmates and Tapingo at some locations. The restaurant is also in talks of doing delivery itself in areas where third-party services aren't available.