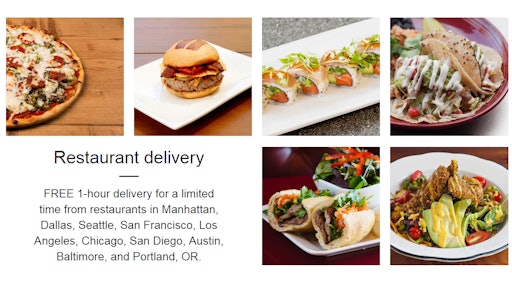 Amazon.com announced that Prime members in New York City and Dallas, Texas, can now enjoy free one-hour delivery from local restaurants.
Using the Prime Now mobile app or by visiting the Prime Now website, Manhattan and Dallas customers can view participating restaurants, browse menus, place orders, track the status of their delivery, and watch as their delivery driver travels from the restaurant to the delivery address in real time.
Once an order is placed, Amazon delivery partners deliver the food in one hour or less. Amazon Restaurants offers customers transparent pricing – there are no menu markups or hidden service fees – and delivery on all orders is free for Prime members. If a customer finds a restaurant item that is priced higher than the regularly priced item on the restaurant's current online menu within 24 hours of placing the order, Amazon will refund the customer the price of the item. For more details, visit: amazon.com/price.
Prime members can download the Prime Now app or visit the new Prime Now website to enter their zip code and see if the service is available in their area. In zip codes where restaurant delivery is available, customers will see Restaurants on the home page.
Editor's Insight: The expansion of one-hour restaurant delivery demonstrates that Amazon remains dedicated to its core B2C business despite having ventured into the 3PL and web service businesses.
By mastering omni-channel fulfillment, Amazon can provide timely and reliable delivery to any business or individual that wants it. Consumers and businesses alike are realizing they can have the products and services they want. 5-18-16 By Elliot Maras