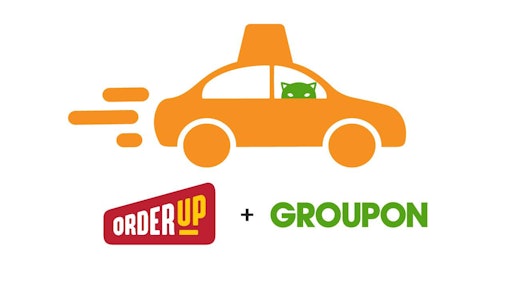 Groupon, an e-commerce website for restaurant and other retail deals, has acquired OrderUp, an on-demand online and mobile food ordering and delivery marketplace operating in nearly 40 markets across the U.S. The addition of OrderUp boosts Groupon's presence in the $70 billion food ordering and delivery sector.
"Online food ordering and delivery represents an untapped opportunity for Groupon and serves as a natural extension of our local marketplace," said Groupon CEO Eric Lefkofsky. "The potential in delivery and takeout is apparent – especially with the growth of mobile – and OrderUp's operational ability, coupled with Groupon's engaged customer and merchant base, bring tremendous scale to the space."
With more than 10 million orders processed, OrderUp brings food ordering and delivery expertise, as well as thousands of additional restaurant relationships. Paired with Groupon's approximately 25 million active North America customers, the deal creates an online and mobile food ordering marketplace of significant size and scale.
"Groupon's reach and ability to connect supply and demand at scale make it the perfect destination for us to grow even faster and expand in our targeted local markets," said OrderUp CEO Chris Jeffery. "We look forward to bringing the thousands of great restaurants that we feature to hungry Groupon customers across the country."
Founded in 2009, OrderUp serves metropolitan areas such as Baltimore, Md., and Denver, Colo., and markets with large student populations such as Bloomington, Ind., Boulder, Colo., and State College, Pa., among others. OrderUp will continue to operate as a standalone brand with inventory cross promotion through Groupon's marketplace and merchant pages. The company will maintain its current Baltimore headquarters.
Editors Insight: E-commerce is the food industry's fastest growing channel and delivery services are facilitating the channel's growth. The key takeaway for the supply chain is that e-commerce is changing the way consumers buy food. Food e-commerce is still in its infancy, so its full impact remains unknown to the majority of supply chain operations.
As online orders supported by delivery services grow, consumers will use this service more frequently and buy less food from brick-and-mortar retailers and foodservice establishments. Online ordering of food will grow in tandem with delivery services and the food "omnichannel" will continue to expand.
The OrderUp partnership with Groupon boosts OrderUp's customer base. In order to meet its growth potential, OrderUp needs to upgrade its current software, according to reports. The company needs a software system that will better optimize its delivery routes, keep timelier track of deliveries, incentivize drivers in a more-timely manner to ensure on-time deliveries, and better update customers on delivery status.
Food and beverage (f&b) manufacturers, wholesalers, distributors and retailers are all tasked to respond to the growing f&b omnichannel. They look to f&b supply chain service providers to help them meet this challenge. 07-17-15 Elliot Maras