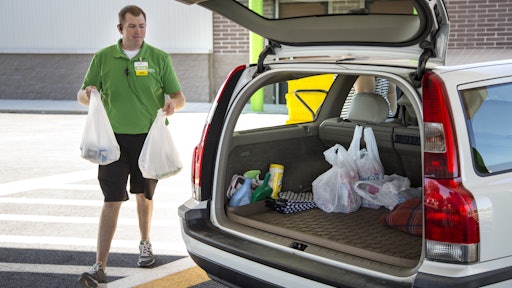 Walmart is watching the experience of its U.K. unit, Asda, to learn more about online sales as it tests online grocery delivery as well as free in-store pickup across five locations in the U.S., Walmart said in its annual report, according to Dow Jones
Aided by the deep pockets of its parent company, Asda offers online grocery delivery across 97 percent of the U.K. and is pushing aggressively into "click-and-collect," where customers order online and pick up in person at no extra charge.
Asda is in the midst of constructing a "supercenter of lockers," at a gas station on a major road between two of the U.K.'s biggest cities, Liverpool and Manchester, says the chain's former retail director, Mark Ibbotson, who now leads innovation for Wal-Mart U.S. That locker center will put Asda on the radar of commuters who might never have shopped there before, he says.
The unit, which should be ready this summer, will be loaded each morning by staff with customers' orders for the day. Robotic arms will then reach in and move these into one of three compartments: frozen, chilled or room temperature. Once a customer punches in a code, the arms locate the orders from their compartments, and put them on a conveyor belt from which they emerge at a collection point for pick up.
Walmart will be watching to see how customers respond--and how the sales stack up against costs. "There's a constant dialogue," Mr. Ibbotson says. "The international team in Bentonville is looking at the U.K.'s experience for the rest of the Walmart world."
Walmart's push to expand its U.K. business--and harness what it has learned for use in the U.S. and elsewhere-- comes as the retailer grapples with increased competition from Amazon.com Inc., which has been expanding its grocery home-delivery service. Other rivals are dabbling with grocery pickups. Whole Foods Market Inc. is piloting a program in Boston, Austin and Philadelphia to let customers pick up groceries ordered through online grocery service Instacart Inc. in their local store. Kroger Co. offers click-and-collect at some of its Harris Teeter stores. Peapod, owned by grocery- chain holding company Royal Ahold NV, has hundreds of pickup points across its U.S. stores, including Stop & Shop.
In the U.S., grocery click-and-collect is still nascent and fragmented, reflecting the immaturity of the online grocery market overall, say analysts. The U.S. is the graveyard for a long list of online grocery delivery services: Webvan Group Inc., HomeRuns.com, ShopLink.com, and Streamline.com, to name a few.
England, which is also heavily populated, has long been a leader in online grocery delivery, and now click-and- collect is taking off there. Market leader Tesco PLC, offers click-and-collect at about 400 of its nearly 3,500 stores. J Sainsbury PLC, the No. 3 chain by market share, after Asda, in March opened its first click-and-collect sites in stores, with the target of opening 100 by the end of the year.
To read more, click HERE.