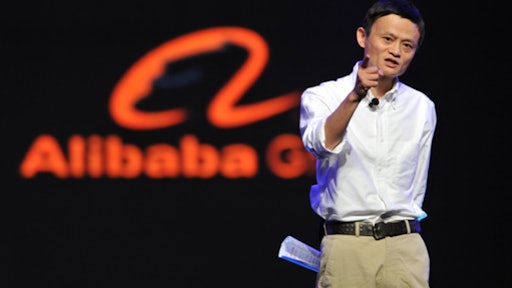 Jack Ma, founder of Alibaba, the China-based e-commerce giant, authored an article in The Wall Street Journal on how American entrepreneurs can expand into the Chinese e-commerce market. Following is the text of his comments.
As people learn more about Alibaba Group, they want to know about its international plans. They are especially curious about the company's strategy for the U.S. market.
Our U.S. strategy is simple and clear: We want to help U.S entrepreneurs, small business owners, and brands and companies of all sizes sell their goods to the growing Chinese consumer class. Chinese consumers will get to buy the American products they want. This, in turn, will help create American jobs and increase U.S. exports.
This week I am visiting the U.S. to meet with potential American partners to discuss how we can work together to make it easier to sell more of their products to Chinese consumers.
I feel most at home with entrepreneurs because a group of friends and I founded Alibaba Group 16 years ago believing that we could use technology to level the playing field, giving anyone who wanted to participate in global commerce a chance to succeed. We connect buyers with sellers, supplying aspiring entrepreneurs with everything they need to start, run and grow a business—including financing, payments, logistics, marketing, analytics and even cloud computing. Today there are about 10 million entrepreneurs running small businesses on Alibaba's retail marketplaces in China, and our ecosystem has generated 14 million jobs.
Alibaba Group was founded in China but created for the world. We want to connect small businesses in the West with the largest, fastest-growing market in the East.
This strategy may come as a surprise to some, because many people view China through an outdated lens. The China of 2015 is virtually unrecognizable from the country a decade ago. While the first wave of globalization created a large working class in China, the next wave of growth has created a thriving middle class
To read more, click HERE.