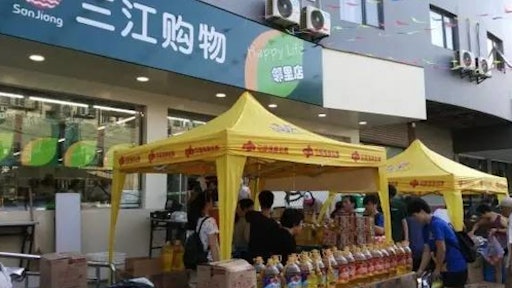 China's e-commerce giant Alibaba Group Holding Ltd announced plans to invest 2.1 billion yuan ($305 million) in supermarket chain Sanjiang Shopping Club Co Ltd to further expand its retail presence.
Under the terms of the deal outlined in the stock exchange filings, Alibaba will subscribe to a private placement in Sanjiang, which will help raise up to 1.5 billion yuan and be equivalent to a 25 percent stake in the supermarket operator.
Sanjiang also plans to issue up to 188 million yuan worth of exchangeable bonds to Alibaba, equivalent to 16.4 million of the supermarket operator's shares.
Alibaba will also acquire another 9.3 percent stake for 438.6 million yuan via a share transfer, Sanjiang said.
Alibaba's stake in Sanjiang will rise to 32 percent after the share transfer and share subscription, Sanjiang said. This is above the 30 percent threshold where a company is required to make a full takeover bid in China. Alibaba will need approval from Sanjiang's shareholders to waive this requirement.
Sanjiang said it aims to use Alibaba's e-commerce platform to make the most of the increasingly competitive bricks-and-mortar retail sector as China's economic growth slows.
To read more, click here.