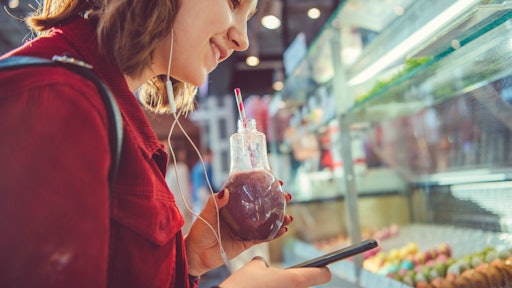 **Content brought to you in partnership with Markem-Imaje**
Ongoing advances in technology mean that brands can achieve robust product traceability—no matter what the product is or where it comes from. Since it came into commercial use in the seventies product marking and coding has evolved significantly from its point-of-sale roots. So much so that today, we are on the cusp of a new dawn of product marking that can use serialization as a foundational platform to deliver traceability and now enriched consumer engagement.
Rapidly changing operating environment
The operating environment for food and drinks brands has evolved significantly in recent years. Alongside rapid evolution in regulation, we have also seen an explosion in online commerce driven by the shift in buying habits created by the pandemic, including the rapid growth of start-ups in the fresh food space[1]. Add to this the continued challenge of counterfeiting and the growth in consumer demand for transparency, due to a greater awareness of the environmental and societal impact of sourcing raw materials.
As a result, for food and drinks manufacturers product marking and coding for track-and-trace and brand protection has taken on a whole new level of importance. Vendors and their customers are now looking to coding solutions to deliver the means to ensure that articles purchased are genuine and are being sold in the right market. Plus, consumers are expecting a new level of transparency from brands. Product serialization is a foundation for achieving this goal.
Early adopters
Advanced serialization has already been mandated and successfully implemented by other industries—for example to help secure supply chains in the incredibly sensitive pharmaceutical industry, enabling a full track-and-trace program where drugs are identifiable from manufacturer right through the supply chain to dispensation to the patient. Food and beverage supply chains could benefit from a similar model, in having this increased visibility and product protection.
Some market-specific issues have already driven a handful of food and drinks manufacturers to take more sophisticated approaches to coding. For example, in Italy wines are serialized for the protection of supply chains due to issues with bottles being counterfeited and refilled with inauthentic product.
Smarter labels
Taking this progress a leap forward, with the use of a smarter label, we now have the beginnings of an interactive experience which can impart to a consumer more detailed pedigree information about a product. This offers an enriched means of engaging with an end user.
Take for example a microwave meal with a serialized QR code, aggregated with similarly serialized products into cases of coded pallets. As the products and cases make their way along the supply chain and their pallets are scanned at each stage, brands are able to gather all of this data. Imagine this same process for each of the key raw ingredients which make up this convenience food item, so that you are tracking and tracing every component. Once all this information is consolidated, suddenly you have a full picture of the lineage of your product as it gets to market.
Brand storytelling
With this detailed data as your basis, a QR code with a serial number within it, can be scanned by any smartphone and reveal to a consumer a level of insight that has never been achievable before. The possibilities to use this to enrich a brand's engagement with a consumer are endless. In the above example the consumer can instantly access vast information about the sourcing of each ingredient in their meal. This might include the story of a family farm, ESG programs which the brand runs to support rural communities in that area, even insights about individual growers and pickers.
The potential for brand storytelling is incredibly rich and goes far beyond what a typical static landing page a QR code is normally directed to. For example, a consumer scanning the QR code in the retail environment can be directed to a landing page with coupons and specially designed offers. That same consumer, scanning that same QR code at home, could be directed to a product usage and recipe page. This is all done automatically, based upon whatever rules a brand decides to employ.
Supporting brand protection
Brand protection and consumer engagement programs will vary according to the specific objectives for a product. At Markem-Imaje we work together with our customers to develop a personalized strategy using the full suite of standard solutions from our Systech and Blue Bite portfolios. This might extend to anti-diversion and anti-counterfeiting, an issue that continues to grow. One major element of brand protection in food and beverage is recall management. Serialized products enable very targeted and precise recalls. When time is of the essence, knowing exactly what products to pull from market is essential.
A granular approach
The more granular we can get with identifying products and their ingredients or components, the more that food and drinks brands can benefit. This extends across the full spectrum of brand protection—from traceability right through to the consumer experience. The next stop on the journey of product coding will be the closure of the circle so that consumer engagement is fed directly back to brand owners allowing them to evolve accordingly. The opportunities available today through marking and coding provide sophisticated and multi-faceted tools for the benefit of brand protection.
**Content brought to you in partnership with Markem-Imaje**