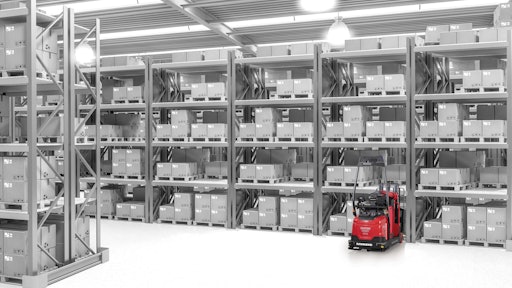 The Raymond Corporation
The supply chain in food logistics offers a wide variety of opportunity for new technologies, as digital innovation becomes more widespread as a result of the Coronavirus disease's (COVID-19) growing impact on the food industry. Throughout the entire cold chain, emerging technologies make a difference on the industry as well as individuals' jobs. While some may be more inclined to adapt and shift than others, there will still always be change.
One of the more prolific technologies are visibility and traceability solutions, as the perishable element makes location and time of delivery even more important than shelf-stable goods. In addition, as food has become less and less local throughout the past few decades, the pendulum of consumer demand has swung the other way. Consumers now want more transparency on where their food is coming from, and with severe outbreaks of foodborne illnesses happening in the United States, traceability has become a necessity. Not to mention the ease of operation that can exist when every partner knows exactly where a shipment is and has come from in real-time.
"[There has been] continued focus on providing proof of chain of custody," says Tim Wills, chief marketing officer, Peak-Ryzex. "Technology that clearly shows end-to-end movements (from pick-up, transit, cross-docking and final mile delivery) are becoming a necessary feature in the cold chain sector. Having the ability to show these data points in real-time along with a predictive delivery time is of great value. Having this information available to all stakeholders in an easy dashboard and alerting process makes the entire solution valuable."
Sophisticated barcodes, RFID sensors and blockchain are a variety of technologies that help bring visibility to life. Adding that together with a user-friendly, easy-to-read dashboard can make a real impact on warehousing and transportation operations in the cold chain.
Peak-Ryzex partnered with FarEye to help bring predictive analytics into the fold, creating a seamless dashboard from the warehouse to final delivery. Peak-Ryzex's solutions offer electronic proof of delivery, route optimization, electronic logging devices (ELDs) and more.
Other technologies in visibility include RedwoodConnect 2.0, which Taylor Farms partnered with, that allows visibility across a variety of platforms, including warehouse management systems (WMS) and transportation management systems (TMS), among others. It also provides integrated temperature and geo-tracking services, a dock-scheduling application, SMS services for driver summoning and yard management software.
Transplace also introduced its Transplace Platform Services (TPS). The cloud-based TPS suite provides shippers access to Transplace's technology, intelligence and visibility platform to optimize supply chain operations in concert with their current TMS infrastructure.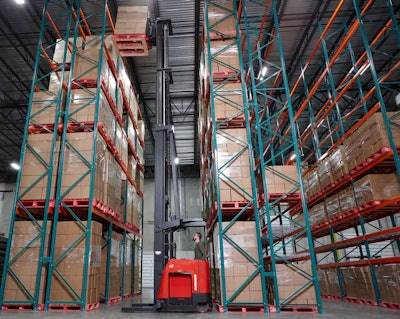 FourKites allows end-to-end visibility and can also interact with multiple platforms.
The Peak-Ryzex, RedwoodConnect, Transplace and FourKites platforms all benefit partners due to the ability to connect through multiple platforms or handle a variety of tasks in one solution.
In addition to these technologies, telematics (the use of GPS and diagnosis technology to optimize routes) is becoming important in the food chain, according to Jack Kaumo, director of iWAREHOUSE Technology Solutions at The Raymond Company.
"Utilizing a comprehensive telematics system is crucial to gathering the data required to visualize improvements and optimize an organization to meet increased demands," he says. "A telematics suite of solutions identifies data-driven insights by tracking and reporting on vehicle and operator utilization. By collecting data, businesses can drive productivity and continuous improvement across an operation by effectively managing and monitoring batteries, reducing incidences, simplifying asset maintenance management, optimizing labor resources and turning actionable data into results to reduce costs."
Click here to hear more about visibility solutions in the cold chain:
Mapping out foodborne illness
These advanced technological solutions can also help stop the effects of a foodborne illness outbreak faster by tracing the contaminated shipment as well as preventing food waste by pinpointing the exact pallet or group of food that needs to be disposed. Past outbreaks such as an E. coli O157:H7 outbreak associated with romaine lettuce from Salinas, Calif., a deadly Salmonella Dublin outbreak from ground beef and a massive seasoned ground beef recall from Taco Bell may not have had as severe consequences thanks to traceability technology.
A report from DNV GL shows that consumer sentiment values food safety, with 55% of the respondents reporting that safety was their main concern when buying food. The data also showed that while only 19% of consumers use QR codes included on food packaging right now, that number would increase to 65% if the code led to information regarding traceability.
Transforming technologies
While traceability is an important part of technology in the food chain, it is not the only emerging technology making a difference. Other technologies include picking, sorting and storage automation, electric lift and high-capacity fork lifts, augmented reality and camera systems and temperature control solutions.
"Challenges within the cold supply chain are driving innovative electric lift truck offerings and integrated technologies designed to meet the industry's evolving needs and harsh temperatures. As the labor gap widens and in a world that wants things now, these innovations will continue to be instrumental in shaping the way facilities operate and stay competitive," says Susan Comfort, product manager of narrow aisle products at The Raymond Corporation. "Pick-to-light systems, like Raymond's Pick2Pallet, helps to reduce picking errors by using LED technology to visually reinforce product placement for order fulfillment in batch picking applications, which is crucial for the food and beverage industries. This technology maximizes operator productivity by directing operators to the desired customer pallet — enabling them to quickly move to the next pick with confidence.
"To address operators' needs to move more pallets, run longer and recharge faster, lithium-ion-battery trucks keep operators powered for the long haul. Long-lasting and fast-charging, lithium power eliminates the need to buy or store spare batteries for dramatic cost savings," she adds. "Robust and efficient, this technology can enhance efficiency and productivity in demanding applications, like refrigerated or frozen facilities."
Comfort explains that the industry has become more vertical rather than horizontal in the physical warehouse space, with companies building up rather than out, requiring forklifts and reach trucks to handle heavier capacities at increasingly higher heights. These systems also need to be able to maneuver extremely well, as the warehouse increases capacity and optimizes its space.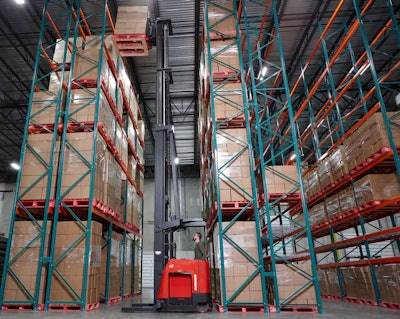 In addition, facilities in cold storage and transportation are home to harsh temperatures that can be uncomfortable for human workers. Raymond, in addition to a variety of other tech providers, are introducing heated wearables and equipment to make working in these cold temperatures more comfortable for its employees. This equipment also has batteries that last longer in cold environments, where in the past, the temperature would affect battery life.
"[Raymond's High Capacity Reach truck] also keeps operators running longer with an increased battery shift life and a heated control handle and floor cushion to keep operators warm.," Comfort says. "Raymond is launching an exclusive option of a wiring harness to power heated clothing for use in freezer applications. Unlike freezer cabs, heated clothing applies energy directly to the operator only, instead of trying to maintain a large volume of warm air inside the cab. There is also no defrost issues and easier fit in drive-in rack applications. This option converts power from the reach truck's battery supply (24 or 36 volt) into 12-volt power that powers the heated clothing."
Camera systems also help avoid mishaps, injuries and accidents within the warehouse and on the road by providing more visibility for operators to better see their surroundings, also pushing efficiency. Augmented reality wearables help efficiency by assisting workers through the integration of technology into their actual field of vision, like the Pick-By-Vision glasses from Picavi.
A pandemic's impact on technology
As more technology emerges, these solutions will continue to impact the food supply chain as well as consumers' demands. COVID-19's swift effect on the food industry has also influenced what technology is growing and how it is implemented, as social distancing and food safety become a top priority. Robotics and automation likely helped those in the cold chain who were plagued with sick employees and had to adjust to social distancing guidelines. Those who do not have these solutions in place might turn a keen eye toward these technologies for the future to help in similar situations.
"With many restaurants and eateries closed or providing limited service, consumers are ordering a wide variety of food and beverage products online and expecting they be delivered—fast," adds Kaumo. "Consequently, warehouse inventory is expanding at an overwhelming rate, causing space constraints, picking errors and stocking inefficiencies. Additionally, with social distancing regulations in place, it is increasingly important for operations to understand human movement throughout a facility.
"As companies compete to meet demands, automated vehicles can help with lane stacking, horizontal towing and conveyor interfacing to increase efficiency and accuracy. These trucks are ideal for repetitive and time-consuming tasks — allowing plant managers to re-allocate operators' time to more value-added jobs. Additionally, semi-automated solutions can make production and distribution processes quicker while helping operators reach higher proficiency levels faster and making operations run more effectively.
"Automation and telematics solutions such as [real-time location systems] allow companies to better understand and monitor the movement of people and products throughout a facility," he says. "By introducing automation and enforcing keep-out zones, companies can better implement social distancing practices and protocols."
The future of the cold chain looks like it will be technologically advanced from not just sourcing to warehousing, but all the way out to delivery. No matter whether the pandemic will end soon, these technologies will remain important in the picking and delivery of food along the cold chain.
Companies in this article