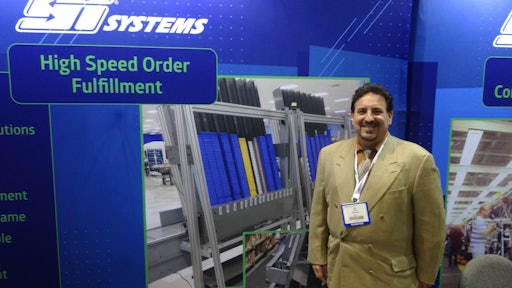 Attendees continued to soak up a wealth of material handing innovations during the third day of the ProMat show Wednesday at Chicago's McCormick Place South. Exhibitors were pleased that Tuesday's high booth traffic continued for most of the day Wednesday, setting the stage for a record breaking event that concludes on Thursday. MHI expects more than 35,000 attendees at this year's show.
Steve Wozniak, co-founder of Apple and founder and chairman of Wheels of Zeus, known as "The Woz," was one of the keynote speakers Wednesday, sharing his insights on the state of technology and risk in America. His presentation touched on a number of topics surrounding tech and their future implications.
Other keynoters Wednesday included George Prest, CEO of MHI, and Scott Sopher, a principal at Deloitte. Prest and Sopher gave a preview of the MHI 2015 Annual Industry Report: Supply Chain Innovation – Making the Impossible Possible.
An MHI economic sentiment survey found that 45 percent of MHI member companies expect sales and new orders to grow by 10 percent to 20 percent in 2015, a total weighted average of 9.2 percent growth over 2014. The improved economy will increase capital goods purchases by an average 8.1 percent over 2014, with strategic investments in new plants, equipment, information and technology topping their purchasing decisions.
Other keynoters for this year's ProMat included Renee Niemi, director of Android and Chrome global business at Google for Work, and John Mackey, co-founder and CEO at Whole Foods Markets.
Exhibits continued to generate a lot of excitement on the show floor.
Advanced Distribution Solutions, Inc. (ADSI) demonstrated its latest line of mobile order fulfillment and shipping software solutions. In addition to mobile ordering fufillment and shipping solutions, the company introduced its Size-IT digital mobile dimensional weight calculator at the show.
"The new rules for dimensional rating mean that shippers, 3PLs and carriers need a fast, convenient way to accurately capture dimensional measurements. Otherwise, unnecessary shipping costs can quickly add up," said Bob Fischer, president and CEO of ADSI. "Size-IT, our new mobile digital dimensioning tool, solves this problem for shippers in the warehouse or by drivers who are picking up customer shipments."
Raymond Corp. introduced its RadioShuttle to the U.S. This load-carrier system is designed to maximize warehouse volume by offering ultra-high-density storage with individual storage rack access. Through remote control units, the system reduces damage to goods and the rack itself by moving pallets through storage tunnels prior to being picked.
Raymond Corp. also showed its PICK2PALLET™ LED light system. This light-display system is designed to help eliminate or reduce picking errors by using LED technology to visually reinforce product placement for order fulfillment in batch picking applications. It maximizes operator productivity by directing operators where to place product — enabling them to quickly move to the next pick with confidence.
SI Systems presented its Mobile-matic dispensing A-frame can integrate with conveyor manufacturers. The Mobile-matic is a simple "out-of-the-box" solution and can now work with any conveyor specifications. Controls are included and no special cabling is required.
Companies in this article