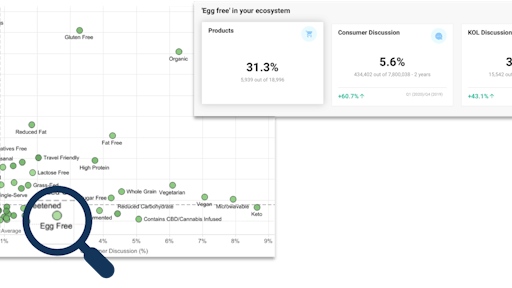 Signals Analytics
Trends are powerful indicators of long-term market influence, consumer adoption and general sentiment, a guiding force to the potential of a product's success and future revenue. While many brands and marketers will rely on social listening – looking only at what consumers and influencers or key opinion leaders are saying online – this does not give a full picture. Analyzing future outcomes with this tunnel vision approach is risky and can lead to misguided decision making.
There are an infinite number of external data sources that companies can look at to analyze their market position. Even with all of these sources, the potential to capture accurate and far-reaching trends is within our grasp. Forrester Research found that two-thirds of global data and analytics decision makers at high-growth companies plan to expand their ability to gather external data; only 51% of executives at firms with low or no growth are planning to invest further, showing that by looking at only piece of the puzzle, brands are depriving themselves of information that could propel their success.
Advanced analytics has changed the game, and is the future of how companies will understand and leverage data when planning and making strategic choices. Using artificial intelligence, next-generation advanced analytics can collect and connect infinite external and internal data sets, make sense of the findings and then extract market intelligence and predictive insights that can be immediately put into action.
Although many companies are pulling back on spending, it is more critical than ever that businesses invest in and leverage advanced analytics. Doubling down on analytics to support strategic decision-making has the potential to yield a significant return on investment. A report from Frost & Sullivan show forecast growth in big data and analytics because of its power in mitigating risk in business planning, improving operations and serving customer needs. There is a clear distinction between businesses seeing the highest success and those falling behind, and that's the investment in analytics.
The way retail brands are impacted by COVID-19
Being a data-driven business is about using information to drive business decisions, not just validating decisions with data.
The Signals Analytics platform revealed early evidence on certain trends that affect retail and consumer brands in particular. For example, in March there was a 69% increase in the number of references to "immune health" in customer reviews on store websites in the food category. When looking back further, business leaders can see that this is sustained trend, meaning it will likely last beyond the pandemic. While this is a growing trend, there are other white spaces that brands can invest in to give customers the products they're looking for. For instance, currently, "immune health" can be only be found in 1.48% of product claims. This leaves a lot of opportunity for food brands to capitalize on.
Looking at the vegan category provides another good example. Before the pandemic started, consumer interest in vegan options was on the rise. Over the past two years, "egg-free" grew in consumer discussions by 60% and in discussions from key opinion leaders by 43%. Despite this trend, very few product claims included egg-free other than limited patent activity toward the end of 2019. When looking at 2020, between the end of March and end of May, consumer discussions around egg-free continued to grow 12.3%. This shows that despite the pandemic, this is a product claim that consumers are looking for and that brands should address. While people looking for vegan products before the pandemic were mainly concerned with lifestyle/fitness, animal welfare and sustainability, since the pandemic, the main driver has been immune health. This is a consideration brand managers and manufacturers should consider for their product claims, as well as for optimizing product portfolios.
Frozen foods have also benefited tremendously from the pandemic. Consumer discussions nearly doubled in March and April–during the height of COVID-19–as compared to January. This decreased slightly in May, but remained 56% higher than before. Related to the desire for products that support immune health, there was a 69% in positive sentiment for discussions with the term "healthy diet." What was most interesting, is that nearly 52% of products that claimed to support a healthy diet are also microwaveable, dispelling the idea that the two features are incompatible.
The role of AI in surfacing insights
With advanced analytics, companies no longer need to stand up large data science or machine learning teams. The newest advanced analytics platforms use sophisticated natural language processing and artificial intelligence to convert data into relevant insights. Layering in predictive elements, organizations can get a strong understanding of how consumers will react to new products or marketing messaging. This is a major leap for business executives in being able to tap into many different types of external and internal sources–the voice of the consumer, key opinion leader discussions, product reviews, listings on retailers' websites, business announcements and other signals of innovation–and have a broad view of the overall market. Business executives can translate insights into actions with a stronger, more data-driven way of making decisions that lead to stronger outcomes and return on investment.
Advanced analytics transforms the business decision making process several key ways to bring all data together into one source of truth:
- It scales access to constantly evolving data sources and democratizes the data throughout the company.
- It digs into not only the reason why consumers buy certain products, but also what they buy in a way that is based on facts rather than opinions.
- It makes the process of accessing market intelligence continuous and timely to support innovation.
- It offers visibility into macro trends and category-specific developments, stemming from a full understanding of the market landscape rather than just one component like social listening.
Once the pandemic eventually passes, it will undoubtedly have lasting effects. Taking advantage of analytics and continually tapping into early trend signals will allow companies to better plan by knowing where to where to double down, where to newly invest and where to pull away their investments.