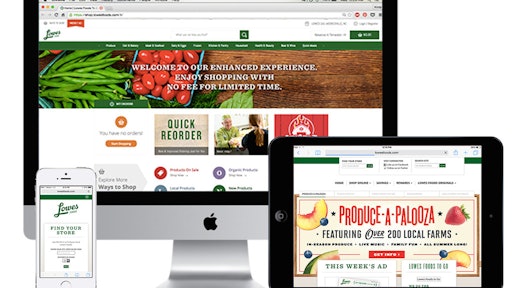 July 15 – Amazon Prime Day – didn't go down as a red letter date in food industry circles. While the event surpassed Amazon's Black Friday records, the sale didn't move a lot of food. The same was true for Walmart, which responded to Amazon in kind and produced the highest single-day volume of online orders ever and witnessed the biggest day of the year for same-day click and collect.
Did the event have any relevance for e-commerce in food and beverage (f&b) sector?
Jim Tompkins, a veteran supply chain consultant, says that the e-commerce testing will help both companies expand into the more difficult arena of f&b e-commerce. He says f&b plays an important role in both companies' efforts to establish e-commerce dominance.
Is the f&b industry listening?
"F&b plays a significant role in creating high-density delivery," says Tomkins, who operates Raleigh, N.C.-based Tompkins International. Both Amazon and Walmart wanted to see if their supply chains could withstand the test of the massive promotions, he says, and both companies succeeded.
Amazon's goal was not to make money on July 15 but to make members aware of the breadth of their offering, Tompkins says. As for Walmart, "Walmart clearly demonstrated their ability to hang with Amazon as an online retailer and have the supply chain capability to deliver."
Consumer product goods companies need more flexible and robust supply chains as retail commerce expands to multiple sales channels. Mobile commerce, a more tech-savvy consumer and more powerful computers are all driving an omni-channel selling environment.
E-commerce represents the fastest growing sales channel, one that accentuates the importance of the emerging omni-channel. Rich Aberman, co-founder of WePay, a third-party provider of application programmer interfaces (APIs), says omni-channel is about providing continuity of experience across offline and online channels.
F&B Trails Other Consumer Goods
The f&b industry has been one of the slowest consumer goods industry to change its traditional retail commerce model. That's because f&b industry, compared to other consumer product industries, faces some unique challenges when it comes to e-commerce. One being that the f&b buying experience is more personal for the consumer. Hence, a merchant has less room for error in delivering a positive buying experience. There are virtually no refund opportunities for dissatisfied f&b customers. The f&b merchant doesn't get a second chance to "right" the sale.
In addition, profit margins in f&b are among the lowest of any consumer product industry. Hence, the added cost of product delivery make profitability all the more difficult for f&b merchants.
Perishable food carries the additional cost of temperature and quality control, further challenging the profitability of f&b e-commerce.
But technology providers are investing heavily in an omni-channel future for f&b. Software developers have introduced numerous systems to support omni-channel fulfillment. Venture capital firms have invested hundreds of millions in f&b e-commerce startups.
A recent Wall Street Journal article noted that Walmart is holding more inventory in distribution centers rather than stores to meet omni-channel demand. The article noted the strategy presents a challenge, since it increases the likelihood that brick-and-mortar customers – who are the majority – will not find what they want.
"The supply chain needs to be redefined from that of a traditional 'brick & mortar' supply chain and become an integrated customer centric supply chain," says Gary Allen, Ryder's vice president of supply chain solutions. "Alignment between sales, customer service, web front end, store operations, and supply chain is critical. A change in logistics network and systems might be needed if you do not have the ability to handle same day and next day delivery within the current footprint."
Grocery E-Commerce Expands
How fast are customers making f&b purchases online? One-quarter of global respondents to a Nielsen survey of e-commerce consumers are already ordering grocery products online for home delivery. And more than half (55 percent) are willing to use it in the future.
The Nielsen research points to an omni-channel f&b retail environment rather than a replacement of the existing brick and mortar option.
The omni-channel poses some big challenges for f&b, but there are also big opportunities.
E-commerce is part of a bigger digital picture, according to Nielsen. A digital strategy includes interaction at every point along the path to purchase, including finding stores, making lists, checking prices, researching products, sharing content and purchasing. Such touch points occur both in and out of stores as consumers make greater use of e-commerce.
And that's not all.
In addition to the growth of e-commerce, traditional sales channels are becoming more fragmented as consumers shift toward smaller store formats, according to Nielsen. Large supermarkets account for just over half (51 percent) of global food sales, but smaller formats such as small grocery, drug and convenience outlets have outpaced large supermarkets. In fact, year-over-year sales growth in drug stores (6 percent), small supermarkets (5 percent) and traditional stores (4 percent), doubled, or more than doubled, that of large supermarkets and hypermarkets, which grew a modest 2 percent.
Walmart, according to Tompkins, has developed three brick and mortar formats and will have one store within five miles of 85 percent of the U.S. population in two years.
F&B players step forward
Food Logistics found several examples of these trends.
Casella Family Brands, a Yenda, Australia-based wine exporter, recently introduced a supply chain commerce solution in response to expanding channels of commerce. The company has historically focused on domestic retail and export trade, but it recently acquired a brand, Peter Lehmann Wines, with an e-commerce business. Hence, Casella Family Brands now manages both B2B and B2C fulfillment.
"To help manage and maximize our warehouse space we made the decision to invest in a supply chain commerce software solution," says Sam McLeod, distribution manager for the wine company. "The need to maintain a high level of traceability over our product also was a contributing factor." The supply chain solution improved warehouse utilization, decreased labor costs and increased traceability.
Lowes Foods, a Winston-Salem, N.C.-based grocer with locations in North Carolina, South Carolina and Virginia, recently completed an omni-channel pilot. Shoppers can now view the entire product catalog by any combination of filters, including "previously purchased," "on sale," "organic," "gluten free," "local" and more. They can also sort through products based on popularity, personal relevance, date of last purchase, pricing and more.
"We are confident that the continuous improvement within our digital shopping experience will result in even stronger guest satisfaction, deeper loyalty and larger baskets," says Michael Moore, Lowes Foods chief marketing officer.
Supply Chains Must Adapt
With commerce becoming more digitalized and sales channels increasingly diverse, the supply chain will have to become more flexible. Supply chain software specialists say the supply chain will not exist in isolation from other sections of the business enterprise. Inventory management, order fulfillment and delivery functions will have to integrate with purchasing, marketing, and customer relationship management.
"The ability to integrate systems and physical operations can be an obstacle," says Ryder's Allen. "It is difficult to provide visibility, order allocation and inventory control across the various channels. Making the omni-channel sell accretive is also proven difficult for the majority of retailers."
The biggest omni-channel fulfillment challenge for f&b companies is demand sensing and responding effectively, says Shyam Krishna, executive vice president of Softeon, the Reston, Va.-based software provider. Multiple commerce channels present the need to understand order fulfillment preferences and constraints.
"The fulfillment rules, preferences or options, for each of these channels are different," he says, noting that not all WMS systems being used are up to the omni-channel challenge. "Omni-channel requires a lot more information sharing between supply chain planning and fulfillment in order to determine the most optimum execution strategy."
When e-commerce enters the picture, additional questions arise, Krishna notes. Does the fulfillment center want to drop ship the order directly to the customer, instead of picking and delivering from the fulfillment center? Choices like these can dictate specific transportation options and also the need to maintain the "right" days of supply in the fulfillment centers despite varying degrees of demand from these channels.
"The physical supply chain is converging with the digital supply chain," observes Prasant Bhatia, vice president of product marketing at JDA Software. "Now the WMS has to be more flexible."
For many f&b product suppliers, the omni-channel brings them into the business-to-consumer (B2C) market rather than just business-to-business (B2B). Order fulfillment for B2C requires individual item picking versus pallet and case picking. These requirements, in turn, impact warehouse configuration, warehouse size, overall day-to-day operations and the need to consider alternate methods such as automation.
"It's no longer a 'trend,'" Bhatia says. "It is the current state. Any retailer or product manufacturer not acting in an omni-channel environment will probably be out of business very soon."
Ross Elliott, chief strategy officer at HighJump, agrees omni-channel can include both B2B and B2C. Most e-commerce focuses on B2C, he says, since historically companies used EDI for B2B fulfillment. But as companies add e-commerce, they are finding it can also be used for B2B fulfillment.
Elliott was one of several observers who sees brick-and-mortar retailers having some key advantages in e-commerce fulfillment over the "pure-play web" competitors.
HighJump recently acquired Nexternal, an order management system that captures both B2B and B2C orders, via standard and mobile web browsers. The system acts as a hub for all pricing, promotions, status and customer care related to the order management lifecycle.
Retailers Lead F&B E-Commerce
While retailers are leading the e-commerce charge in f&b, many product manufacturers will find that they, too, need to have an omni-channel strategy that encompasses both B2B and B2C. For product manufacturers, the B2C market brings a growth opportunity. There are factors for manufacturers to consider before expanding into B2C.
"You better have a good B2B strategy and a strong brand before B2C," says Jim Barnes, CEO of Enspire Commerce, a division of enVista, the Carmel, Ind.-based supply chain consultancy. "For many wholesale distributors it is imperative that they have a strong brand presence before jumping into the world of direct to consumer. Expanding into B2C can be and is expensive. B2C requires a different internal focus and organizational talent: marketing, supply chain planning and execution and the customer experience are vastly different."
When a company expands into home delivery, the cost structure has to be scrutinized extra carefully, says Prashant Bhatia, vice president of product marketing at JDA Software. "The larger that customer base is, the delivery cost starts to magnify exponentially," he says. This is one reason that e-commerce delivery models are volatile and need to be efficiently managed.
Vikas Aron, director of product management for Manhattan Associates Distributed Order Management and Available to Commerce suites, says an f&b e-commerce solution must be able to select a product from inventory that has the shelf life acceptable to the customer. "It's an extremely hard problem to solve when it comes to grocery," he says.
When a brick-and-mortar store performs the fulfillment for an e-commerce order, the person filling the order can understand the customer needs and demographics more personally, Aron says.
Standardized Data
One of the biggest challenges companies encounter in expanding into omni-channel commerce is having standardized data attributes. The number of SKUs has increased over time, and as a company expands into new sales channels, the SKU count often increases even more. As SKU counts increase, companies must manage more product data such as package measurements, nutrients, allergens, organic, gluten-free, etc.
Peapod, one of the first "pure-play" web e-commerce providers, recognized the need for a reliable database of product information. The company's efforts in this area resulted in a spinoff business called itemMaster. Chicago-based Item Master and a handful of competitors – including Kwikee, Gladson and Shotfarm – now gather product attribute information and images for f&b supply chain customers.
These product information exchanges take on the cumbersome task of securing and updating "meta data" and images from product manufacturers, says Tom Piatt, president. itemMaster uses GS1 standards but has data for products not yet covered under GS1's Global Data Synchronization Network (GDSN).
Product information exchanges also serve as a mediator between product manufacturers and retailers who often conflict over what specific information a product should have.
In Europe, retailers get fined for having incorrect product information in advertised product listings, Piatt says. In the U.S., some local governments have enacted similar laws.
"To have a chance of winning the sale, retailers need to ensure the products they sell are accurately and consistently represented on their websites and mobile apps," says Susan Sentell, president and CEO at Gladson. "An online representation of each product – including product images and comprehensive product details – needs to be available to shoppers whether the actual purchase takes place in a store or via an e-commerce website. Accurate, up-to-date and comprehensive product content has become a must-have for B2C and B2B enterprise processes, ranging from e-commerce and marketing, to shelf space management and logistics."
Product information exchanges also help product manufacturers make sure that different retail organizations are using the same product data, adds Mike Lapchick, CEO of Shotfarm. Inconsistent product information has become a bigger problem for manufacturers with the growth of the Internet, he observes.
Specialized e-commerce solutions have emerged to help f&b merchants manage online orders and delivery.
The Digital Universe Expands
E-commerce software can improve a customer's interaction with a merchant.
By integrating data sources – loyalty programs, e-circulars, and e-commerce – a merchant can create a holistic view of each customer across their entire shopping journey, says Chris Bryson, CEO and founder of Toronto-based Unata. The merchant can use that information to form a conversation with each customer that is evolving, ongoing and unique to them.
Existing f&b supply chain data usually does not include user-friendly details required for consumer websites, such as product names, images and other information Bryson says.
MyWebGrocer, another grocery e-commerce solution, has introduced a suite of solutions built on an API-driven architecture to integrate customer, product and order data. One suite builds and executes digital marketing campaigns. Another suite enables grocers to connect their brand partners directly to shoppers with contextually relevant, personalized advertising.
Another suite manages the massive amounts of data produced by shoppers as they navigate a grocer's digital channels. Because the platform is built on API architecture, grocers can combine third-party data and loyalty program data with the shopping data collected within the platform.
F&B E-Commerce Concepts Evolve
F&b e-commerce continues to evolve. Venture capital firms continue to invest millions of dollars in f&b e-commerce, resulting in some innovative concepts.
The November/December Food Logistics reviewed the different business models, including subscription-based prepared meal delivery, subscription-based ingredient delivery, grocery/packaged goods delivery, and pickup options for each of these.

One of the biggest uncertainties about f&b e-commerce in the U.S. is whether home delivery or store pickup will dominate. Most observers agree that both options will be available. Some see home delivery more prevalent in more rural areas.
In the U.K., where e-commerce is more established, store pickup and home deliveries are both the norm, according to Will Salter, CEO and President at Paragon Software Systems. Store pickup still dominates, but demand for online shopping continues to grow rapidly. "Online" also now means a lot more than just home delivery. Retailers are giving shoppers a far wider delivery choice which includes home delivery, click and collect in the store and collection from other venues including purpose-built lockers.
Salter concurs with observers who believe brick-and-mortar stores will remain a key fixture in f&b commerce. "Consumers still want to go to the store and look at products in-store," he says "but the challenge for retailers is to find new ways of making bricks and mortar pay. For example, retailers are introducing more food service and complementary retailers into their larger store formats to increase footfall and spend."
Another lesson that the U.S. seems to be taking from Europe is that brick-and-mortar retailers – not "pure play" web retailers or product manufacturers – are leading the foray into e-commerce.
'Pure-play web' food retailers on the rise
While brick and mortar grocers expand e-commerce operations, "pure play web" competitors continue to emerge. Several concepts showing promise make use of existing f&b infrastructure. Most agree the "last mile" represents the biggest unknown going forward.
In 2009, Artizone began an "online mall" concept for specialty food retailers in Dallas, Chicago and Denver. The Dallas-based company manages home deliveries for the merchants in each of the markets – 90 in Dallas, 115 in Chicago and 15 in Denver, the newest market. Customers can select a 2-hour delivery window. The $5.95 delivery fee is waived for orders of $120 or more.
The merchants package their own orders for delivery.
The Artizone software gives local, specialty food merchants access to an e-commerce tool they would not be able to manage on their own.
For the consumer, Artizone offers access to local, sustainable products. "They (consumers) aren't fighting over prices any more," says Amber Dietrich, vice president of market operations.
"They're fighting over sustainability."
Securing the right home delivery arrangement has proven to be the most challenging part of the puzzle, says Dietrich. The company has its own delivery fleet in Dallas and uses a courier service in Denver. It contracts a 3PL in Chicago. The delivery vans are refrigerated and carry coolers and ice packs for frozen food.
Peapod now includes Artizone offerings for Peapod customers in Artizone's Chicago market.
San Francisco-based Handpick has come up with a model that makes use of the retailers' physical assets in fulfilling e-commerce grocery orders. Hanpick's employees pack ingredient orders at the grocery store, assisted by store employees. This saves the cost of operating a packing facility. Couriers deliver the orders. Payman Nejati, co-founder, says two people can eat for $30 per week.
Nejati claims this app-based system results in prices that are 25 percent to 50 percent lower than other subscription services.
Handpick scans social media to come up with recipes consumers are looking for, Nejati says. "It's based on live social data of what (ingredients) people are pairing today." The company is currently working on a pilot with Safeway and is in discussion with other chains, he says.
Zone Manhattan, another subscription e-commerce service, offers a personalized approach. The New York City-based company has a staff dietitian who creates recipes for individual customers based on their personal profile, says owner Steve Lindner. Zone Manhattan shoppers buy ingredients daily at local markets and prepare the meals at their own facility. The company contracts with a delivery service that delivers the day's meals between midnight and 5 a.m.
New York City-based HelloFresh is among the faster growing meal-kit delivery services in the U.S. HelloFresh currently offers delivery nationwide. The "we shop, you cook" mission is to manage the customer's shopping at a reasonable cost, says CEO Seth Goldman. The company delivers weekly meal kits including curated recipes and farm-fresh, seasonal ingredients to customers' doors. Customers can select from either a meat/fish classic box or a vegetable box, including three meals to serve either two or four people per delivery
Hello Fresh this year raised $126 million in financing.
Goldman says educating customers about the service is still a challenge.
Organic E-Commerce Grocer Markets Its E-Commerce Grocery Software
One online natural and organic grocery retailer, AbesMarket.com in Chicago, developed its own e-commerce software which it now markets to other retailers as a one-stop solution under the name Storepower. "Stores have the advantage (over pure-play web merchants) of real estate and we want to help them leverage that advantage," says CEO Richard Demb. "We're handling all the software to make sure online orders can happen."
AbesMarket.com uses couriers for its deliveries.
StorePower.com provides a branded e-commerce site and proprietary software enabling picking, packing, payment, pickup or delivery.
New York City-based Fairway Market and Encino, Calif.-based Gelson's Market recently signed on as Storepower.com customers.
Pedicab Rickshaws Provide A Reliable, Sustainable Delivery Option
Sustainability plays a big role for many food e-commerce merchants. Hence, several have incorporated freight-moving pedicab rickshaws as an effective, environmentally friendly, brand-building way to deliver meals and meal kits to customers in crowded urban areas.
Revolution Rickshaws has forgone thousands of gallons of fuel and freshened the streetscapes of Brooklyn and Manhattan since Gregg Zuman established the logistics service 10 years ago. A long-time "capitalist with a conscience," Zuman welcomes growing partnerships with e-commerce food merchants, many of whom promote sustainable food. Revolution Rickshaws uses 30 pedicab rickshaws – many branded with client messaging – made by Bath, U.K.-based Cycles Maximus. He has two full-time and 10 part-time employees.
"In the streets (a branded freight rickshaw) screams 'responsible operator' to the community," Zuman says. Revolution Rickshaws provides last-mile logistics solutions to restaurants, caterers, bakeries and food e-commerce merchants.
While some customers choose the trike for its environmental bona fides, Zuman confirms its most important advantage over motorized vehicles remains reliability.
Studies have shown that freight rickshaws deliver cargo faster than motor vehicles in urban areas, Zuman says. One reason is they don't get stalled in traffic, which can delay customers' meals or meal kits for hours in Manhattan.
A 2014 report by The City College of New York found trucks experience considerably more delay as a percentage of total travel time than do freight tricycles. Within Midtown, the median freight tricycle spent 26 percent of its travel time in stopped-time delay compared to about 40 percent for trucks. Between Midtown and the Upper East and West sides, similar ratios of 23 percent for freight tricycles and 42 percent for trucks were observed. For both trip types, very few tricycle delay-to-travel-time ratios greater than 0.6 were observed.
Freight tricycles spend considerably lower shares of their travel time in stopped-time delay than trucks, although higher than average delay-to-travel-time ratios are observed for freight tricycles in locations with high intersection densities, the study found. Additional stopped-time delay for trucks is likely due to traffic congestion that freight tricycles can often bypass.
Freight tricycles also have greater flexibility in terms of parking; as a result, they can often park on a sidewalk directly in front of a pickup or delivery location. When freight tricycles park on the sidewalk, they are relatively immune to parking restrictions, and there is less delivery time from the vehicle to an end location.
Two primary commercial benefits from cargo cycle operations are increased efficiency in road and parking space utilization per ton-mile delivered and a reduction in air pollutant and greenhouse gas emissions per ton-mile delivered.
Cargo cycles require neither a license nor extensive training to operate; as a result, cargo cycle operations provide low-barrier-to-entry jobs for those willing to pedal.
Zuman's rickshaws average 10 to 20 deliveries per hour. He usually charges an hourly rate, though unit rates are available.
Which isn't to say that the pedicab rickshaw is an inexpensive delivery mode. Zuman points out that the units require regular maintenance, which accounts for his biggest operating cost.
Another cost is driver training. "With anybody that thinks of these as 'bikes', it doesn't work out," he says.
Survey: U.S. E-Commerce Grocery Shopping Grows
U.S. online grocery shoppers are upping the amount of grocery shopping they complete online, according to a new survey of 1,100 U.S. online grocery shoppers from Door to Door Organics, a natural and organic online grocer. The survey collected responses from consumers who have shopped online for groceries at least once in the previous 12 months.
Of those surveyed, more than half (54 percent) said in the past year they had increased the amount of grocery shopping they do online by an average of 29 percent. Less than 4 percent said that in the last year they had decreased their online grocery shopping and 42 percent stated that the amount of grocery shopping they do online had stayed the same. Overall, shoppers indicated that an average of 19 percent of their weekly grocery shopping is currently done online.
While online grocery shopping continues to gain popularity, the majority of consumers still rely on multiple online and brick-and-mortar stores to complete their weekly grocery shopping. Only 13 percent of survey respondents said a single store (online or offline) meets their weekly grocery shopping needs, while 34 percent shop at two stores during a typical week and 53 percent shop at three or more online and/or offline grocery stores each week.
Consumers' time – and the value they equate with it – was another topic that was explored in the survey. Respondents indicated they had on average only 82 minutes of free time every day and spent an average of 69 minutes each week shopping for groceries. Additionally, respondents estimated the average value of one hour of their time to be $56 per hour.
"It's becoming increasingly harder for consumers to find a 'one-stop-shop' that meets all their grocery shopping needs," said Chad Arnold, CEO of Door to Door Organics. "Today's grocery shopper appreciates variety, wants to have easy access to all kinds of produce and products, but also values convenience based on being busier than ever. This is one of the primary reasons why consumers are making online grocery shopping a more regular part of their week, and I don't expect that trend to turn downward anytime soon."
When it comes to what grocery products consumers are buying online, 23 percent of respondents said they do not buy fresh grocery products (e.g., meat, fish, dairy, produce) online. Of those who do purchase produce and other fresh grocery items online, 57 percent said they had been disappointed in the quality or freshness of these purchases at least once in the last year.
When asked what would make them feel more secure about the quality of fresh groceries when ordering online, 58 percent said knowing that the products were recently picked or packaged would increase their confidence, and 51 percent would be more comfortable if the fresh products were sourced from a local farm. Additionally, 25 percent said they would feel more secure about the quality of fresh grocery products if they were purchasing them from a specialty online grocer.
"Easing concerns about the quality and freshness of produce and other fresh grocery items has always been a top priority for online grocers, especially those like us who specialize in local and organic produce," said Arnold. "Selecting produce, for example, can be a very sensory-oriented experience – consumers like to touch, feel, smell and even taste their selections before purchasing. Online grocery shopping limits that initial sensory experience, so we do everything we can to ensure they experience that same satisfaction each time they open their Door to Door Organics delivery box."
Expanding Into E-Commerce? How To Select A Partner
One of the most important questions food and beverage producers face when expanding into e-commerce is what role they will play in the e-commerce market.
Jim Tomkpins, president of Tomkins International, says food and beverage companies can either market their own brand or partner with a retailer on a private label offering. Companies with strong brands will find it makes sense to focus on their existing brands. These companies then face the need to partner with logistics providers that are experienced in food and beverage delivery.
Companies that don't have strong brands can also be successful by providing private label products to retailers that are getting into the e-commerce arena. "If you don't have a brand the marketdemands, you'd best partner with someone who does private label well," Tompkins says.
CIO.com, an online resourcefor chief information officers, offers some additional tips about expanding into food e-commerce:
• Know your production schedule backwards and forwards
• Design a shipping system – including speed, temperature and cost – that fits your product
• Make your website a true reflection of who you are
• Make finding products easy.
• Use great photos
• Make your product descriptions unique
• Include customer reviews and testimonials
• Include contact information – a phone number and email address, not just a form – on your home page and elsewhere
• Use social media
For more information
Enspire Commerce, encspirecommerce.com
Envista Corp., envistacorp.com
HighJump, highjump.com
Gladson, gladson.com
itemMaster, itemmaster.com
JDA Software, jda.com
Kwikee Systems, kwikeesystems.com
Manhattan Associates, manh.com
Mywebgrocer, mywebgrocer.com
Paragon Software, paragontruckrouting.com
Revolution Rickshaws, revolutionrickshaws.com
Ryder, ryder.com
Shotfarm, shotfarm.com
Softeon, softeon.com
Storepower, advancingretail.org
Tompkins International, tompkinsinc.com
Unata, unata.com
WePay, wepay.com