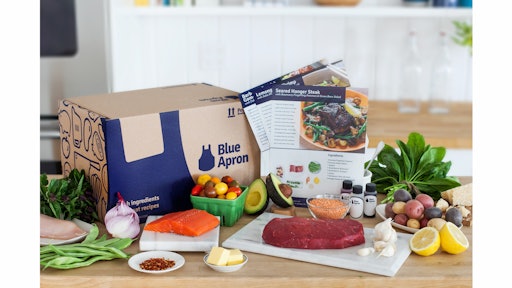 E-commerce: it offers so much promise for the food industry, but a promise unfulfilled. E-commerce has expanded rapidly as retailers and other marketers of consumer packaged goods offer consumers the ability to shop online, letting them shop when and where they want.
The food industry, however, has been the slowest major consumer sector to expand into e-commerce growth, due to issues such as freshness, product damage, low margins compared to other consumer products and logistical challenges. According to the research firm BI Intelligence, only 15 percent of U.S. adults have bought food items online and only 1 percent of food and beverage sales are purchased online.
But the pace of growth has hastened and will continue to accelerate. BI Intelligence predicts that through 2018, online grocery sales will grow at a compound annual growth rate of 21.1 percent, reaching nearly $18 billion by the end of the forecast period. For comparison, offline grocery sales will rise by 3.1 percent annually during the same period.
BI Intelligence offers the following factors for its optimistic assessment of online grocery shopping:
• Convenience and a large selection of products.
• The emergence of concierge shopping and subscription-prepared meals that are innovating on the online grocery model and offering services that are differentiated from traditional supermarket shopping.
• Some of the biggest names in tech — Amazon, eBay, and Google — are beginning to offer and promote same-day delivery services. As consumers get used to the convenience of ordering something online and receiving it the same day, grocery e-commerce will benefit too, with people more likely to buy food they know they will get quickly.
According to Brick Meets Click, an e-commerce consultant, online grocery sales will jump to 17 percent of total grocery sales by 2024.
Logistics and e-commerce
Logistics play an important role e-commerce. And because there are different e-commerce business models currently in use, no one knows what model, if any, will dominate f&b e-commerce going forward.
This article will provide an overview of the different f&b e-commerce initiatives. A review of these efforts indicates the food industry's e-commerce challenge is a marketing one more than a logistics one. While logistics plays an important role in the economics of e-commerce, the "e-tailers" that best understand consumer needs will win the future. Hence, while e-tailers employ logistics in investing for growth, the logistics and supply chain industries will not fully understand what transportation, materials handling and warehouse management systems will be used until the dominant models have been determined. How long this takes is unknown.
Datassential, a Chicago-based food research firm, recently examined the food e-commerce market and identified three different markets: prepared meal delivery, meal kit delivery and grocery/packaged goods delivery. Companies such as SpoonRocket, Munchery, Sprig and Caviar deliver complete prepared meals. Services like Blue Apron, Plated and HelloFresh offer customers a choice of dishes from which to order; the companies send ingredients and recipes. Grocery delivery services include Amazon, Peapod and Instacart.
While food delivery services have been around since the 1950s, Datassential notes that consumers have only recently become more comfortable with online shopping. The company says phone apps make it easier than ever to order a meal, track delivery and provide feedback.
How will deliveries be made?
A big question "e-tailers" face is whether to handle fulfillment and delivery in-house or to outsource.
This year, Kroger agreed to acquire Vitacost.com, a dedicated health and nutrition e-tailer. Vitacost.com's e-commerce technology and fulfillment centers will enable Kroger to serve customers in all 50 states, including 16 states currently not served by Kroger supermarkets, expanding the grocer's reach into new U.S. markets as well as internationally.
The two largest grocery e-tailers to date, Amazon and Peapod, are following different strategies (see sidebar page XX). Peapod uses its own fleet for delivering to homes and pick-up centers while Amazon outsources most of its deliveries, the exception being fresh food under its recently-introduced Amazon Fresh.
While home delivery is expected to play a major role in grocery e-commerce, it may not be the dominant method by which customers receive their orders. The pickup option, where customers pick up orders at a destination, has emerged as a promising alternative to home delivery. Most observers believe both methods will be used; which will dominate remains unanswered.
Tesco offers guidance
The most instructive experience to date can be found in the United Kingdom, where Tesco PLC, a multinational grocery and general merchandise retailer, has dominated grocery e-commerce. While the United Kingdom differs from the U.S. in some ways – such as a more concentrated population – Tesco's experience offers insight into the factors that grocery marketers must consider in utilizing e-commerce to increase sales.
Within the U.K., Tesco offers customers the ability to "click and collect" (the customer places an order online and picks up the order at a local Tesco store drive-through), according to published reports. Tesco also offers a home delivery service in certain parts of the country where the company can provide a home delivery based on a customer's preferred one-hour time slot.
When Tesco began its e-commerce offering in the late 1990s, it followed a model currently used by several U.S. supermarkets, according to Marc Wulfraat, owner of MWPVL, a supply chain consulting firm. Tesco associates traveled through the store aisles with trolleys to pick and pack the orders. The orders were placed in vans out of the back room of the store where routes were planned with as many deliveries as possible.
This model proved inefficient, Wulfraat says. It was labor-intensive, not all stores had the entire variety of products offered on the website, and having associates pick products in the store interfered with regular in-store shoppers to the extent that store sales declined.
In 2006, Tesco began using dedicated e-commerce depots, Wulfraat says. Associates pick orders across dry, chilled and frozen temperature zones. Tesco drivers perform the deliveries using a private fleet of vans.
As Tesco expanded its dedicated e-commerce depots, it increased warehouse efficiency by introducing mechanized conveyors and automated material handling systems such as mini-load ASRS systems and goods-to-person picking systems. The company now operates six dedicated dotcom depots and labor productivity has increased by 82 percent over the original, conventional operation, Wulfraat says.
Hence, Tesco has shown that a dedicated e-commerce infrastructure plays an important role in grocery e-commerce, even for a company with a traditional retail infrastructure already in place.
Amazon

changes course

Amazon, a dedicated e-commerce provider, has fine-tuned its logistics infrastructure as it expands in ways that give it more control over outbound deliveries, according to Wulfraat. Wulfraat observes that beginning in 2013, Amazon introduced sortation centers, which are different from its fulfillment centers. The sortation center aggregates shipments from one or more fulfilment centers for delivery to groupings of zip codes. The U.S. Postal Service or other couriers then deliver the shipments from the sortation center to the consumer.

The sortation center allows Amazon to bypass the major parcel couriers such as UPS and FedEx, thereby increasing speed of delivery at a lower overall cost, says Wulfraat. He says there will be 15 sortation centers in the U.S. by the end of 2014. "Looking ahead, we can expect that Amazon will roll out this strategy such that all major fulfillment centers or 'clusters' will be supported by a sortation center to better service regional high population markets," he says.
The cold food challenge
What remains to be seen, however, is how Amazon will manage fresh, refrigerated and frozen food. Under its Amazon Fresh program, Amazon has established dedicated fresh and frozen delivery operations in Seattle, Wash., California and New York City and limits its deliveries to those markets. Unlike the United Kingdom, there is no national e-commerce player in the U.S. for fresh, refrigerated and frozen food, and the main competitors tend to provide regional services in metro areas with high populations.
To date, home delivery of perishable food is available on a local or regional basis.
Louisville, Colo.-based Door To Door Organics provides next-day deliveries to customers in 11 states from five DCs where product is manually packed and sorted. The company manages its own fleet of GPS-equipped, ambient-temperature vans using a TMS system, says Chad Arnold, CEO. Routes deliver 60 to 120 orders per day, with orders ranging from $30 to $120. There is no additional delivery fee.
New York City-based Farmbox Direct delivers weekly orders of organic produce to subscribers in 14,000 zip codes on the East Coast, says founder and owner Ashley Tyrner. Orders are packaged and sorted manually in one warehouse. Farmbox Direct sends a weekly email advising customers what's available for the week. Customers choose from one of three order sizes and can customize orders based on Farmbox Direct's available inventory. Minimum order is $36.95 plus $4.95 for handling and packing.
Unlike Door to Door Organics, Farmbox Direct outsources its deliveries to FedEx. Tyrner says she learned which delivery service to use by trial and error.
New York City-based Blue Apron encourages customers to try new recipes and delivers ingredients from three fulfillment centers: two in New York City and one in Richmond, Calif. The company outsources its deliveries to several carriers, according to Matt Salzberg, co-founder and CEO. Blue Apron's $60 weekly subscription translates to a cost of about $10 a meal per person, with customers getting three meals a week for a party of two. Users choose from six recipes, which the company changes each week.
Carrier Delivery Rates To Rise
DiscountCoffee.com began its refreshment e-commerce business 16 years ago and uses UPS for its deliveries, says Kirby Newbury, CEO. The major carriers are moving from weight-based billing to dimensional weight billing, a technique which takes into account the length, width, and height of a package. He anticipates shipping costs to rise more than 30 percent in 2015. "We don't have the answer right now how we're going to absorb this 30 percent increase," he says.
Newbury nevertheless thinks f&b e-commerce has a big future once product marketers figure out the best methods for delivering orders. He says his own company has been able to move product for manufacturers in ways they are not equipped to do themselves. For instance, his company assembles packages in its warehouse that manufacturers would have a hard time doing themselves.
Biscomerica Corp., a confection manufacturer in Rialto, Calif., forwards all e-commerce inquiries from its own website to DiscountCoffee.com.
1-800-FLOWERS.com Inc. will do $640 million this year in gourmet food, says company spokesman Joe Pittitto, who pegs the company's annual food sales growth in the mid- to upper- single-digit percentage range. Nearly 70 percent of the company's sales are through e-commerce. Orders are delivered overnight by FedEx, UPS and the U.S. Postal Service from the company's DCs.
Dr Soda, a refreshment services provider to Los Angeles businesses since 1984, fell into home delivery shortly after launching online ordering for its business customers in the late 1990s. Once consumers came across the company's website, they began placing orders. Dr Soda's five, multi-temperature-zone trucks deliver to homes that fall within its regular routes; the company uses UPS for all other deliveries.
One thing the above examples show is that e-commerce has allowed food and beverage marketers to target specific market segments. Farmbox Direct, 1-800-Flowers Inc., DiscountCoffee.com and Dr Soda have all uncovered product specific niches that can be served e-commerce.
Whether or not consumers will use e-commerce for regular f&b shopping is a different question.
Will home delivery rule e-commerce?
Nor is it settled that home delivery will dominate grocery e-commerce fulfillment. Industry observers note that the jury is still out whether or not U.S. consumers are willing to pay for home delivery. Mike Griswold, research vice president at Gartner Inc., the researcher, says the focus in the U.S. should be on click-and-collect since the U.S. consumer has not asked for home delivery.
Home grocery delivery took a hit in the U.S. in 2001 when Webvan declared bankruptcy. But much has changed since then. High-speed Internet was not reliable or widely available in 2001. Consumers were not using mobile Internet for shopping as they are today.
In addition, e-commerce software has improved. One cannot ignore the fact that one of Webvan's investors, Sequoia Capital, has invested in Instacart, a grocery delivery service launched in 2012 that delivers groceries in less an hour or less and has opened in major cities from coast to coast.
But the extent that home delivery will dominate grocery e-commerce is still uncertain. Not all supermarket chains have welcomed delivery services such as Instacart, Uber and Google Shopping Express.
ShopRite, with more than 250 locations in New York, New Jersey, Connecticut, Pennsylvania, Delaware and Maryland, has found it makes sense to offer both pickup and home delivery, says Karen Meleta, spokesperson for Wakefern Food Corp., the retailer-owned cooperative that provides services to ShopRite stores.
E-commerce sales have increased every year since 2002, when the option was added to the company's website, Shoprite.com. The stores have dedicated staff and delivery vehicles for handling e-commerce orders, but not a separate warehouse. Associates shop the store aisles and are able to offer customers the same prices for in-store or online shopping. Orders are packed in a separate area of the store so that hot foods remain hot and cold foods can be refrigerated while they await delivery or customer pick-up.
Whichever method – home delivery or click-and-collect – comes out ahead will likely depend on which players are able to fastest establish high volume since "economies of scale" dictate success e-commerce.
UPS is covering both options, having recently announced it is expanding its My Choice program and its Access Point network.
My Choice members receive advance delivery notifications informing them of the delivery timing of each UPS package. Consumers also have the ability to reroute eligible packages to another address or reschedule deliveries for a future date before a UPS driver makes a delivery. Consumers can also activate a vacation setting to have packages held and delivered when they return home.
Under the UPS Access Point network, local businesses, primarily neighborhood convenience and grocery stores with evening and weekend hours, are designed to be approximately 10 minutes or less from the consumer's delivery address. UPS drivers, when unable to deliver a package at the consumer's residence, will leave a note informing them when they can expect to collect their package at a nearby UPS Access Point location. Consumers will go to www.ups.com and use the tracking number on the note to get the address.
B2B and B2C
B2B poses another concern for grocery e-tailers. The Internet creates an immediate opportunity for an f&b producer to reach both B2C and B2B. Since the advent of e-commerce more than two decades ago, B2C e-commerce players have expanded into B2B, and vice versa. Because differences exist in the economics of warehousing, inventory management, order fulfillment and delivery functions for B2C and B2B, f&b producers must decide which of these audiences to pursue.
Long-term, the prospects for f&b e-commerce are positive. According to one survey, 15 percent of U.S. adults have purchased general food items online, but 25 percent of millennials said they would pay a premium for same-day delivery.
F&B E-commerce Formats At A Glance
A recent Food Institute report identifies the following types of f&b e-commerce formats.

• Retail stores with an online store. These will offer home delivery and pickup. UPS/FedEx. Fulfilled from store shelves and/or e-commerce distribution center, i.e., TheFreshMarket.com, Target.com, Meijer.com and Plummarket.com. These may have separate vendor processes to get into the e-commerce warehouse.
• Dedicated e-tailers that stock inventory. There is no physical storefront but the company maintains its own warehouse. i.e., Amazon, Quidsi Vine.com, Vitacost, MyNaturalMarket.com.
• Virtual e-tailers. These have no physical storefront or warehouse. They drop ship from distributors like United Natural Foods Inc. or manufacturers.
• E-tailers providing their own delivery. i.e., Fresh Direct, Amazon Fresh, Relay Foods, Peapod, Door to Door Organics
• Virtual home delivery: i.e., Instacart, Google Shopping Express and Uber.
Grocery E-Commerce: Who's 'On First' –
Amazon

or Peapod?

Analysts following the growing grocery e-commerce market agree that volume plays an important role in the long-term success of e-commerce. The investment in infrastructure, materials handling equipment, human resources make e-commerce a highly capital intensive proposition.

E-commerce profitability relies heavily on economies of scale. The faster an e-commerce retailer can turn inventory, the greater the profitability and the faster the return on investment.

Grocery e-commerce observers agree that at present, Amazon.com and Peapod are the leading U.S. contenders. Amazon's f&b volume is unknown since the company does not break out sales by merchandise type in its financial reports. Amazon has a nationwide infrastructure and delivers dry foods in many of not most markets. Its perishable foods venture, Amazon Fresh, is limited to Seattle, Wash., Los Angeles, Calif., San Francisco, Calif. and New York City.

Amazon has the advantage of offering customers food in addition to non-food. According to its annual report, Amazon Prime Fresh members pay $299 a year and receive same-day and early morning delivery not only on fresh grocery items but also on over 500,000 other items ranging from toys to electronics to household goods.

Peapod, a dedicated grocer, partners with existing supermarkets and therefore has access to an extensive infrastructure that can support grocery e-commerce. Peapod also delivers to pick me-up locations, which allows it to offer more options to customers and a larger volume of business against which to leverage its assets.

Another difference: Amazon outsources most deliveries where Peapod uses its own fleets. The merits remain debated.

Still another question that could prove to be the most important of all is financial resources.

Peapod is owned by Dutch retail conglomerate Dutch Ahold NV, which in August reported second-quarter earnings that missed estimates as accelerated store openings by rivals contributed to a loss of market share in the U.S.

Amazon recently reported a $544 million operating loss in the third quarter, compared with operating loss of $25 million in third quarter 2013. What's uncertain is how patient the investment community will be as Amazon continues to invest in its infrastructure.

Phil Terry, a supply chain consultant who has worked with e-commerce, says Amazon will need to extend its infrastructure to support the delivery of perishable food. Whether or not they will be able to accomplish this will depend on how patient the investors are. "If Wall Street demands faster profit, they won't be able to do it," Terry says.

Investor patience has been pressed with the Chinese e-commerce giant Alibaba Group's recent public offering and plans to expand into the U.S., Terry adds. Alibaba's success in a market with less established infrastructure can lead investors to wonder if Amazon is a good investment, he says.
Retrofit Kits Make Insulation Easy For Refrigerated Delivery Vans
The growing home delivery business has been keeping FG Products Inc., the Rice Lake, Wis.-based manufacturer of bulkheads and other products for the refrigerated transportation industry, busier. The company's COOL-R Kits can reach 22 F to handle frozen applications. The COOL-R Kit's internal reinforcements minimize BTU transfer. Logistic track can also be attached for load securement.
Matt Nelson, vice president, says the COOL-R Kits offer a preferable alternative to using dry ice, gel packs, utetic plates or built-in refrigeration. "Today's cargo vans and refrigeration units combined with our Cool-R Kits make a great vehicle under 10,000 pounds with excellent fuel mileage," Nelson says. "At FG, we focus on the High Roof Cargo Vans for three reasons: 1) Safety. Most personnel can stand up in them, and get in and out without trouble. The maneuverability and back-up cameras make them feel like a car. 2) Advertising. If you are going to deliver, advertise while doing it. Today's vans are mobile billboards. 3) Cargo capacity. Insulating a van reduces the interior size slightly, and smaller vans tend to be more specialized, which can make vehicle utilization more difficult. For example, our portable bulkhead option can create a true multi-temp van one day, and a single-temp van the next."
For more information contact:
BI Intelligence, 212-255-5490, businessinsider.com
Brick Meets Click, 773-832-1658, brickmeetsclick.com
Datassential, 312-655-0622, datassential.com
FedEx, 800-622-1147, fedex.com
Food Institute, 201-791-5570, foodinstitute.com
FG Products Inc., 715-234-2334,, fgproducts.com
Gartner Inc., 800-213-4848, gartner.com
MWPVL, 514-482-3572, mwpvl.com
Sequoia Capital, 650-854-3927, sequoiacap.com
UPS, 800-742-5877, ups.com
U.S. Postal Service, 800-275-8777, usps.com