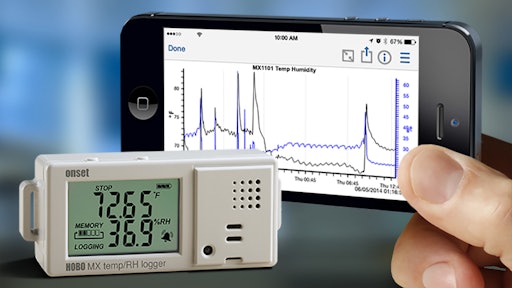 Will Foods, a Buffalo, N.Y.-based broadline foodservice distributor, invested more than $1 million in technology this past year under a new ownership team. Much of the investment went to a warehouse management software system, along with routing, order management and GPS-equipped vehicles for the company's 25-truck fleet. The father/son ownership team of Jack and Bob Manley recognized that the future requires technology, even for a small distribution company.
The Manleys know they have no time to lose in getting Will Foods up to speed if they want to be serious players. High on their agenda is federal food safety regulations. By the end of 2015, the Food and Drug Administration (FDA) will require food distributors to have a system in place that tracks the exact quantity of each product in the warehouse at any given time, and where each specific product has been from inception to consumer sale, says Bob Manley, Will Foods' executive vice president. Full product traceability is essential to food safety and is a system that the company has already implemented and is currently improving.
Scranton, S.C.-based W. Lee Flowers and Co., which operates or supplies 90 IGA/KJ's Market and independent supermarkets in the Carolinas and Georgia, recently selected Salt Lake City, Utah-based Park City Group's tracking platform to manage their food safety-related risk. The track and trace system identifies the supply chain path taken by a product in the event of a product recall. It can reduce the risk in the supply chain by identifying backward chaining sources and forward chaining recipients of products in near real time.
"With the Food Safety Modernization Act (FSA) regulations now requiring us to store and manage literally thousands of vendor documents, we knew we had to eliminate the paper shuffle happening on both sides of our business," said Henry Johnson, president of W. Lee Flowers. "We chose the ReposiTrak solution for its automation and validation capabilities. We like that the dashboards and alerts enable one person to stay on top of missing, expired, or inaccurate documents."
Will Foods and W. Lee Flowers and Co. are among many industry professionals that have begun a journey that could pay big dividends if executed correctly. While the goal of a traceability system is to improve food safety, the end result could be a system that improves the efficiencies of managing inventory throughout the supply chain.
A key component of improving traceability in the supply chain is implementing uniform inventory data standards. As food processors, distributors, operators and retailers adopt uniform inventory data standards in pursuit of traceability, many will find that uniform standards enables them to track inventory faster throughout the supply chain. And as data standardization expands among players across the supply chain, users will find they are able to provide supply chain partners more accurate information faster.
In addition to improving traceability, data standardization also make it easier for companies to comply with food safety regulations, which are increasing.
Data standardization and warehouse automation
Food safety concerns are driving many companies to improve traceability procedures. In pursuit of this goal, many are finding data standardization an important tool. A review of traceability initiatives indicates that food safety, data standardization and warehouse automation are all part of the same discussion.
"A good food traceability system not only protects the consumer, but also benefits companies throughout the entire food chain because it reduces business expense and can lead to greater brand satisfaction and even increased profits," states the book, "Food Traceability For Dummies," a cooperative effort of Ontario, Canada-based Carlisle Technology, Orlando, Fla.-based Datamax O'Neil and Shaumburg, Ill.-based Motorola Solutions.
Integrated traceability systems include identification technology, data capture, network infrastructure, and data analysis software.
Traceability software can track, label and ship products with specific characteristics. The software can automatically generate bills of lading and verify shipments. Some systems allow the user to track and organize products by pallet, lot and case and even by location. This gives companies the flexibility to move inventory among their warehouses, including repeated commingling and re-boxing at any point in the process, without losing traceability.
"The retailer expects immediacy, and the governmental agencies are more and more expecting immediacy," says Carol Golsch, director of product management at Redline Solutions, the Santa Clara, Calif.-based provider of traceability software. Golsch stresses the economic benefit of accurate traceability in the event of a recall. "If you don't know where the implicated lots were shipped, you're obligated to pull everything that was shipped in the suspect date range. Traceability is a huge cost saving for companies since it allows you to narrow down the recall to only the lots that are implicated." But she points out another benefit as well: "If you do not have a traceability plan in place, you risk a lot more than money. You are risking your brand."
Produce leads the food industry
The produce industry took a pioneering role with traceability management in response to widely publicized recalls. A 2006 spinach recall forced many produce companies to take a closer look at their traceability capabilities, says Angela Fernandez, vice president of retail grocery and foodservice at GS1 US, a global organization that develops and maintains supply chain standards.
Prior to that, the perishable segment of the food industry had lagged in adopting GS1 standards, which are designed to uniquely identify products moving through the supply chain and provide continuous synchronization of accurate data between businesses.
In 2008, the produce industry identified GS1 standards as the basis for its Produce Traceability Initiative (PTI), providing case-, lot- and batch-level information that can be traced electronically, Fernandez says. Major food retailers, including Walmart, quickly requested PTI implementation for their supply chains.
Retailers, wholesalers and manufacturers have all benefitted from PTI, Fernandez says. By giving a company the means to trace a specific product in the supply chain, the shipper can pull a product without having to remove more products than necessary. Because the standard provides identification for each individual case, it is not necessary to remove cases of product unaffected in the event of a recall or withdrawal.
Since the produce industry has embraced GS1 standards, other fresh food sectors such as meat and poultry have followed, Fernandez says. "It's the perimeter of the grocery store that has more recently recognized how GS1 Standards can enhance traceability capabilities as well as provide category management," she says, referring to the section of the grocery store that merchandises perishable products.
GS1 standards make whole-chain traceability possible due to the fact that they provide interoperability between existing systems and solutions, on a global scale – no matter how many companies are involved or how many borders are crossed as food and food ingredients travel from one end of the supply chain all the way to the consumer, Fernandez says.
Traceability addresses recalls
Traceability is especially important if something goes wrong and products must be recalled. Recent legislation in the European Union requires manufacturers to inform authorities and consumers of any risk to consumers from their products. Many other countries are also reviewing food traceability rules.
Meanwhile, growers, producers and manufacturers, eager to protect their brands from the harm done by tainted materials or poorly-managed recalls, are boosting their internal recall policies and methodologies.
GS1 standards, because they are global, reaching from one end of the supply chain to the other, ensure immediate access to accurate product information, which enables swift, comprehensive recalls.
Independent Purchasing Cooperative (IPC), a SUBWAY franchisee-owned purchasing cooperative for more than 30,000 SUBWAY restaurants, saw GS1 as a tool to improve traceability and reduce time to compile information for product recalls. IPC officials described the steps they used in adopting GS1 while speaking at last year's International Foodservice Distributors Association (IFDA) solutions conference at the Indiana Convention Center in Indianapolis, Ind.
Since adopting the GS1 standards, the company has learned that "enhanced product traceability will be the end result of following the standards," says Rick Buttner, IPC's director of quality and supply chain risk.
"Once the traceability GS1 standards are in place, we will be able to trace product to the restaurant level," said Lucelena Angarita, quality/GS1 program manager of IPC. In addition, there will be fewer operational disruptions at restaurants, less discarded product, and potentially fewer product "outages" which can result in lost sales.
Warehouse management systems are integrating GS1 standards.
Prism Logistics has had the ability to scan UPC codes for years, but the 3PL's upgrade to AFS Technologies' WMS platform with functionality and integration with GS1 standards provides single-scan traceability, says Jere Van Puffelen, president of Stockton, Sacramento, Livermore and Hayward, Calif.-based logistics provider. This upgrade now allows customers to scan a GS1 label once, extract multiple data elements including the GS1 Global Trade Item Number (GTIN), lot and quantity. Prior to the GS1, lot codes typically had to be logged into the system manually.
GS1 addresses food safety rules
Van Puffelen says GS1 is especially important in light of the new food safety rules. The Food Safety Modernization Act (FSMA) requires a company to have a plan to enhance tracking and tracing of food. In the meantime, Van Puffelen expects more of his customers' customers to be mandating scannable lot codes. "The whole chain of custody will become more of an issue; who has it when," he says. The fact that the GS1 is an international standard makes it all the more attractive to companies in the supply chain.
While improving traceability is a driver for data standardization, it would be incorrect to say it is the main benefit. Large food industry players such as Dot Foods Inc., the Mt. Sterling, Ill.-based redistributor which resells products in less-than-truckload quantities to distributors nationwide, have gained significant efficiencies by introducing GS1 Standards to their online product catalog.
Companies utilizing GS1 standards and the GDSN (Global Data Synchronization Network) to synchronize item data throughout the supply chain will benefit and reduce cost through improved warehouse management, load optimization and increased productivity, says Debbie Bower, Dot Foods director of e-commerce.
A key benefit of data standardization, Bower says, has been improved transparency throughout the supply chain. "With GDSN, there is one source of the truth, and everyone is using the GTIN for standard product identification," she says. "This increases efficiency throughout the supply chain."
As for traceability, Bower says it would be much more difficult without GS1 standards and GTINs. "You have to be able to uniquely identify the product to trace it through the supply chain," she says. "Using an advance ship notice (ASN) and the GS1-128 bar code enables the automated capture of lot information which is more accurate and efficient than manual keying. In the case of a recall having accurate product, information is critical."
US Foods, the $22 billion Rosemont, Ill.-based nationwide foodservice distributor, adopted the International Featured Standards (IFS) for logistics as its food safety and quality program. "We then selected NSF International as the third party independent company to certify all our distribution centers against the standard," says Jorge Hernandez, senior vice president for food safety and quality assurance.
IFS is a standard recognized by the Global Food Safety Initiative (GFSI) as providing a "best in class control" over food safety and quality systems and the IFS-Logistics version is specific to storage and transportation by road, rail, air or ship for all types of foods and disposable products. "IFS- Logistics provided US Foods a uniform evaluation of our systems that not only ensures food safety and quality, but also provides transparency and a strong focus on customer requirements," Hernandez says of the IFS certification. "We had a good experience with certification; it not only improved our food safety and quality metrics, our compliance with regulations, but also had a positive impact on the business performance of the distribution centers certified."
Getting ahead of FSMA
George Gansner, director of marketing and business development at IFS, says the GFSI standards are comparable to proposed FSMA safety standards. "That (IFS) certification indicates that storage, warehousing and transportation companies and facilities are doing what they're supposed to do to ensure the product is safe," he says. "Certification says you have the processes in place."
US Foods' Hernandez says that players in the food supply chain should recognize that food safety risks are increasing, media attention is getting stronger, and government regulations are getting stricter. Companies should look to food safety and quality programs that make sense for their business and then get their business and programs certified by an independent company.
Food companies have numerous tools available to meet food safety goals. Traceability systems require hardware and software, and specific solution used will vary based on the user's needs.
Because data must be gathered quickly and easily as to not interfere with production efficiency, experts note that food production processes will benefit from a certain level of automation to support a reliable traceability reporting. "Given the increasingly tight recall windows imposed by today's leading retailers, traceability is something very difficult to do without automation," says Wayne Slater, director of sales and marketing at Carlisle Technology. To have reliable data, he says a company must implement a system that adheres to the three blocks of traceability: 1) backward traceability (knowing who you bought your input from; 2) forward traceability (knowing who you sold your finished goods to); and 3) process traceability (knowing the detailed composition of the product you prepared.)
Process traceability involves the ability to 1) identify product, 2) capture and track movement information, 3) associate the product with the finished good, and 4) know where it got shipped.
Traceability can be elusive if the system is not be able to identify clearly and quickly the specific origin or genealogy of the raw materials, ingredients, and packaging materials contained in that case by lot number, date received, and supplier, Slater says.
The amount of information that needs to be traced varies based on the complexity of a company's supply chain and the processors' production processes.
Traceability tools improve
In addition to the standard GS1 barcode, companies are increasingly using QR codes as a secondary barcode for automated product tracking on in-motion conveyor systems, or even marketing reasons, Slater notes.
By using QR barcodes, a traceability link can be established between the product and the shipping carton, order, inventory, and production occurrence. This allows full traceability of the product to the production lot and in some cases to the individual carcass and producer.
RFID tags are another tool in the traceability arsenal. RFID tags use radio waves instead of barcodes to uniquely identify the tags. RFID readers can be used in situations where optical scanning by barcodes isn't possible.
For example, the RFID tags on individual products contained on a wrapped pallet can be read without unwrapping the pallet, which wouldn't be possible using barcode labels.
Some companies are reluctant to invest in traceability technology while certain regulations, such as the FSMA's record keeping rules, are not yet finalized. To this concern, experts such as Ed Treacy, liaison between the Produce Traceability Initiative and the FDA, says compliance with standards such as PTI will most likely exceed what the government requires.
Carlisle Technology's Slater points to the instance of a Canadian meat processor that invested in traceability software even though the company never experienced a product recall. When a product tested positive for listeria after the software was installed, the company was able to leverage the recall reporting tools within their automated solution to isolate the product and complete the necessary recall communications in approximately 45 minutes. "Their quick reaction time resulted in no food getting consumed, therefore, no one got sick," Slater says.
In addition, the meat processor has gained business with new retailers not only because of their products but also because of the benefits the traceability system provides, he notes. Some retailers require a supplier to be able to recall a product in a matter of a few hours. Others like to exchange data through EDI. "Retailers drive a lot of the mandate around traceability."
"This company grew significantly on the back of their traceability system," Slater says, pointing out that the company grew their revenue, but also grew their employee headcount significantly in the five years after deploying their traceability software.
"That's the nice part of good traceability systems, they typically offer a rapid ROI when you use the data they collect to make better business decisions," Slater says. "In addition they typically pay for themselves within the first recall by helping to minimizing the financial impact of the incident by quickly identifying only the product(s) that need recalling vs an entire day's production.
Other companies have used the wealth of data provided by their traceability software to further improve their bottom lines, Slater says. "You can leverage the data to understand your loaded production costs, how much inventory you have on hand and what it's worth in real-time. In addition, you could look at the production data to streamline processes such as: in a plant with three production lines producing the same product, you could see which lines are more efficient at producing with: greater yields, less giveaway, fewer rejects or simply why are some lines operating faster than others? Taking action on this data will help improve production and ultimately profitability," Slater says.
RedlineSolution's Golsch points to a shipper that had less foresight. Because the company could not determine where in the supply chain it's contaminated product had shipped, they had to recall all their product from customers, losing six weeks of production. "They didn't have the data to know where the product had gone, so they had to pull everything," she says. "If you don't know where it went, you're obligated to pull everything. Traceability is a huge cost saving for companies."
Golsch thinks shippers will need to have automatic identification and electronic record keeping to be able to respond to recalls quickly.
Temperature monitoring and traceability
Temperature monitoring will also play an important role in food safety.
"Based on the proposed (FSMA sanitary transport) rule, we can expect requirements for expanded temperature monitoring during transportation and new responsibilities for shippers in specifying transit temperature and in-transit temperature performance recordkeeping," says Jeff Leshuk, president of Sensitech Inc., the Beverly, Mass.-based temperature monitoring solutions provider.
Leshuk notes that temperature monitoring is not synonymous with traceability. Temperature monitoring is simply the measuring and recording temperature in a particular location and recording it over time.
Traceability refers to the ability to follow the movement of food products at item or case level through production, processing and distribution, both forward and backward, Leshuk says. "This means forward from farm and backward from retail shelf or restaurant," he says. "It involves recording critical tracking events such as harvest or production, packing, aggregation, disaggregation, commingle, receipt, shipping, etc. It also involves recording key data elements such as item ID, location ID for event, date and time of event."
Technology providers continue to offer traceability and temperature monitoring tools.
Nogales, Ariz, based organic fruit and vegetable producer Wholesum Family Farms, Inc. recently deployed the LINKFRESH ERP to establish common practices, standards, and systems across four sites in the U.S. and Mexico. A key objective is to provide a single ERP system for the management and administration of all operational processes and to provide key reporting metrics throughout the business. The LINKFRESH ERP provides timesheet management and specific integration to Wholesum's existing Priva solution for greenhouse management.
The system allows the company to trace a case or a pallet anywhere in the supply chain in the event of a product recall, says Ron Meyers, LINKFRESH executive vice president. "We can see what product came in when, who handled it, and ultimately what retailer had it," he says.
The ERP can track shipments by tote, by lot, by truckload and by pallet. "We have to have the ability to help our customers track by any of these," says Meyers.
The ERP can monitor temperature in real time if shipping containers carry electronic temperature sensors. Wholesome Family Farms chooses to monitor temperature readings by scanning bar codes when a shipment leaves a warehouse and when it arrives at its destination, Meyers says.
Ocean Beauty Seafoods in Seattle, Wash. uses Redmond, Wash.-based Dynamic Systems Inc.'s SIMBA traceability software to capture the many attributes of the fish on the fly. The system integrates to scales that automatically inputs exact weight and produces a complex label quickly. The information allows management to monitor productivity, inventory and shipping on a moment-to-moment basis.
Roambee Corp., supplier of tracking services, recently partnered with RedLine Solutions, a provider traceability solutions, to offer customers in fresh produce full in-transit visibility and condition monitoring for shipments of perishable goods. RedLine already offers a comprehensive lineup of products and services to enable produce traceability and inventory management.

Rainer Kuehling, Roambee's vice president of sales and marketing, says the sensor acts as a real-time temperature logger. He says real-time temperature monitoring is important for shipping fish or produce, which have strict temperature ranges to maintain freshness. The system can be programmed to send text message or an email via cellular signal if the temperature falls beyond a specific range. "You know when something bad is happening and you know where it is happening," Kuehling says.
Infratab's Freshtime sensor tag enables a grower to attach a tag to a perishable in the field, start sensing by either button push or near field communication (NCF) phone, deliver the perishable to the packing house and enable the packing house to use RFID readers at receiving, receiving inspection and then subsequently track products and ingredients by supplier's batch lot and by the freshness of the batch lot received.
Freshtime sensor tags are identified by an EPC number, says Terry Meyers, Infratab president. This number is a GS1 GRAI (global returnable asset identifier) because it is reusable and returnable.
When temperature is sensed, status data (temperature, points left, alerts and tag state) and key data used for local analytics is stored in the RFID or NFC chip memory. Thus, sensor status, because it resides in RFID chip memory, can be read at any time by RFID-EPC or NFC readers.
Freshtime tags can be set up as temperature loggers or as shelf life monitors. The shelf life monitor option also logs temperature.
Using temperature logging, perishable handlers know when a temperature threshold has been exceeded. When shelf life is monitored, handlers also know how much shelf life is left and how much has been used. Users can print a log if required.
Boise, Idaho-based PakSense recently introduced reusable temperature and humidity logger. "This is now adding humidity to our kit," says Amy Childress, vice president of marketing. She said the company developed the reusable temperature and humidity logger in response to customer requests. The loggers download data via a USB connection to a PC and are fully programmable by the user via the provided software. They can record up to 32,000 data points and are optimal for use in closed-loop situations and import/export container shipments.
Onset, a Bourne, Mass.-based provider of data loggers, introduced a logger that measures and transmits temperature and humidity data wirelessly to mobile devices via Bluetooth Smart technology. The self-contained wireless data logger, which works with Onset's free app for logger setup and data management, enables the user to access data over a 100-foot range, at any time, from an iOS mobile device. There are no cables, no computer software to install, no devices to pair, and no internet access required.
Clearly, food and beverage shippers have more technology tools to enhance traceability in their supply chain. This will help them improve their efficiencies, minimize recalls and comply with new food safety regulations.
Elements Of A Recall Action Plan
Having a well-understood recall action plan streamlines the process of removing any unsafe product from the market. "Traceability For Dummies" offers the following steps for what to do in the event of a recall.
1) Assemble your recall team.
2) Notify any required regulatory bodies.
3) Identify all products to be recalled.
4) Detain and segregate all products to be recalled that are in your control.
5) Prepare external communications such as press releases (if required).
6) Prepare the distribution list for your external communication (for example, press, supply-chain, and so on).
7) Prepare and distribute the notice of recall.
8) Quarantine the recalled product(s).
9) Decide what to do with the recalled product(s).
10) Fix the cause of the recall if the problem occurred at your facility.
11) Verify the effectiveness of the recall.

For more information:
AFS Technologies, 877-821-3007, afs.com
Carlisle Technology, 905-332-5757, carlisletechnology.com
Dynamic Systems Inc., 800-342-3999 dynamic-systemsinc.com
Global Food Safety Initiative, mygfsi.com
GS1, 937-435-3870, gs1us.org
Infratab, 805-986-8880, infratab.com
International Featured Standards, 800-967-5352, Intertek.com
International Foodservice Distributors Association, 703-532-9400, ifdaonline.org
LinkFresh, 805-804-5060, linkfresh.com
Onset, 508-759-9500, onsetcomp.com
PakSense, 208-489-9010, paksense.com
Park City Group, 435-645-2000, parkcitygroup.com
Prism Logistics, 925-838-1691, prismlogistics.com
Redline Solutions, 408-562-1700, redlinesolutions.com
Roambee, 408-663-6655, roambee.com
Sensitech, 800-843-8367, sensitech.com