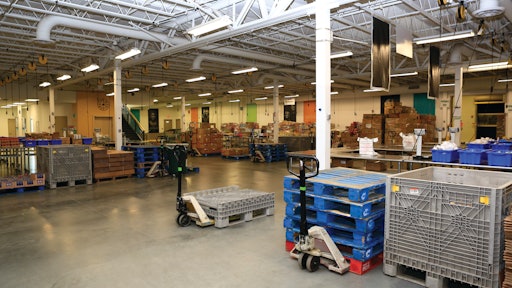 The Regional Food Bank of Oklahoma is a 501(c)(3) non-profit that distributes food and product to hungry Oklahomans in 53 central and western counties in Oklahoma. Their warehouse moves food, both perishable and non-perishable, to an area that's 48,000 square miles in size. The non-profit does very little direct service and conducts most of its distribution through more than 1,200 partner agencies, which consists of food pantries, shelters, soup kitchens, and schools. Partner organizations place orders with the Regional Food Bank based on client demand, and the non-profit processes that order through their Microsoft ERP.
One of the Regional Food Bank's biggest challenges is managing a massive supply chain. Accuracy and efficiency are of paramount importance for the Regional Food Bank's warehouse, which stocks anything you would see on a grocery store shelf, in a refrigerator, or in a freezer. The non-profit's budget is tight, so there's no room for spoiled or wasted food as a result of logistical errors in the warehouse.
Voice vs. the Rest
For decades, the Regional Food Bank relied on a paper label picking system that slowed down operations and limited the number of partners they were able to serve. The label system placed restrictions on how quickly pickers could process orders, which made the operation less scalable. The organization began to look into voice picking technology, but had some initial concerns. "We knew modernizing our warehouse would help make our operations more efficient, which would help us deliver more food to more partners in less time," says Steve Moran, Vice President of Operations for the Regional Food Bank. "But we're a non-profit on a strict budget, and we needed a proven ROI before we could make the investment."
Before implementing voice, the Regional Food Bank brought in a team of industrial engineering students to evaluate the technology's efficiency against existing paper label systems and RF-scanner based systems. The students tracked cases picked per hour and error rates for all three systems—voice picking emerged as the clear winner.
Rapid ROI
Efficiency alone wasn't enough to make the switch to voice. "We purchase 20 percent of our food supply. If we're going to invest a large portion of our budget in new technology, we had to be sure that it wouldn't result in a reduction in the number of families we're able to serve," says Moran.
The student team performed a cost analysis of three different voice vendors. They evaluated functionality and ease of use to help determine which vendor would be the best fit. "After the students determined that we would see ROI within 18 months, we were all convinced that voice was the best technology for us and Voxware would give us the most bang for our buck," says Moran.
The Regional Food Bank Doubles Pick Rate
All of these studies were conducted in 2008, and the Regional Food Bank installed Voxware shortly after. Six years out, they've seen dramatic improvements in warehouse operations. Most striking is their increase in speed and efficiency: with the old paper label system, the non-profit was picking and processing approximately 50 cases of food per hour. After implementing voice, they were able to more than double their hourly pick rate to 100-120 cases per hour. "It was astonishing to see our pick rates increase well over 100 percent, and even more exciting to see our warehouse reach a record pick rate of 193 cases in an hour," says Moran. This speed is critical for the Regional Food Bank in order to get food to hungry Oklahomans before it spoils on the shelf or in transit.
As a result of the speed increase, the Regional Food Bank is also able to serve more families. Voice enabled them to increase distribution from 24 million pounds of food annually to 48 million pounds—without hiring any additional staff. In fact, the staff is now more aware of operations on the ground. They can know where orders are and what still needs to be completed in real time. Even better is that all of these speed increases haven't come at a cost of accuracy: it's up to 99.97 percent.
Enabling a Non-Profit to Embody its Values
Accuracy and efficiency are important to any facility, but the Regional Food Bank isn't just a regular warehouse. In addition to its core mission of serving families, the food bank also values environmental stewardship. In fact, much of the food that they deliver to families would have otherwise gone to a landfill. "We pride ourselves on our stewardship and reducing food waste, but we were still generating lots of paper waste in our warehouse," says Moran. The Regional Food Bank's old paper picking system was causing them to generate thousands of single-use paper labels. Voice helped the non-profit make its picking process paperless, and they've since diverted even more waste from landfills.
Of course, it would be remiss not to mention the Regional Food Bank's core mission, which is to serve Oklahoma families in need: "Fighting Hunger…Feeding Hope." Their typical monthly distribution was 4 million pounds of food—until two massive F5 tornadoes, along with smaller tornadoes, impacted Oklahomans in May 2013. One of the F5 storms damaged the Regional Food Bank's facility. The tornadoes caused so much damage to their service area that their monthly distribution increased to 5 million pounds to serve the many affected families. "With our old system, scaling up our operations would have been nearly impossible. With voice, we were able to easily train temporary workers and got up and running quickly after the storm—continuing to serve Oklahoma families," says Moran.
Objectives:
Increase operational efficiency
Eliminate waste caused by paper systems
Serve more Oklahoma families
Business Value:
Increased accuracy to 99.97 percent
More than doubled pick rate from 50 to 120 cases per hour
Able to rapidly train new workers after natural disaster
Reduced paper use with paperless picking system