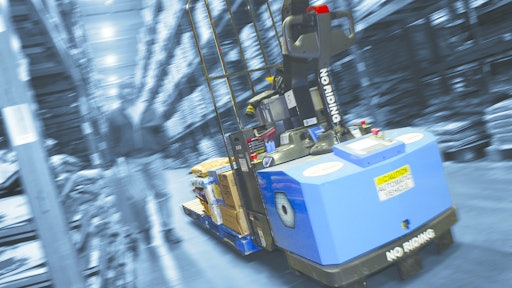 Food and beverage facilities have historically operated under more stringent cleanliness and hygiene standards. And new rules and regulations in the U.S. and overseas are raising the bar even higher. The recently announced Preventative Controls rule and the Produce rule—both part of the Food Safety Modernization Act (FSMA)—are one such example. However, while regulatory compliance is getting tougher, robotics can help meet the new demands.
Traceability and food safety
The need for traceability is a current trend in the food sector. An automated warehouse can help food and beverage managers easily track and trace products in the warehouse, whereas a warehouse utilizing only manual operations is more vulnerable to traceability errors.
"[Humans] are prone to mistakes, but with the robotics side of things, you get consistency, reliability and your inspections go much more smoothly," says David Noble, VP of sales and marketing at Pittsburgh, Pennsylvania-based Seegrid.
An automated warehouse can assist warehouse managers in validating exactly where the products are located in the warehouse along with where the products are destined.
Food safety compliance and regulations are also hot topics in the industry. Implementing robotics equipment assures that food and beverage products are being handled in an appropriate, safe manner. Robotics also decreases the probability of contamination by reducing the amount of human interaction with food and beverage products.
Recent innovations
Due to the ongoing food safety trend, the need for higher sanitation requirements for robotics equipment is a recent design consideration. Robots used in industries such as meat and poultry are designed with materials that can endure intense chemical wash-downs. Additionally, the equipment is constructed with corrosion resistant and non-absorbent materials that prohibit the movement of foodborne pathogens.
"Customers want stuff that's easy to clean," remarks Dick Motley, senior account manager at Rochester Hills, Michigan-based FANUC Robotics. "We have a robot in our product line that was designed from the ground up as a food handler, so it has USDA acceptance. It's a very clean machine—knowing that they wanted to handle exposed food product really drove a lot of the mechanical design and material selection."
Alongside the necessity for sterile equipment, customers are looking for equipment that's simple, yet intuitive. There's a definite move towards the standardization of robotics equipment from an interface perspective. The incentive behind creating an intuitive friendly interface is creating equipment that is easier to understand and maintain.
Innovations with machine vision are also becoming more prevalent in the industry. Vision is a huge advantage with robotics equipment, particularly with autonomous machinery. Some vision solutions, such as stereo vision, require the need to bury wires into the warehouse floor to give autonomous machinery a map of where to navigate throughout the warehouse. Although stereo vision can help guide machinery, it's also a very invasive form of vision technology and doesn't offer much flexibility. FANUC's iRVision is noninvasive and integrates with the company's robotic controller and alleviates downtime. iRVision's cameras take up to 120 frames per second and can recognize the freshness and quality of food items. For instance, if the packing of a food or beverage product is damaged, the cameras will recognize that.
Some advantages
In addition to the innovations listed above, automation offers numerous advantages for the food and beverage sector, such as an increase in throughput. Robots have the ability to work nonstop 24 hours a day, seven days a week; therefore a food or beverage company's productivity levels are greatly augmented. In addition to increased speed and reliability, robotic equipment also boosts safety.
"They introduce a level of safety and consistency in terms of applying automation to a repetitive task," says Jeff Hedges, president of Moorestown, New Jersey-based OPEX Material Handling.
Warehouse workers no longer have to handle strenuous and repetitive tasks that can cause physical injuries and can instead perform more value-added tasks.
Customer testimonies
Baltimore, Maryland-based Pompeian Inc, an olive oil manufacturer, was looking to reduce downtime in their olive oil facility while simultaneously boosting production.
Previously, their cases of olive oil and goods were manually wrapped and stacked onto pallets. The labor intensive process drove up labor costs. According to Kevin Lydon, vice president of operations at Pompeian, in a Richmond News article: "Four individuals used to manually stack between 3,500 and 4,000 cases each ten-hour day on pallets."
To meet their target objectives, Pompeian decided to deploy Ashland, Virginia-based Flexicell robotic palletizing equipment to properly manage shipping cases.
"We desired repeatability and uptime performance, flexibility, the ability to handle ever-changing pallet patterns and new packaging structures and ease of use, as this was our first use of robotics," said Lydon in a Packing Digest news article. "We couldn't afford a long learning curve or any extra downtime."
The robotics system took approximately six months to be designed, tested and implemented in Pompeian's facility. Flexicell's robotics equipment was able to handle Pompeian's units packed at speeds from 9 to 27 cases per minute.
"We couldn't have asked for a better startup," said Lydon, in an online testimonial. "We're already seeing a payback. Flexicell did a fantastic job. We would only use Flexicell for our future projects."
Chicago, Illinois-based Hillshire Brands (formerly Sara Lee), a meat-centric food solutions company, choose FANUC robotics solutions to increase their efficiency.
During a webinar entitled "How to Apply Robotics in High-Speed Food Handling Applications" Jonathan Riechert, an associate at Hillshire Brands, discussed their biggest challenges to implementing robotics equipment. One challenge was how robotics equipment respond to change versus humans.
"Humans and robots are different—they have different responses to change," said Riechert in the webinar. "Humans are adaptable and intuitive and obviously the robots are not. One of the things that we discovered in implementing automation was that humans can overcome deficiencies in designing their line and if those deficiencies still exist when you go to automate, it'll become very obvious because the robots are not able to adapt."
Additionally, Hillshire admitted to difficulties when explaining the robotics equipment initiatives to nontechnical employees.
"One of the ways that we found to overcome this was to show them the right way to operate the cell with the robotics," explained Riechert. "Show them various ways it can go wrong to kind of explain why we did what we did with the automation cell, and that way the people on the floor can understand the impact of performance and running the line various ways."
What to expect for 2013
The price of robotics systems is becoming more within companies' financial reach in part because computer technology is increasingly more affordable. According to FANUC's Motley, the emergence of system integrators is a big contributor that makes robotics equipment more affordable.
"The food industry should be putting more of these systems in place to control their costs," says Stuart Cooper, VP of sales for Flexicell. "It is a very cost effective piece of machinery—it offers them that opportunity for efficiency, performance, decent pricing and very good return on investment."
Additionally, one of the latest developments for 2013 is the introduction of OPEX's Perfect Pick solution. OPEX's Perfect Pick made its debut during ProMat in January.
"One of the reasons that we're entering the market with Perfect Pick is because this really takes the shuttle technology and applies a level of intelligence to it," says OPEX's Hedges. "We basically have a shuttle robot that is now climbing walls."
The Perfect Pick is able to climb up onto the rack and move in multiple directions with 100 percent access to any inventory item in an aisle.
Giant Eagle: Making the Most Out Of Robotics
Crafton, Pennsylvania-based Giant Eagle, a supermarket chain, needed a more efficient way to handle inbound pallets in the warehouse. In order to meet their needs, the company uses Seegrid's robotics equipment, specifically designed to improve their supply chain operations.
Joe Hurley, SVP of distribution and logistics, Giant Eagle, recently spoke to Food Logistics about the company's experience with deploying Seegrid's robotics equipment.
Seegrid's GP8 driverless robotic pallet trucks coupled with a warehouse management system (WMS) help to reduce wasted time in the facility and increase the ability to haul more products.
Asked whether there were any issues when switching to automation, Hurley replied: "There weren't any challenges, but rather there were steps that needed to be taken to provide the best chance for success when we first introduced the technology to our retail support centers," he said. "Most importantly, time was spent with our team members to demonstrate how the technology would, in many ways, improve their day-to-day work environment and how they could work alongside the Seegrid powered robots in a safe and productive manner."
Giant Eagle's workers appreciate the robotics equipment and how the equipment can assist workers with doing their jobs more efficiently, added Hurley. Robotics allows the company to transfer team members to other activities in the work place, such as replenishment and selection.
With the Seegrid equipment in place, Giant Eagle has reduced its manned travel from putaway by approximately 20 to 30 percent, giving the company a more competitive edge.
"Seegrid technology allows us to move product in a much more flexible manner, providing us the ability to move items based on need," concluded Hurley.
Companies in this article