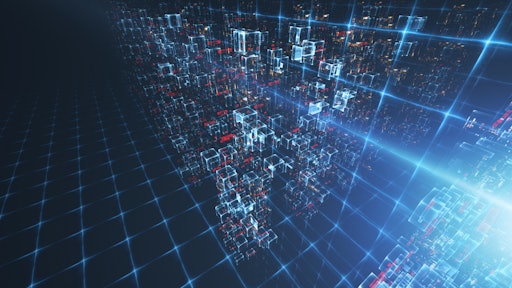 Companies are investing millions of dollars into automated systems for greater warehouse and distribution center (DC) efficiencies. Conveyor systems, packaging automation, automated storage and retrieval systems, and the like are transforming logistics strategies and supply chains. According to Tractica, as cited by Conveyco, worldwide sales of warehouse automation technology (robotics, logistics and the like) reached $1.9 billion in 2016, and are expected to reach a market value of $22.4 billion by the end of 2021. While automation itself is proving its value, are companies leveraging the full capabilities of the technology?    
Norman Leonhardt, director, business development for WITRON Integrated Logistics Corporation, says automated systems generate volumes of data. However, much of the data remains unused or untapped by the corporate users. This presents an opportunity.
"Companies can use this data in new ways to modify the performance of the warehouse or even test potential scenarios if demand patterns change," says Leonhardt. "To examine those possibilities and analyze outcomes, we created a digital twin—a digital replication of the physical warehouse and corresponding automation."
With this sophisticated emulation system, WITRON can examine such things as how the warehouse processes new SKUs and reacts to greater loads as well as measure the performance of certain system parts, analyzing which ones degrade faster or are more durable. It's a form of predictive analytics that can also benefit future design and planning of WITRON's DCs—essentially a stress test with an opportunity to improve the automated system.
"Understanding your warehouse and DC performance is critical. Thus, performance reports based on core data statistics are important barometers for managers, suppliers and retailers," says Leonhardt. "Equally significant are reports about employee interactions with the system. There's transparency around repeated errors or workarounds that fail to solve operational inefficiencies. Performance data enables you to build a smart system with optimal employee engagement."
Data from the automated system also provides insights and recommendations for departments outside the warehouse or DC such as procurement. A company's supply chain strategy can be heavily influenced by this data. What are customer behaviors within the retail store? How are products being ordered, sorted and shipped to stores? Answers to these questions can help improve overall supply chain performance.
"The transparency achieved through data about the automated system—employee behavior, parts consumption, operational efficiency and supply chain decision-making—provides greater leverage of the system," says Leonhardt. "It's faster processing times and optimal transparency of how the system operates and where items are at any given time. Data makes that possible."