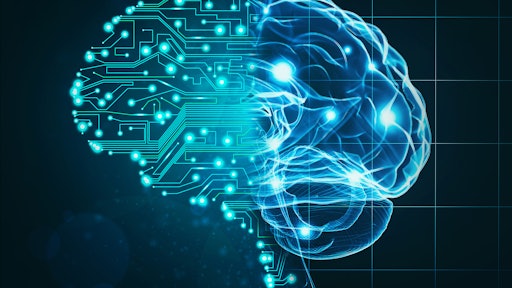 Getty Images
The shelves are bare for consumer packaged goods (CPG) firms. Ongoing disruption to global supply chains continues to hurt food companies' ability to meet consumer demand for products. How might artificial intelligence (AI) helps CPG companies fight through the bottleneck?
The problem
Most CPG companies are wrestling with a compelling challenge. The Coronavirus disease (COVID-19) pandemic is not going away anytime soon, if ever, which means that a CPG business must brace itself for ongoing disruptions caused by work slowdowns and outright shutdowns. For example, a factory in Malaysia was closed for 10 days because of a pandemic-related lockdown. And, a chronic shortage in labor and delivery materials has made the situation worse.
These disruptions are making it harder for CPG firms to adapt quickly enough, which results in not enough product making it to grocery store shelves.
The global supply chain – already burdened to capacity – has reached a crisis point. As reported in Hellenic Shipping News, a number of forces have converged to create a miserable bottleneck. For instance, an overreliance on ocean freight has strained the global supply chain to its limits. One disruption (such as the Suez Canal closure) wreaks havoc on already congested sea lanes. Now add to that an ongoing disruption caused by the pandemic, and CPG companies everywhere are grappling with a lingering problem.
A White House report notes that chronic shortages have affected industries ranging from automotive to construction, triggering some chronic problems that consumers everywhere are feeling now, most notably a lack of available goods and high prices. The report also identifies some problems that AI could help address. For example, in 2020, businesses were stuck with billions of dollars in unsold goods, resulting in products lingering on shelves longer than normal. But, when the economy recovered and demand increased, businesses could not respond quickly enough to bring back inventories to pre-pandemic levels. Better forecasting tools could have helped many retailers anticipate and respond to rapidly changing consumer behavior and replenish inventory more nimbly.
The Biden Administration also proposes a variety of actions to strengthen the U.S. industrial base, increase resilience and reduce lead times to respond to crises. It's worth noting that the Biden Administration points to longstanding policies that have prioritized low costs over security, sustainability and resilience. But, it raises the question of how technology such as AI might help make supply chains more resilient.
How AI can help CPG firms
The key is to adopt a proactive, data-driven approach to manage disruption. Here are five approaches CPG firms should consider:
Use data and analytics to identify and map out the inventory affected by the supply chain disruption. If you don't have the data about what is on a ship transporting your materials, then use this crisis as an opportunity to justify prioritizing supply chain digital transformation with data, Internet of Things (IoT) and advanced analytics (e.g., machine learning and simulation). You need to know where your goods are at all times if you are going to successfully gauge what impact a shortage will have on your operation. This is especially true of complex supply chains that rely on many players operating globally. This lack of transparency makes it nearly impossible for companies to take steps such as identifying how to break the bottleneck or to predict when inventories might return to normal.
If you don't have the data readily available, then partner with a vendor and use a secure environment to share second-party data to deliver AI-driven actionable insights on the business impact that affects all parties involved, from startup to retailer to consumer. If you don't have these data-sharing partnerships in place, then establish these secondary-party data-sharing partnerships with vendors in secure data marketplaces.
Simulate and forecast the impact of these supply-side issues on the demand side. Conduct scenario planning exercises and inform critical business decisions. If this ability is not in place, an emergency like a pandemic, civil unrest or uncontrollable rate hike will give you headaches. So, use this situation as an opportunity to put in place a disaster management program driven by AI/machine learning. Consider historical examples in industries ranging from coffee production (which is periodically disrupted by bad weather or outright natural disasters) manufacturing. As the White House report points out, when demand for toilet paper surged in 2020, successful manufacturers figured out how to quickly tweak the process of creating and supplying the product, such as investing in their distribution systems, so they could anticipate and respond more quickly to local shortages. In other industries, such as food production, the industry makes its way back to equilibrium more naturally, but it can take time for the equilibrium to be restored. AI-based scenario planning could help in a few ways here. Manufactures do an even better job responding with resiliency by anticipating shortages and supply issues ahead of time and then responding with resiliency strategies. This would require having the data and being able to simulate resiliency responses. AI could also help businesses along the supply chain predict if a particular disruption (such as a natural disaster upending coffee production) is transitional or longer term and simulate response scenarios based on that data.
Get ahead of the potential impact and proactively communicate with affected parties, be they vendors or consumers – retailers being the obvious parties affected. If you don't have a hyper-personalized responsive communication strategy in place, then use the supply chain crisis as a reason to invest in an AI-based responsive communication strategy and platforms.
In addition to informing your customers about the impact, proactively take steps to help mitigate the situation. For example, implement machine learning-based, forward-looking KPIs like weeks-of-supply and holistic inventory optimization. Doing so will not only help you be better prepared for the future, but it will also help you win the loyalty of customers. If you aren't able to do this, then use this problem as an opportunity to apply AI to build an ecosystem with trusted industry peers and partners, enabled by data and technology.
What does the desired end state look like? It's this -- AI that tracks wide-ranging and variable data in real time and turns that data into intelligence that supply chain managers can act upon faster and more thoughtfully than ever before. CPG firms can make that desired state a reality by assessing their data readiness now.