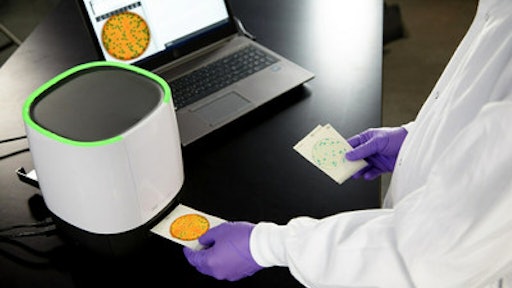 3M
Food safety is one of the more important aspects of the cold chain. With the growth of technology, the process of making sure food is safe for consumption throughout processing and transportation becomes more accurate and advanced. 3M Food Safety releases its new automated tech, the 3M Petrifilm Plate Reader Advanced, which rapidly automates the colony-counting step of 3M Petrifilm Plates. It provides faster and more accurate ways to image, count and document microbiological colonies on 3M Petrifilm Plates indicator tests, optimizing the lab and increasing productivity.
Per 3M Food Safety:
The new 3M Petrifilm Plate Reader Advanced is a small, peripheral device containing a five-megapixel camera and versatile bar code reader. The device utilizes fixed artificial intelligence networks to enumerate 3M Petrifilm Plates. 3M Petrifilm Plates are inserted into the device, with imaging and information automatically displaying on a USB-connected computer in less than six seconds, processing up to 900 plates per hour.
The device can enumerate 10 3M Petrifilm Plates and the Staph Express Disk and includes software that allows technicians to edit results and add other relevant sample information. A study conducted found up to 94% reduced time to enumerate 3M Petrifilm Plates when using the 3M Petrifilm Plate Reader Advanced.
This introduction of the 3M Petrifilm Plate Reader Advanced is 3M Food Safety's second automation offering within the last two years for food-and-beverage manufacturers looking to streamline their operations and modernize their laboratories.
"Food safety is always a top concern globally, but challenges related to COVID-19 have put additional pressure on organizations to maximize resources," says Elliott Zell, 3M Food Safety global new product marketing manager. "3M is in a unique position to help the food-and-beverage industry maximize the efficiency of the critical tests it manages each day, and we have invested in advanced hardware and software to help labs reduce tedious tasks in favor of strategic activities."