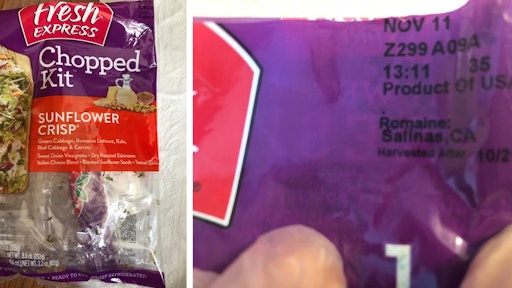 The U.S. Centers for Disease Control and Prevention is warning consumers of a new E. coli outbreak that has been linked to Fresh Express Sunflower Crisp Chopped Salad kits.
At least eight cases of E. coli have been reported in Minnesota, North Dakota and Wisconsin after eating the salad mix. One of the patients have developed kidney failure. No deaths have been reported.
The salad mix is sourced from Salinas, California, though, it's unclear if these new cases are connected to a more widespread outbreak from romaine that has sickened over 100 people in 23 states.
Officials are still determining which ingredient in the salad mix was contaminated. However, it is likely that the culprit is the romaine lettuce from Salinas, California.
In November, the CDC issued a food safety alert, urging consumers not to eat romaine lettuce from Salinas, California.
Fresh Express said it's working with the CDC. Salinas Valley produces 60% of the nation's lettuce. Now the CDC telling people to avoid all romaine lettuce grown there until notice.