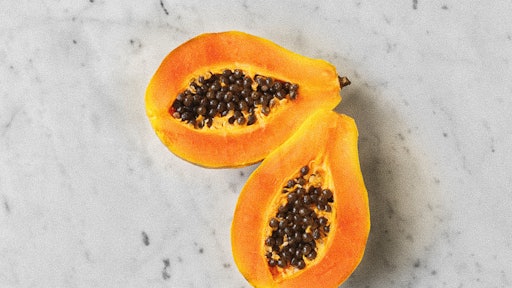 The FDA has linked a recent salmonella outbreak back to Cavi brand of whole fresh maradol papayas distributed by Agroson's LLC. The grower has yet to be named.
Since naming the specific brand, the FDA has okayed the distribution of all other papayas for consumption.
Epidemiological and traceback information led investigators to Cavi, though, there has yet to be positive product samples. The FDA released the suspected link to Cavi brand from Agroson's on July 5, however, there has been no recall information listed on any official website.
"The FDA has consulted with the firm on the possibility of a recall," according to the FDA's notice. "Should that happen, the FDA will update this advisory, including any recalled products, as more information becomes available."
Papayas from other distributors aren't expected to be involved in the recall and restaurants, retailers and other establishments can sell the fruit as long as they are not the Cavi brand.