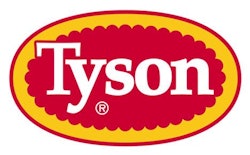 Tyson Foods is expanding on a previous recall originally issued on March 21 of frozen, ready-to-eat chicken strip products made at one location between October 1, 2018 and March 8, 2019. In the last few days, consumers have allegedly found fragments of metal in some products, forcing the company to expand the recall despite most products already have been consumed without incidents.
"Consumers expect that the food they eat is safe. In their best interest and in an abundance of caution we're taking quick and decisive action to expand this recall," said Barbara Masters, DVM, vice president of regulatory food policy, food and agriculture for Tyson Foods. "Our company is taking corrective action at the location that makes these products. We have discontinued use of the specific equipment believed to be associated with the metal fragments, and we will be installing metal-detecting X-ray machinery to replace the plant's existing metal-detection system. We will also be using a third-party video auditing system for metal-detection verification."
The expanded recall includes Tyson branded products as well as private label products made for customers that were sold to retailers and some foodservice wholesalers. Each package bears the establishment code P7221 and a "use by" date of October 1, 2019 to March 7, 2020.