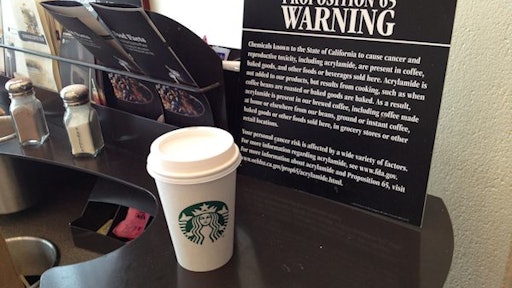 Last month a Superior Court judge issued a tentative ruling that would require coffee companies to include cancer warning labels on products and inside stores. The decision supported a 2010 suit filed by Council for Education and Research on Toxics that argued coffee products should notify consumers that the known carinogen acrylamide is produced during the coffee roasting process.
Judge Elihu Berle ruled that coffee companies had until April 10 to file objections to the decision. Forming together, companies are gearing up to fight the warnings. The companies are arguing saying the trace amounts of acrylamide- a cancer causing chemical- found in coffee do not warrant a label, according to the Wall Street Journal.
Acrylamide is found in many foods such as potato chips, french fries and toast. Currently, the FDA suggests to limit the amount of the chemical that people consume.
A representative of a group of coffee companies including Starbucks, Caribou Coffee, Folgers, Keurig Green Mountain and Gold Peak Tea & Coffee writes that "studies show coffee consumption does not increase the risk of any chronic disease and is independently associated with a decreased risk of several major chronic diseases." It is currently unknown how many of the companies named in the lawsuit will appeal Judge Berle's ruling. The final decision is expected to be issued within the next few weeks.