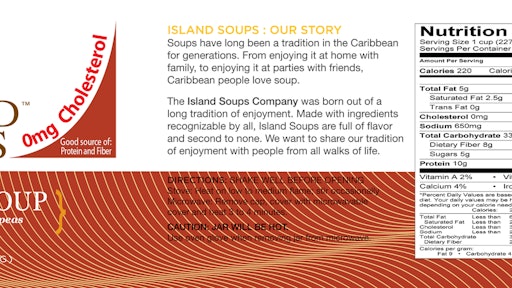 Island Soups Company Inc., a Saint Albans, N.Y.-based company that sells products over the Internet, is recalling six products because they have the potential to be contaminated with Clostridium botulinum, a bacterium which can cause life-threatening illness or death, according to the Food and Drug Administration, which conducted an investigation.
All products are coded BEST BEFORE dates July 2015 through June 2018.
Botulism, a potentially fatal form of food poisoning, can cause the following symptoms: general weakness, dizziness, double- vision, and trouble with speaking or swallowing. Difficulty in breathing, weakness of other muscles, abdominal distension and constipation may also be common symptoms. People experiencing these problems should seek immediate medical attention.
Products were distributed through Internet website purchases.
The products are packaged in 16-ounce glass jars with white lids and a white plastic with brown lettering safety seal.
To date, there have been no confirmed reports of illness and injury related to these products.
FDA inspection of the establishment reveals that the firm does not have valid process schedules or process documentation to ensure that these soups products have been sufficiently processed to prevent the growth of Clostridium botulinum.
Consumers should segregate and destroy any of the identified products.
Consumers are warned not to use the following products:
GUNGO PEAS SOUP, NET WT. 16OZ
GUNGO PEAS SOUP NO MEAT, NET WT. 16OZ
RED PEAS SOUP, NET WT. 16OZ
RED PEAS SOUP NO MEAT, NET WT. 16OZ
MANNISH WATER, NET WT. 16OZ
FISH SOUP, NET WT. 16OZ
Consumers with questions can call 917-991-6647, Monday through Friday, 8:30 am to 4:30 pm, EST.
To read more, click here.