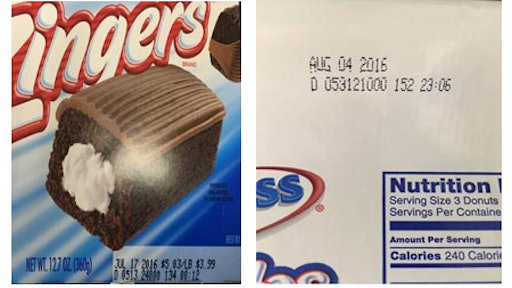 Hostess and Kashi Company have recalled products over possible contamination, according to pulseheadlines.com.
Kashi Company, Martin's Food Markets, and Giant Food Stores, LLC have issued a recall of several items that may be contaminated with a pathogenic bacteria known as Listeria monocytogenes.
Hostess has recalled approximately 710,000 units of snacks due to the items containing peanut residue.
There have been no reports of infection due to the Kashi products' contamination. Listeriosis is a common illness caused by eating contaminated products. It can be lethal in some cases as it can cause headaches, nausea, fever, miscarriages, and stillbirths. Peanut allergy can also be deadly in some cases. It is regarded as the most common cause of food-related allergy death.
For Hostess, the recall had to be issued due to not displaying information about its peanut residue in several products, mainly Hostess Snack Cake and Donuts. These snacks are supposedly safe for those that suffer from an allergy to peanuts, although the amount of residue is very low and should not cause any major health concerns. These products are known to reach hundreds of grocery stores, drug stores, convenience stores, distributors and mass merchandisers all over the U.S. and Mexico.
The recalled Hostess products were Cinnabon Stix, Hostess Snack Cake and Donut Products, Safeway 8" Single Layer Red Velvet Cake, Chick-fil-A Chocolate Chunk Cookies, ACME 12" Decorated Chocolate Chip Cookie, and Jewel 12" Decorated Chocolate Chip Cookie.
At least two allergic reactions have been reported to Hostess. The company advises anyone who has bought these products to discard them and to call 800-868-2813 to report the incident.
For a list of recalled Hostess products, visit http://www.fda.gov/Safety/Recalls/ucm505065.htm
To read more, click here.