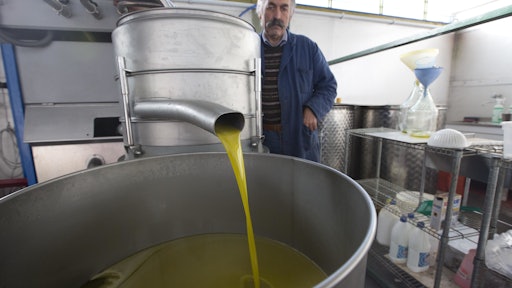 Italy's olive oil business has been corrupted by the Mafia, which is making big bucks tampering with Italian food products in ways that could affect American consumers, according to this Sunday's "60 Minutes" TV show. The Italians call it "Agromafia" and it's estimated to be a $16-billion per year enterprise. One result: Much of the olive oil we import isn't as pure as it seems.
The segment, featuring Guy Campanile, the story's Italian-American producer, is titled "Don't Fall Victim To Olive Oil Fraud." It offers tips on finding true Italian extra-virgin olive oil amid a "sea of fakes." The story claims 75 percent to 80 percent of oil sold in the U.S. does not meet the legal grades for extra-virgin olive oil.
To read more, click here.
Editors Insight: The food supply chain's vast size today is largely responsible for this massive fraud, according to the show's producer. One might think that technological improvements in the ability to trace food throughout the supply chain would prevent this type of fraud. But the supply chain clearly has a long way to go in preventing fraud and other problems.
One takeaway from this TV show is that the integrity of extra-virgin olive oil sold in the U.S. is not reliable. Not only is the olive oil not from where the label claims. It can also be adulterated with pesticides.
Another problem is that olive oil is not the only fraudulent food import; fraud afflicts milk butter, bread, wine and other Italian imports. The criminal underground is active throughout the Italian food chain, according to this report.
If this level of fraud exists in the Italian food supply chain, it's hard to believe that it isn't happening elsewhere.
Can government oversight prevent fraud in the food supply chain? It's an important question given the new requirements under the Food Safety Modernization Act and pending cross-border trade agreements.
Globalization is bringing a lot of challenges to the food supply chain. 1-5-16 By Elliot Maras