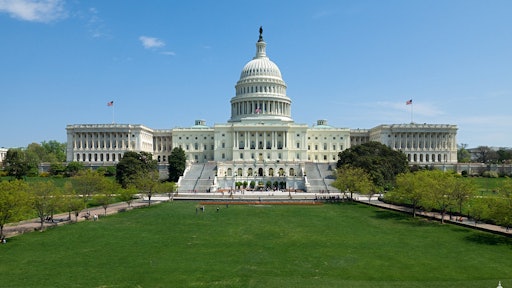 The U.S. House of Representatives released a $1.1-trillion spending bill to fund the federal government through the end of the fiscal year, which is Sept. 30, 2016, Lobbyists for full funding of the Food Safety Modernization Act (FSMA) were pleased with the numbers, according to Food Safety News.
The Food and Drug Administration (FDA) will receive a total of $2.72 billion in discretionary funding in the bill. Within this total, food safety activities are increased by $104.5 million.
The president's budget request for fiscal year 2016 asked for a $109.5-million increase for FDA. The House's spending bill is much closer to matching that request than the $41.5-million and $45-million increases allocated for FDA's food safety activities by the House and Senate Appropriations Committees, respectively.
"We are thrilled," said Sandra Eskin, director of food safety at The Pew Charitable Trusts. "Congress understands that this is a pivotal year for FSMA implementation and they responded accordingly."
She credits the leaders of the Agriculture Appropriations Committees — Rep. Robert Aderholt (R-AL) and Jerry Moran (R-KS) — and their staffs for understanding what FDA needed "to get the job done on food safety."
To read more, click here.
Editors Insight: This is a positive development in the continuing FSMA challenge that the food industry faces. The fact that House of Representatives wants $104.5 million for additional funding for enforcing FSMA is good since it indicates the law, imperfect as it is, has a better chance of accomplishing its goals. It also shows lawmakers understand the importance of funding the historic mandate which the food industry largely supports.
The $104.5 million is reasonably close to the $109.5 million that food industry organizations sought from Congress this past spring. The FDA had previously warned that the FSMA mandates could not be enforced without additional funding.
There are still many unanswered questions about the FSMA, particularly the safety transport rules, which have yet to be finalized.
Even with sufficient funding, assuming it will be approved, there remain questions about whether or not the FDA has enough qualified inspectors to enforce the regulations. There are also concerns about whether FDA will be overlapping other agencies, such as the Department of Transportation, in enforcing the rules.
The food industry needs to be patient as this historic safety bill slowly takes effect. Food safety has become a big problem as the food industry has globalized and more people want higher quality yet safer food. 12-18-15 By Elliot Maras