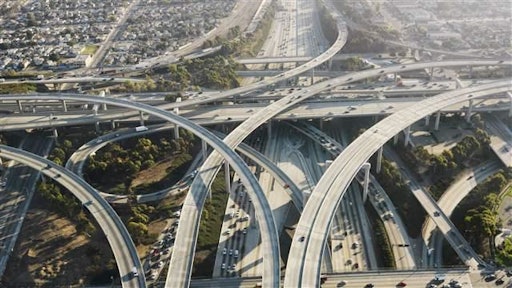 The highway bill agreed to by Congressional negotiators Tuesday includes a pilot program to test allowing drivers under the age of 21 to take trucks across state lines. The bill contains a slew of changes to transportation policy along with $305 billion in funding for highway and mass-transit projects, according to The Wall Street Journal.
The bill caps a fierce lobbying battle over recent weeks by an array of groups, including port operators, local transit administrators, organized labor, trucking companies, road builders and others that see the bill as their best chance to shift the regulatory and spending landscape for years to come.
Among the highlights:
Shipping and logistics groups were pleased by new grant programs that will wrap together existing spending to focus on freight projects.
A pilot program to test allowing drivers under the age of 21 to take trucks across state lines. The trucking industry says it is facing a shortage of drivers, and some companies hope to hire people as young as 18 to run interstate routes. Current laws make it difficult for anyone under 21 to get behind the wheel of a big rig.
Major freight railroads carrying crude oil would be required to provide more detailed and rapid information on shipments, building on safety efforts undertaken after a series of disasters involving rail tank cars.
Railroads also will be required to add certain safety protections called thermal blankets to tank cars and will face further restrictions on the use of older cars in transporting oil.
To read more, click HERE.
Editors Insight: This bill has been hailed by transportation companies as a major benefit for various reasons. The pilot program for testing drivers under 21 years of age could be one of the most important benefits since it could help ease the driver shortage that is pushing up driver wages and forcing companies to spend more on training, recruitment and retention.
A lowering of the driver age will take some time and it won't be a panacea for the logistics industry. Younger drivers will require more training. Hence, before there is any impact on rising driver pay, there will be an added cost in training and recruitment.
In the meantime, transportation companies need to continue to invest in recruitment, training and retention. The challenge will continue as the existing driver pool ages and younger workers are able to find other career opportunities that they see as having more potential. 12-4-15 By Elliot Maras