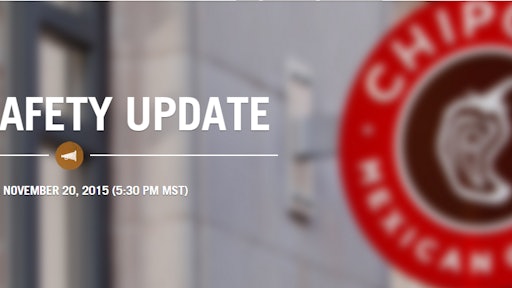 Federal officials have again changed their description of dozens of E. coli infections, now saying 45 sick people in six states are all part of one outbreak linked to Chipotle Mexican Grill restaurants, according to The Packer.
Implicated states are Washington, Oregon, Minnesota, California, New York and Ohio, according to a Nov. 20 update from the Centers for Disease Control and Prevention. Investigations are ongoing by state and federal agencies, but Oregon public health officials reported in early November that they believe fresh produce was the most likely cause of the illnesses.
No connection has been drawn by health officials between the current E. coli outbreak and a salmonella outbreak linked to Chipotle locations in Minnesota earlier this fall. Health officials tentatively identified fresh tomatoes as the cause in the Minnesota salmonella outbreak.
No deaths have been reported in connection with either outbreak. Sixteen of the 45 E. coli victims have required hospitalization.
Before the E. coli cases in Minnesota, New York, California and Ohio were added to the outbreak, officials from the CDC reported as many as 50 cases in just Oregon and Washington. That Nov. 12 case count of 50 was revised down to 37 cases on Nov. 17 by CDC officials.
To read more, click HERE.